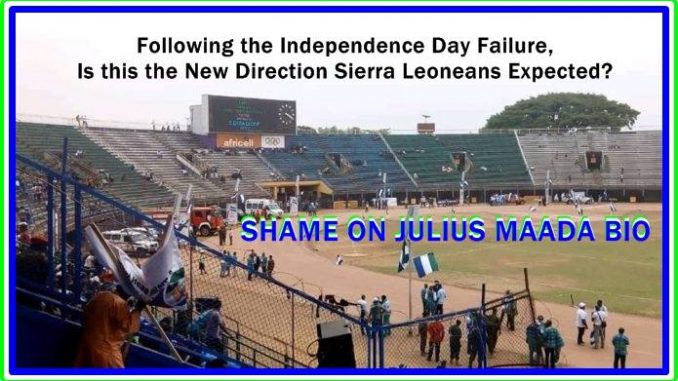 Following the Independence Day Failure, is this the New Direction Sierra Leoneans Expected?
By Musa Ronsho
The government of Sierra Leone just led the nation in celebrating what is perhaps the worse Independence Day anniversary. It was lifeless, halfhearted, unexciting, and shameful. The National Stadium which is usually rupturing with life barely had three thousand people. Without the presence of the Sierra Leone Armed Forces and other event participants, one could conclude that the entire populace boycotted the official celebrations of the motherland's 58-year birthday festivities. This is a BIG SHAME ON PRESIDENT BIO AND HIS GOVERNMENT. During the toughest years in the nation's history, reveling in our Independence was revitalizing than what befell Sierra Leone on Saturday, April 27, 2019. It was an out-and-out disgraceful event. Julius Maada Bio and his regiment of SLPP officials showed gross contempt for the land that we love. They dishonored the land of our birth.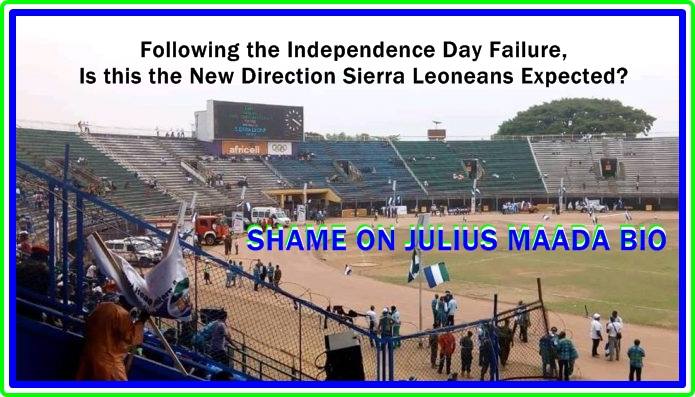 An admired Sierra Leonean stated that such an appalling celebration usually happens in the final year or so, of an unpopular government. The dislike for the Bio government is therefore alarming given this is the second Independence Day he has presided over with 3 more to go. While Bio believes his leadership is giving hope to the people of Sierra Leone, such a disturbing event shows despair in the nation. The Independence Day celebrations were planned poorly, just as the Bio presidency is going poorly. Nothing was attractive about the occasion. Which causes serious soul searching to find out how we ended up in this state. If anyone is optimistic about the celebration, it is only those in Bio's immediate circle. From what I saw, the best performance was by two comedians who waved the country's flag as they march passed the skeleton crowd in an empty stadium.
Is this the new direction Sierra Leoneans expected? Is this the betterment and national cohesion Julius Maada Bio promised Sierra Leoneans? Bio's sympathizers would argue he had stated he wants no Independence Day Celebrations "until generated domestic revenue makes up 20% of our Gross Domestic Product." Therefore, the event was a low key. NO! The Independence Day celebration was an absolute disaster. It does not matter who did it, President Bio is the one we hold responsible for the colossal failure of our Independence Day Ceremonies. It was a total failure by president Bio to provide a healthy oversight on a huge national activity. Again, Bio proved to Sierra Leoneans that an incompetent and most clumsy president is in Statehouse. His divisive and uninspiring Independence Day address points to the fact that Sierra Leone is heading in the wrong direction. At a time, when we should celebrate our oneness, he was busy throwing stones and casting aspersion on how bad his predecessor and his government were.
Mr. President, "High," you have not exalted the realm of the free. Also, "Great" is the love you've shown only for your tribe in broad disregard for all others that makes up the native land. Reading Bio's speech, I kept on looking to see where he will mention that tribalism has made Sierra Leone a land not worth living in. Not once did he reference the dangers of pandering to tribal sentiments which seem to be the new direction of his government. Sierra Leone shall never be "firmly united" when a few days before a major event in the nation's life, the leader renamed a landmark without the consent of the locals and those who represents them. Sierra Leone shall never be a land worth living in when the president is more stirred-up leading Bo School Parade than presiding over the Nation's Independence Day ceremonies. Sierra Leone shall never be a fruitful nation when the President is doing a sad solo singing his own praises and not singing the praises of the native land.
Julius Maada Bio has spent so much time flying to other native lands, until he has lost sight of the damming realities in the native land. Sadly, he thinks that he has made some gains. If he is seeding and scaling anything in Sierra Leone, it is the worse form of discord and tribalism. The president and his SLPP team can continue believing that their leadership is moving Sierra Leone forward in a bright and new direction. In today's Sierra Leone and globally, an overwhelming majority see things differently. Bio's new direction is moving the nation to darker and not brighter days. Bio's new direction does not build nationwide cohesion.
The total boycott of Sierra Leone's Independence Day ceremony should open the eyes of the president to see how divisive his leadership has been. It should help Bio see that Sierra Leoneans are NOT fools anymore. The people can figure out when politicians are sowing seeds of disunion and breeding hatred among them while they long for love and unity. The total boycott should at least caution the ego-driven leader that he's on the wrong side of history. Him and his party officials spent so much energy celebrating his one year in office. When the nation's 58th Independence Day Celebrations came around, he had nothing left to give. Shame on President Bio for disappointing Sierra Leoneans so badly. This is NOT the new direction Sierra Leoneans expected.