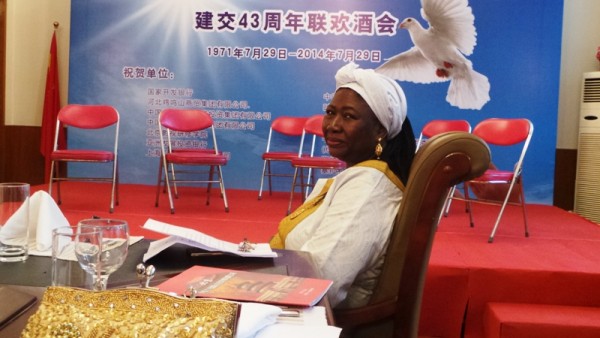 On July 29, 1971, the Government of the Republic of Sierra Leone and that of the People's Republic of China signed a communiqué on the Establishment of Diplomatic Relations, in accordance with the interests and wishes of the peoples of both countries. With this signing  of the protocols, both countries agreed to develop Diplomatic Relations, "friendship and cooperation on the basis of the principles of mutual respect for sovereignty and territorial integrity, mutual non-aggression, non-interference in each other's internal affairs, equality and mutual benefit and peaceful coexistence" The founding fathers who gave birth to what became strong, unbroken and result oriented ties were late Presidents Siaka Stevens and Chairman Mao Zedong of Sierra Leone and the People's Republic of China, respectively.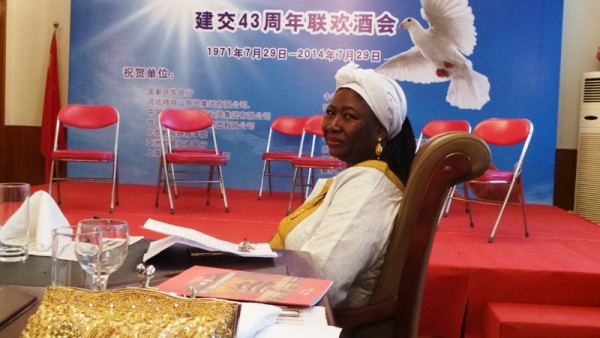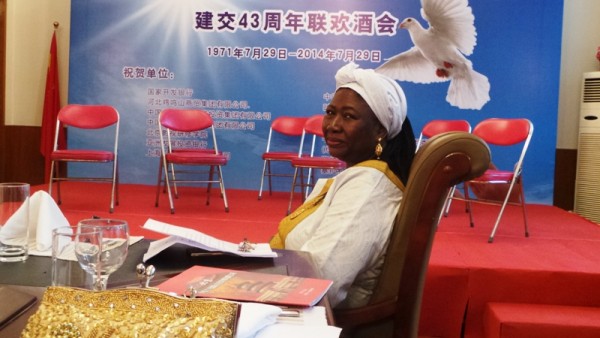 DEPUTY AMBASSADOR KUMBA MOMOH
Since 1971 to date, both countries have continued to be supportive of each other. For instance, Sierra Leone played a crucial and leading role in ensuring China's entrance into the United Nations General Assembly, at a time when no country could anticipate where China was heading to because of her leading role in world economics and politics.
Both countries continue to experience progress in Trade, Economics and Technical Cooperation; Exchanges and Cooperation in all Fields including Education, Health and Culture. Chinese sponsored and/or supported projects in Sierra Leone include, but not limited to the Mange Bureh Bridge, the National Stadium, the Military Headquarters, the Police Headquarters, Dodo Hydro Dam,7th Battalion Barracks, the Jui-Grafton Road, the Jui Referral Hospital, the new Ministry of Foreign Affairs Building at Tower Hill, etc etc.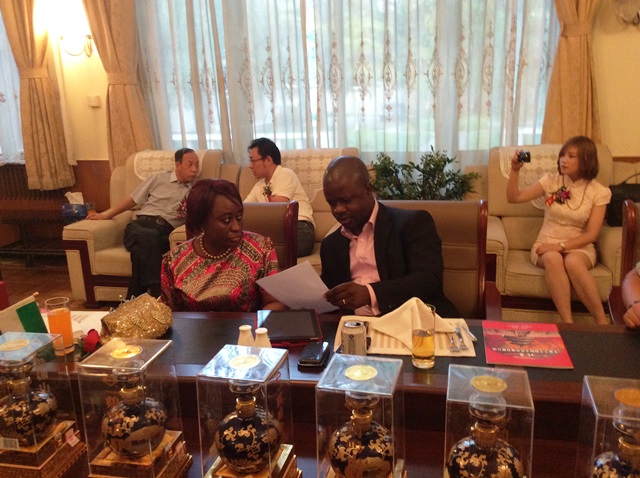 PRESS ATTACHE BAIMBA SESAY ( RIGHT )
Marking forty-three years of ties between the two Republics, on Sunday, 27th July, Sierra Leone's Deputy Head of Mission, Madam Kumba Alice Momoh underscored the significant progress made in the last four decades between the two countries. She was very thankful to the Chinese Government for the numerous assistance to Sierra Leone. Sierra Leone, she said is always  to give China necessary support at International Fora.
Mrs. Momoh paid tribute to the founding fathers for their foresight.  "President Siaka Stevens and Chairman Mao Zedong must have had the vision to read into the future", she committed and further commented, that Sierra Leone's resolve to continue to build upon the relationship.  "The President, Dr. Ernest Bai Koroma, is determined to move the level of relationship further ahead following the footsteps of his predecessors to strengthen China – Sierra Leone friendship", she said.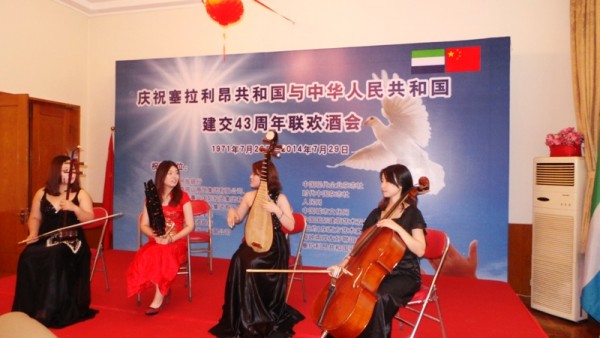 The appointment of erstwhile Secretary General of the ruling party, the All People's Congress (APC) Victor Bockarie Foh, a doyen of Sierra Leone's geopolitical makeup, with outstanding experience in the fields of Administration and Politics, as Ambassador to the People's Republic of China, is further cementing the very cordial relationship between the two countries. At the people-to-people level, Sierra Leone and China have continued to enjoy very cordial and unshaken progress in this direction, with several exchanges of visits at all levels. Year after year, China provides opportunities to Sierra Leoneans to build their human resources capacities in various fields including Media and Journalism, Agriculture, Medicine, Politics, International Affairs, etc, etc.
As we celebrate forty-three years of diplomatic, people-to-people ties with the People's Republic of China, it is worthy to state that, much has been achieved and all efforts should continue to be our focus to take these worthy ties to the highest heights of diplomatic relations in the interests of our peoples and both countries.
As stated by President Ernest Bai Koroma on May 29 2009, "learn from China and expand bilateral cooperation in Trade, Agriculture, Tourism and Mining Sectors". The Government of His Excellency President Koroma has demonstrated the country's determination to enhance these ties in line with Sierra Leone's economic development agenda encapsulated in the Agenda for Prosperity.
Long live the Republic of Sierra Leone and the People's Republic of China.
John Baimba Sesay
Press/Information Attaché
Sierra Leone Embassy, PR China