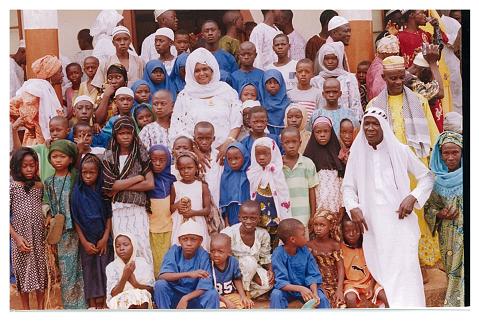 At 445 Hillcrest Avenue, Somerset, New Jersey, where family and friends converged on Sunday, October 7, 2012 for a Muslim Prayer Service, the late Haja Fatu Dumbuya was remembered as a devout Muslim who touched the hearts of many people.
"We are here today to remember and pray for our dear sister, mother, grandmother and friend who answered to the call of Allah a month ago," says Sekou Dauda Bangura in his opening remarks during the solemn Muslim event that brought together family and friends from all across the United States."We're all deeply saddened by her passing away, but we must take comfort in the fact that she lived as a Muslim and died as a Muslim. May Allah make it possible for us all to live as believers and to die as believers; May Allah have mercy on our departed sister; May Allah provide a place for her in paradise!"
After the silent recital of Al-fatiha (the Muslim opening prayer), Haja Sillah, second daughter of the late Haja Fatu Dumbuya – currently a graduate student in Florida – read the Obituary. This was immediately followed by a short tribute paid by Mrs. Memuna Bah, Haja Fatu's first daughter who flew from London to join the rest of the family for the prayer service. Describing her mother as "kindhearted," and a "sweet mother," she said her mother did all she could to provide them with a very good education. Zainab Sillah, the last daughter, described her late mother as very hard working. Fighting back tears she said: "She was not just our mother; she was also our father."
Speaking on behalf of the Port Loko family, Mr. Alieu Mela Bangura, from Maryland, expressed his profound thanks and deep appreciation to the Muslim Jamaat of Somerset, New Jersey, for the important role played in giving the late sister a befitting Muslim burial. "Haja Fatu Dumbuya comes from a very large ruling family in Port Loko," Mr. Alieu Mela Bangura revealed in his contribution. "We're about the same age. I felt so devastated when I received the sad news of her passing away." He asked Allah to forgive her for all the mistakes she may have made in life, and for Allah to reward her for all her good deeds.
Mr. Alieu Wurie, from North Carolina, spoke on behalf of the Gbinti family, describing the late Haja Fatu as "a gentle soul that was held in very high esteem by her Gbinti kindred." While comforting the children, he prayed for Allah's mercy and forgiveness. Dr. Abdul Rahman Kamara, who attended elementary school in Kambia with the late Haja Fatu, said: "Fatu Dumbuya was well-known in Kambia because of her stunning beauty and very pleasant disposition." He said even though she was snatched away by the cold hands of death at an early age, she was able to accomplish a lot. "The building of a school that accommodates over 200 pupils was no mean achievement, not to talk about the blessing that comes from the building of a Masjeed," he said.
Speaking on behalf of the women of Dawatu Islamia of Somerset, New Jersey, of which the late Haja Fatu Dumbuya was a staunch member, Haja Fatima Jarieu Bona remembered Haja Fatu as "a very kind and caring human being with a great sense of humor." Her passing away has undoubtedly left a big vacuum in our Jamaat, she said. "May Allah make her grave a comfortable resting place," she prayed.
Alhaji Ibrahim S. Conteh, Chief Imam of Dawatul Islamia, said the late Haja Fatu Dumbuya was the Muslim woman quintessential – highly committed and dedicated to the cause of Islam. "She is the only woman that comes to the Masjeed for the early morning prayers. She will defy the snow, an inclement weather, just to be at the Masjeed for the Fajr prayer," he said. "Aside from praying five times a day, making the pilgrimage to the holy land Mecca, she helped those in dire need. During the month of Ramadan, she will prepare food for me and many other Muslims in the community. May Allah forgive her for all her mistakes in life, and may he richly reward her for all her good deeds." The chief Imam used the occasion to let people know that the practice of observing seven days, forty days and one year for the dead is not a prescription of the Holy Quran, and it was never practiced by the Holy Prophet Mohammad (on whom be peace and blessings of Allah)."It was just part of the custom and tradition of the people who lived in parts of Africa north of the Sahara," the chief Imam explained.
After the reading of the Quran and the final 'd'ua,' Sultan Dumbuya, younger brother of the late Haja Fatu Dumbuya (eldest among the surviving siblings), expressed his immense thanks and appreciation for the wonderful outpouring of support from friends, family and the Somerset/New Brunswick Sierra Leonean community as a whole. His special thanks went out to all those who traveled from out of state for the Muslim prayer service. "May Allah richly bless and reward you all," he concluded.
Daughter of the late Mr. Chernoh Dumbuya and Haja Memuna Jah Dumbuya of Port Loko, the late Haja Fatu Dumbuya attended elementary school in Kambia and Our Lady of Guadalupe High School, Lunsar, Port Loko District, northern region of Sierra Leone. Upon graduating from high school, she worked at the Lungi International Airport before leaving for the United States. A longtime resident of Somerset, New Jersey, she was an active member of the Sierra Leone community, especially when it comes to furthering the cause of Islam.
"Haja Fatu Dumbuya's passion and delight for Islam was undaunted. She made the pilgrimage to the Holy land Mecca seven times before she was called by Allah," according to sources close to the family. Her love for Islam spurred her to build a Mosque at Calaba town on the East End of Freetown, and an Islamic school that accommodates up to 200 pupils. Haja Fatu's main ideal was the fulfillment of Allah's will on earth — an ideal she lived for and tried to instill in her children and every member of her family.
Besides this act of promoting God's good will on earth among Muslims, Haja Fatu Dumbuya was able to sponsor the digging of modern-day water wells in Port Loko to provide clean water for residents of the town. Within the family, Haja Fatu was the Matriarch – a strong pillar of support; the backbone of the Dumbuya family. She made it possible for her family to migrate to the United States. Selfless, caring and loving, Haja Fatu Dumbuya will be sorely missed by the countless lives she impacted both here in the United States and Sierra Leone.
The late Haja Fatu Dumbuya, who answered to the call of Almighty Allah on Wednesday, August 8, 2012, is survived by her husband Sait Sosseh; three daughters: Memuna Bah, Hajah Sillah and Zainab Sillah; Her mother, Haja Memuna Jah Dumbuya; brothers: Sultan Dumbuya and Abdul Dumbuya of New Jersey, Alhaji Dumbuya, presently in Sierra Leone; three sisters: Saudatu Dumbuya, Marie Dumbuya and Nanah Dumbuya; many nieces and nephews. She leaves behind to mourn a large extended family that includes the Dumbuya, Kamara, Bangura, Sesay, Jah, Dainkeh, Wurie, Bundu and Conteh families of Port Loko, Gbinti, and Freetown; many close relatives and friends in Sierra Leone, the United States of America and Europe.