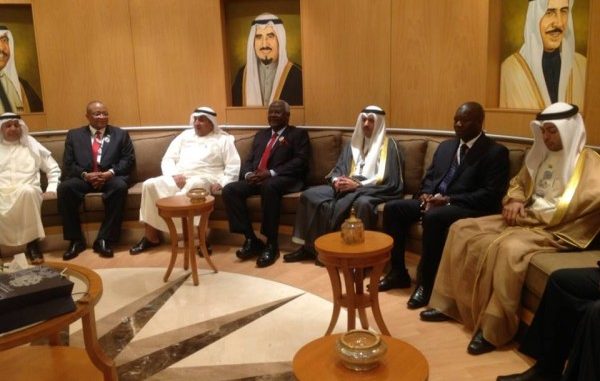 By KABS KANU :
President Ernest Bai Koroma has stepped out of the nation once again in his never-ending search  for golden opportunities to strategically position Sierra Leone for the socio-economic and political development encapsulated in his Agenda For Prosperity. The President, who is more concerned with his continuing quest to make Sierra Leone a better place for the present and future generations  than the idle banter of his detractors,  is in Kuwait where he is attending the Third Africa-Arab Heads of States Summit.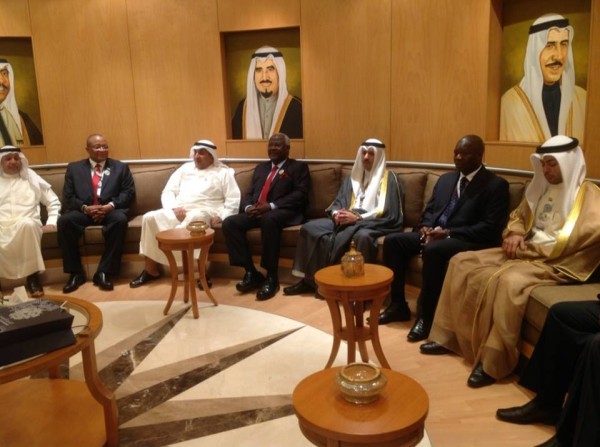 PHOTO CREDIT :  JARRAH KAWUSU-KONTE
According to a press release from Kuwait, "The summit will particularly focus on exchanges and investments and Afro-Arab officials will endorse an assessment report on the implementation of the 2011-2013 Afro-Arab partnership. They will also explore cooperation sectors for the 2014-2016 period and the status of the Afro-Arab Institute for Culture and Strategic Studies. "  The theme for the third Africa- Arab summit is "Partners in Development and Investment".
That being so, President Koroma finds himself in familiar territory as his quest has always been to position Sierra Leone for strategic international partnerships, development , commerce and investment,with other nations , since he came to power in 2007. In fact, it is President Koroma,  who in only six years of leadership ,  has strategically and successfully showcased Sierra Leone to  the international world as a very productive and promising nation capable of engaging in progressive partnerships  with other nations and international organizations, businesses and commercial concerns intent on a fruitful exchange of abundant economic and commercial potentials with advancing nations like Sierra Leone.
Sierra Leone definitely has a place in such important international gatherings  where , in this case, the economic destiny of two regions is going to be sealed within the context of a globalized socio-economic and political world order. Sierra Leone  always has so much to offer in terms of our abundant natural and mineral resources and the healthy investment and economic climate prevailing presently in the country under the outstanding and much-celebrated leadership of President Ernest Koroma. In return, President Koroma could successfully woo development partners who could come to Sierra Leone to help  us develop our mining, energy, fishing, health , Tourism ,  agricultural and transportation sectors.
Nations and international business and commercial concerns that want to engage in strategic economic partnerships with Sierra Leone will find that they have nothing to worry about because Sierra Leone is not only  one of the safest countries in the world  today but one of the easiest to start and operate a business and the country has a flourishing multi-party culture and a government of transparency and accountability under President Koroma's leadership, not to mention the friendliness and hospitable character of Sierra Leoneans.
Sierra Leone's good image in the international world as a  safe and democratic nation and the country with one of the fastest growing economies in the world will definitely strengthen President Koroma's hand and his voice as he seeks to establish these strategic economic partnerships that are no doubt the cornerstone for socio-economic and political developments in the country.
President Koroma himself has a global reputation for being a democratic leader and a progressive head of state , traits that endear him to the likes of U.S. President Mr. Barak Obama ,  the UN Secretary General, Ban Ki-Moon and other world leaders.
There is thus no doubt that Sierra Leone has accrued the tools for meaningful economic partnerships with other nations and President Koroma  should spark as usual in this all-important international parley in Kuwait. His voice has always carried weight in the international arena.