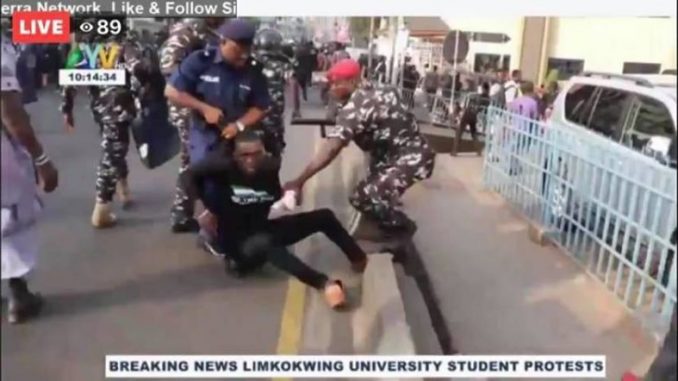 Suerra Leoneans today woke up to more political repression by the President Maada Bio government as Police arrested the  Executive Director of the Citizens Advocacy Network (CAN), Thomas Moore Conteh , journalists and some students of the Limkokwing University  for staging a peaceful procession asking government to pay the fees for the Students on Government grants. 
The students have been home for  over  6 months because government has not paid their fees to the University as was agreed in the scholarship award letters given to these Sierra Leoneean students.  👇 Thomas Moore Conteh , as a civil society activist who has decided to intercede on behalf of the students was spearheading a campaign for the payment of fees for students on scholarship at the Limkokwing University . 
The arrests of the civil society leader and students have  been  widely condemned by Sierra Leoneans on social media.
According to journalist Foday Morris,  The acting editor and reporter for Newswatch Newspaper Morlai Kargbo and the reporter for Newswatch online TV, Mustapha S. Bangura with other journalists were arrested. They were arrested and manhandled by members of the Sierra Leone Police while covering a protest by students of Limkokwing University along the Siaka Stevens street (cotton tree) in Freetown.
They are still here at the CID headquarter as I'm typing. No one is allow to see or talk to them.. Press freedom is at stake.
Sierra Leone former Press Attache to China, John Baimba Sesay , also reporting on social media about the arrests, had this to say :  "The State has a duty to provide the free space for the operations of media professionals and civil rights groups like that of Thomas Moore Conteh. Also, protests form part of a nation's democratic credentials. As a journalist myself I get literally sick and disgusted when one is arrested for attempting to protect as a way of expressing their disapproval over some issues . "
"I could have series of reservations regarding the whole episode around that university at IMAT. But what is also vital is students can't be reprimanded for speaking out or protesting. Arresting Thomas Conteh isn't the answer. Arresting protesting students won't stop them from agitating."Let government take into the account the plight of those affected students . Review the MoU with the university and get things moving . Government is all about continuity. And lastly my hope is Conteh and those arrested students are released as that itself isn't good for our country's image . May common sense prevail. "
Abdul Fatorma, another Civil society leader  said :
"The CHRDI strongly believes that peaceful protest is a fundamental civil liberty and it behoves the Police who are enforcers of the law to recognise that right and ensure they provide the enabling environment for citizens to exercise it. "
"The constitutional responsibility of the Police in relation to the right of citizens to protest, stops at keeping the peace, protecting the citizens who want to protest and creating the enabling environment by ensuring crowd and traffic management as the case maybe. "

THE STUDENTS PROTESTING PEACEFULLY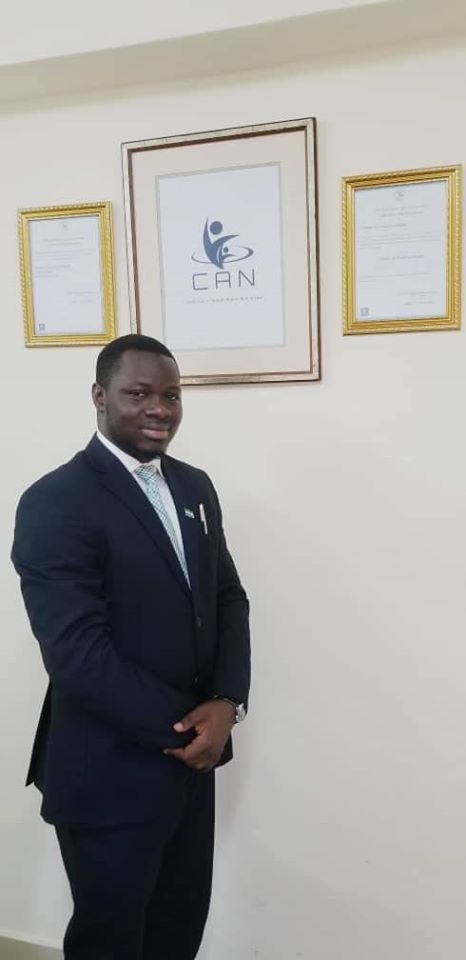 THOMAS MOORE CONTEH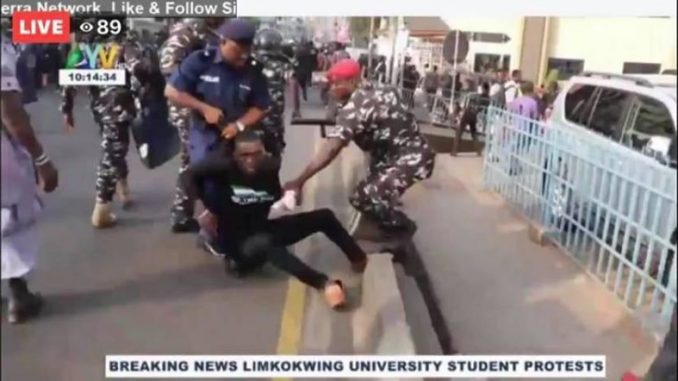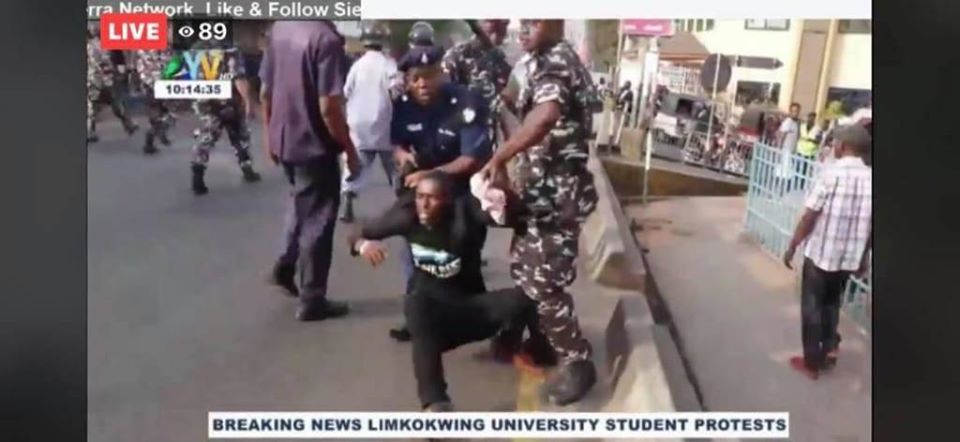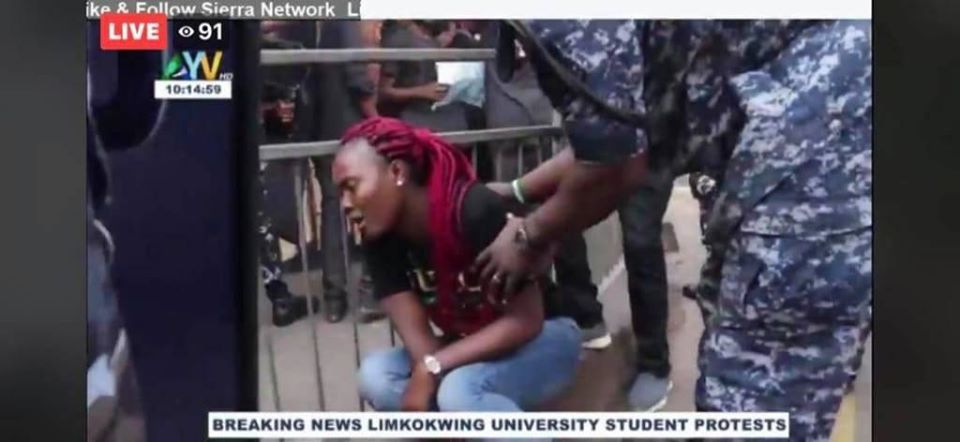 THE ARRESTED STUDENTS
Bah Abdul This is really sad to the core. The police always have reasons to suppress students protests even though they know it's a legitimate right of students to protest about issues that affects their livelihoods.
When will Sierra Leoneans get out of this decades of mess?
The police can't even think for themselves let alone be an independent institution. They are just there as a tool for every regime that comes to power. This is really painful, shameful and pathetic.
One of the IMPORTANT right our democracy must rest on is "The right to speak our minds and protest freely, within the ambit of the law, without fear of intimidation." If we lose this, we lose all.
So when citizens are protesting without looting shops or burning public buildings then they're protesting within the ambit of the law. What is wrong with you?🤦🏾‍♂️
harry Harris Not sure it's still a question of "if we lose". The question is, Is Sierra Leone of today a democratic country? CAPITAL NO! They've smashed all that long time ago, let's stop playing ourselves.
Veronica Conteh 

Thank you hun for not sitting on the fence on this one. We really need serious reset in that country cos continuing on this downward spiral is destructive.

See how unprofessional the Sierra Leone police has become. Students demonstrating peacefully, see how sporadically they interceded into the students gathering with barrage that caused the chaos. Thomas Moore Conteh is a human rights activist. That's his responsibility to answer to the call of those poor students which rights this total misdirected government is trying to trample. Free the activist, Thomas Moore.