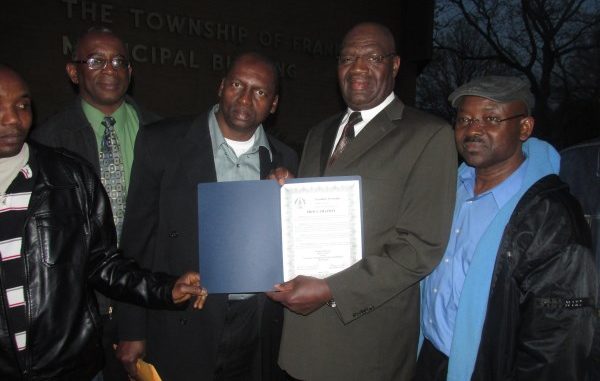 The umbrella organization in New Jersey—–The Sierra Leone Community of New Jersey ( SLCNJ )—-on Monday held an important meeting to strategize how to raise funds and procure relief supplies for the hundreds of survivors of the catastrophic landslide that killed over four hundred residents of Freetown over a week ago.
The Chairman of SLCNJ, Mr. Lamin Alharazim , told COCORIOKO  yesterday that the organization had started meeting since last week  to put together strategies to help the survivors ,  who are in dire straits after losing their family members , their homes and all they ever possessed in this world in the disaster.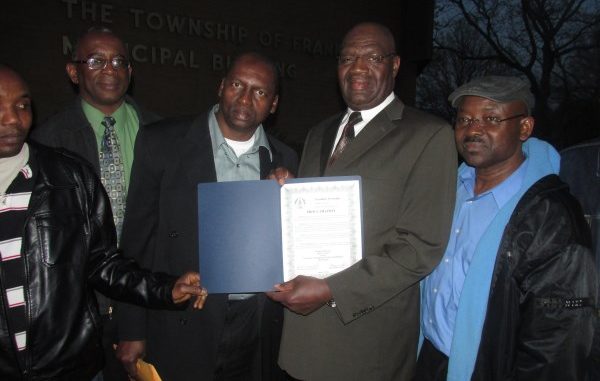 SOME MEMBERS OF SLCNJ —SECOND FROM RIGHT IS MR. ALHARAZIM AND NEXT TO HIM ARE MESSRS HARDY GABISI AND MELBOURNE GARBER
Mr. Alharahim said that it was incumbent on Sierra Leoneans living in New Jersey to come to the aid of our distressed people in Sierra Leone. He lamented the succession of calamities in Sierra Leone, the landslide striking just two years after the country was stricken by the Ebola outbreak.
Mr. Alharahim is calling on Sierra Leoneans to attend Friday's meeting where the stage will be set for the beginning of donations.
He praised members of SLCNJ  for their commitment to the goals and aspirations  of the organization, especially the Secretary General, Mr. Hardy Gabisi, the Youth Leader and Co-Chair, Mr. Hindolo Barnett , the Assistant Secretary General, Mr. Mohamed Fofana and the Publicity Coordinator, Mr. Alhaji Noah.