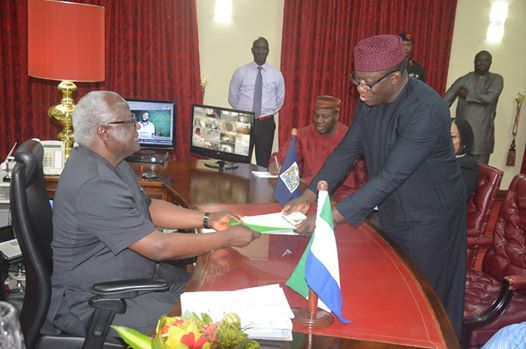 By State House Communication Unit
The Minister of Mines and Steel Development of the Federal Republic of Nigeria, Dr Kayode Fayemi, was yesterday Thursday January 19 received in audience by His Excellency President Dr Ernest Bai Koroma at State House in Freetown. Dr Fayemi was in the country as Special Envoy of His Excellency President Mohammadu Buhari of Nigeria to solicit Sierra Leone's support for Nigeria's candidacy for Commissioner for Peace and Security, African Union Commission.
According to Dr Fayemi, Nigeria has presented Ms. Fatima Kyari Mohammed as candidate for Commissioner for Peace and Security, African Union Commission. Fatima Mohammed is currently Special Adviser to the Vice President of the ECOWAS Commission.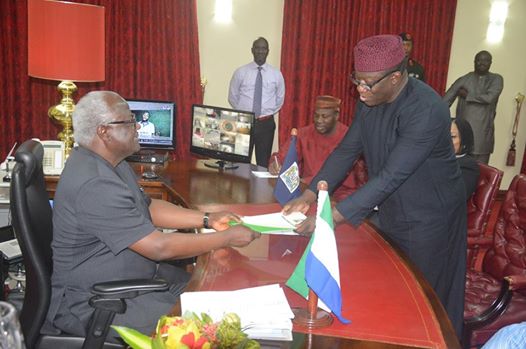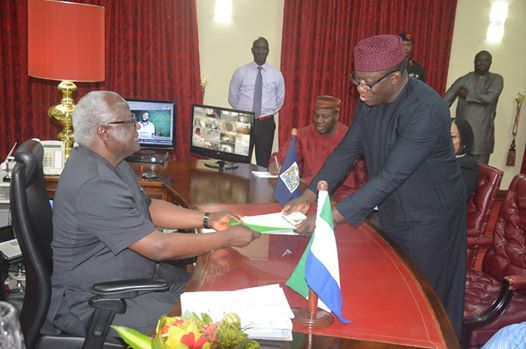 The Nigerian envoy, who was introduced by Sierra Leone's Minister of State 1 of the Ministry of Foreign Affairs and International Cooperation, Dr Mohamed Gibril Sesay, stated that his country has been the epicentre which bore the most devastating brunt of the scourge of terrorism and therefore, have the experience and motivation, and wish to be at the centre of deliberations and decisions in confronting these challenges by the African Union, to which "we have contributed and on whose behalf we have sacrificed so much", he said.
President Koroma thanked his Nigerian counterpart, President Mohammadu Buhari, for sending yet another special envoy to him even after reaching an agreement at ECOWAS to support Nigeria's candidacy for the aforementioned position. He said Nigeria has a long standing history in peacekeeping efforts in West Africa.
The president recounted the support Nigeria gave to Sierra Leone during her difficult moments, saying that the bond between the two countries is very strong. "That bond is there and will always be there," he assured.