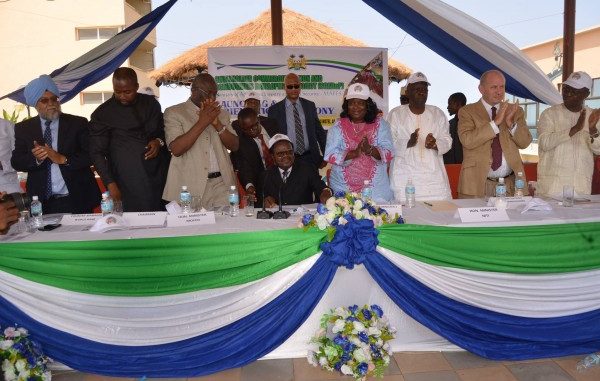 Statement delivered by the Hon. Vice President, Dr. Victor Bockarie Foh on behalf of His Excellency Dr. Ernest Bai Koroma
at The Official Launch Of The Smallholder Commercialization and Agribusiness Development Project
Bintumani Hotel
Aberdeen
20 January 2017
Salutations,
Since my election into office in 2007, I made a commitment to empower the rural poor, to increase their food security and incomes and to sustain livelihoods. As espoused in the Agenda for Change and in the Agenda for Prosperity, we set out with the implementation of the Small Holder Commercialisation since 2008, to reduce the gap between national rice production and demand, to increase farm incomes and ultimately to reduce rural poverty.
But evidence and our experience have shown that while commercialisation in agriculture is a promising path to poverty reduction and food security; it is not without planning and implementation hurdles.Progress comes partly through trial and error.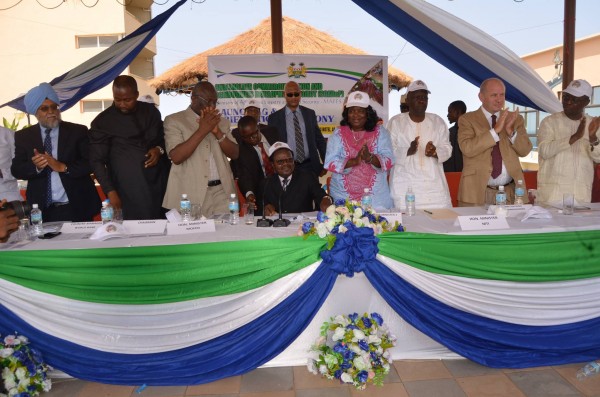 Today's launch of the Smallholder Commercialization and Agribusiness Development Project, which benefitted from the lessons learnt in the implementation of its predecessor, further underscores my Government's commitment to our poverty reduction goals; it underscores our commitment to the empowerment of smallholder farmers, women, young people and to Agribusiness Development.
We have embarked on this path knowing that a huge number of our citizens are engaged in agriculture;that quite a number of our farmers are engaged in subsistence farming and that there is low level of commercialization in agriculture production.
But distinguished ladies and gentlemen, there is ample evidence that largely through their own initiative, by engaging in more diverse crops, small farms can successfully commercialise, thereby raising productivity on their farms and increasing their incomes. Therefore, to ensure effective commercialisation, our farmers need government and private sector support. This is whymy government hascontinued to support our farmers with inputs, expose them to new technologies and farming techniques, promote better seed production and use. We will continue to support them in addressing environmental challenges relating to the use of fertilisers and pesticides; and we will continue to encourage irrigation and conservation of the river catchments to sustain flows to their farmland.
While these efforts will result in sustainable farming andhigher yields;my government, through this project, will continue to address the issue of access to markets; rehabilitatefeeder roads, construct bridges and culverts that will connect productive areas to markets. This support also has social impacts on our rural communities because with roads, bridges and culverts, we link remote areas to big towns where they can access health and other social facilities.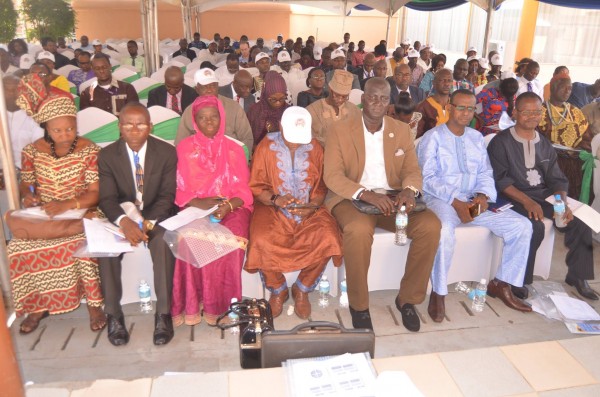 Distinguished ladies and gentlemen, my Governmenthas also taken action to promote local marketthrough the implementation of the Local Content Policy by ensuringthe utilisation of a reasonable percentage of local rice and other local farm productsin our National School Feeding and institutional feeding programmes.
To deal with the challengesrelating to access to funds and to provide ready markets; this project will empower smallholder farmers and selected agribusiness firms and other commodity off-takers in the country. This is ensured through a Matching Grant that will be directed towards improving post-harvest activities of smallholder farmers and other value chain actors. A revolving Agriculture Loan Fund will be established to this effect and unlike other funds managed by the Apex Bank; the Agriculture Loan Fund will be given towards agriculture production activities only. It will be a concessional loan in order to give rural farmers access to credit with as little impediments as possible.
Distinguished ladies and gentlemen, as we have established, the expansion and sustainability of the agribusiness sector cannot be addressed by government alone.We therefore applaud our development partners – the World Bank and DFID for working closely with my government in designing the project and providing the necessary funding for implementation. I would like to encourage other development partners and the private sector to contribute to the Agribusiness Development Fund to increase its size and make it a more sustainable.
While we encourage new entrants into the sector, the agribusinesses in the private sector must take advantage of the financing opportunities under this project to expand their operations. Smallholder farmers should seize this opportunity to transform their production to medium size viable commercial agriculture entities.
With the continued support of our development partners, with the cooperation of our farmers, with the effective participation of the private sector, we can considerably improve our agriculture sector, improve the lives of our people and enhance economic growth.
Distinguished ladies and gentlemen, it is now my honor to launch the Smallholder Commercialization and Agribusiness Development Project.
I thank you all for your attention.