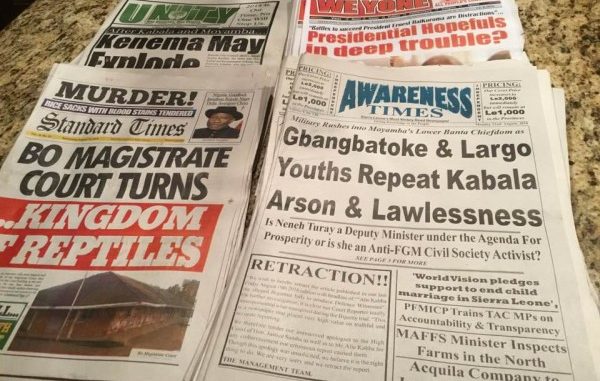 By KABS KANU :
I have just started receiving a deluge of newspapers from SIERRA Leone from members of President Ernest Koroma's delegation to the UNGA. See below photos of some of the key newspapers from Sierra Leone that were received by me yesterday. 
While thanking the gentleman profusely for diligently collecting the newspapers for me, this time I will not name him because I do not want people to go and whisper in his ears to stop sending newspapers for me, thinking that he is empowering me by putting me in direct touch with what the opposition is writing against the government in the local newspapers.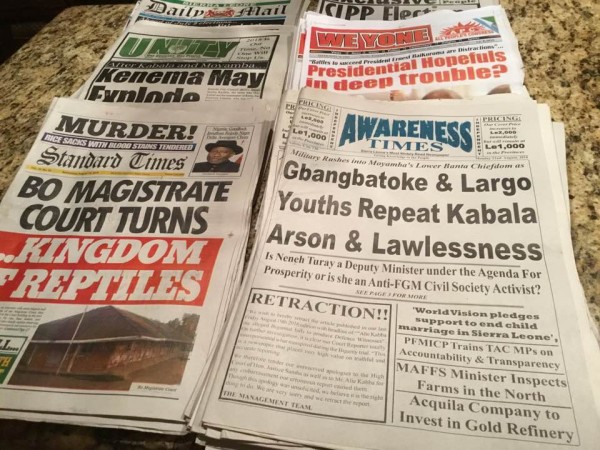 I also thank all the newspapers publishing my articles . You are free to use any article in the Cocorioko Newspaper or press releases. However, I want to raise concern here that some newspapers are using my articles without crediting me or Cocorioko.
We in the media abroad are facing numerous challenges to get our stories, with saboteurs within and without at times standing right in our way, or tacitly denying us access to the action spots. This makes the job very difficult.
As a result, it is unfair to some of us when , after all our struggles, newspapers use our articles and fail to give us credit for our pains. Some have the audacity to credit our reports to special correspondents that they do not name.
You as media men and women know the challenges we all are facing working in our diabolical Sierra Leonean media landscape.- the hinderances and all that. You know that it is unfair to deny us credit after all our labors.
This is just a kind advice: ACKNOWLEDGE YOUR SOURCES. WE ARE IN THIS TOGETHER. LET US GIVE OTHERS CREDIT FOR THEIR TOIL AND PAIN.
THANKS once again for publishing our reports..
These papers in the photo  are not the newspapers responsible for not crediting us. I have just posted the photos of  some of the very important papers I have received to demonstrate that nobody has the power to deny us the opportunity of receiving newspapers from Sierra Leone. Some people are trying to block us but they will fail, in the name of Jesus.