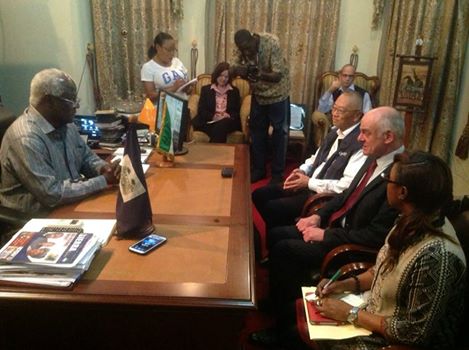 By State House Communications Unit
A high powered United Nations delegation led by the UN System Coordinator for Ebola, David Nabarro on the 24th August paid a courtesy call on President Dr Ernest Bai Koroma at his State Lodge, Hill Station.
The team is in the country to assess the current Ebola Response as well as the challenges government is facing to contain the outbreak.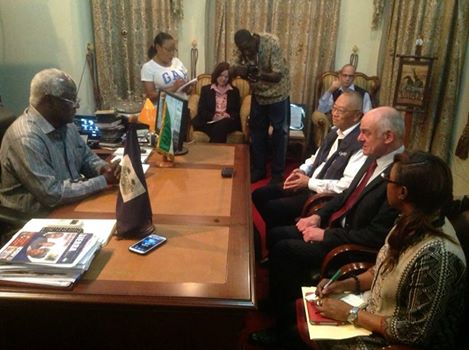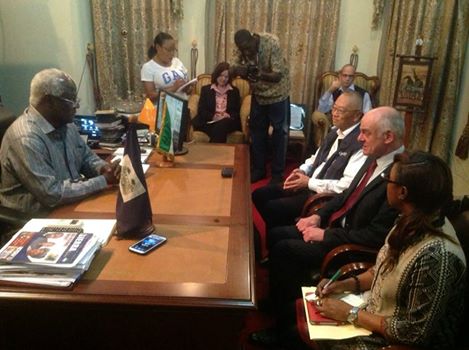 President Dr. Ernest Bai Koroma in his statement informed the delegation that government announced the outbreak in May this year saying that the pronouncement requires them to take the necessary actions in combating the disease. President Koroma also noted that government has been in discussions with the World Health Organization from its state of preparedness and that they had been advising and consulting with them every step of the way until the circumstances changed to responsiveness. "I think they have been fully involved at every stage advising us on what to do and what not to do and they have been part and parcel of the process," the President noted.
Acknowledging the huge challenges in term of expertise and logistics in the fight against the Ebola Virus Disease, President Koroma further registered government's continued commitment in the fight against Ebola by supporting the activities in the treatment centers, whilst disclosing the construction of other treatment centres in Lakka, Kerry Town and Bo; all in an effort to contain the deadly virus. The President stated that the Ebola experience is new to the country as this precipitated the need to depend on the World Health Organization and other donors to give support.
Even though there are huge gaps and challenges in the training of contact tracers and surveillance officers, President Koroma said that the people are now fully sensitized about Ebola and furthered that what "we need to do now is to roll out in a very efficient and effective manner."
Mr. David Nabarro said that his discussions with stakeholders, including the President would be based on ways in which the whole United Nations System including the World Bank would give maximum support and assistance to the government and the people of Sierra Leone in relation to the Ebola outbreak. It is with this spirit, Mr. Nabarro said, they had been in discussion with the Minister of Health and Sanitation as to what the United Nations System should do in order to provide better assistance and rapid control of the outbreak for enabling the economic recovery of the country, restoring air transport links, protecting health workers and promoting a better health care system.