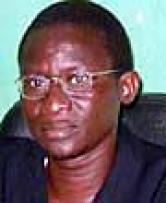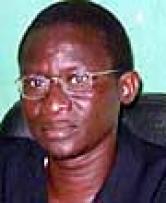 Monday January 2, 2005
 COCORIOKO'S Man of The Year is FOR DI PEOPLE Editor , Mr. Paul Kamara , who was recently released from jail where he had spent almost two years before the Sierra Leone Appeals Court threw out his conviction for alleged Seditious Libel against President Ahmad Tejan Kabbah.
Paul Kamara won this distinction from COCORIOKO  because he has been a dogged and bold fighter for the political and human rights of Sierra Leoneans at home and abroad. Through his newspaper, he has been very brave enough to launch a war against human rights abuse, corruption, misgovernment, graft, impunity and other criminal acts against the state and the people of Sierra Leone.
At a time when many journalists once relied upon to be the saving grace and spokespeople  for the ordinary man in the street are become sycophants and the mouthpiece of corrupt elements in the society, Paul Kamara's sacrifice must not be allowed to fizzle into thin air . He must be recognized for blazing the trail in fearless and uncompromising journalism against the nation-wreckers.Because of his bold criticisms of the government, Paul Kamara has suffered so much at the hands of the ruling SLPP government. He has been arrrested many times and he has been to jail twice. He has also suffered loss of property and earnings because of his determined and unwavering stand against corruption and other vices in high places in Sierra Leone.Paul Kamara is a brilliant example of what the true journalist should be in a corrupt society permeated by  the spirit of impunity as obtains in Sierra Leone.
The corruption and ineptness of governments in Sierra Leone have caused extensive sufferings for Sierra Leoneans. The people are suffering so extremely that they need the services of conscientious and patriotic journalists to take these bad rulers to task and force them to seek the interest of the people. Paul Kamara meets the requirements for being classified as  a Man of The People.