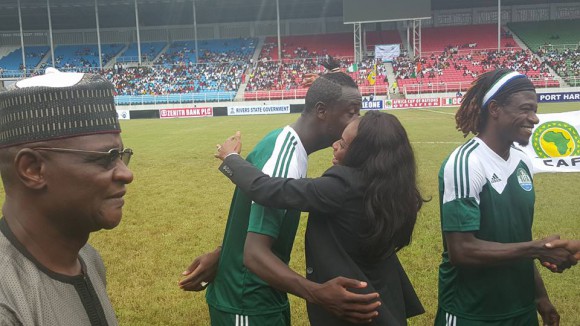 By KABS KANU :
Leone Stars of Sierra Leone brought more pride to the nation today by playing the African giants Ivory Coast to a goalless draw in the African Nations Cup qualifier in Port Harcourt , Nigeria.
This huge result means that Leone Stars stand a great chance to qualify for the competition proper. It also means that we have remarkable players who will be able to bring glory to our country if they had the appropriate training.
Leone Stars always play better against the Giants of Africa than the mediocres. South Africa, Nigeria, Ghana, Egypt, Tunisia, Algeria. If we repeat this fantastic performance when we meet the the weak African teams like Togo, Benin and others, we will achieve great laurels.
LEONE STARS need the support of everyone .
Congratulations to the Leone Stars.
________________________________
HERE IS A REPORT OF THE GAME FROM THE SIERRA LEONE NATIONAL TEAM WEBSITE
Ivory Coast the second best team in Africa endured a frustrating time against their West African counterparts Sierra Leone as they were held to a 0-0 draw in Port Harcourt Nigeria in their 2017 qualifying Group I matchday 2 on Sunday.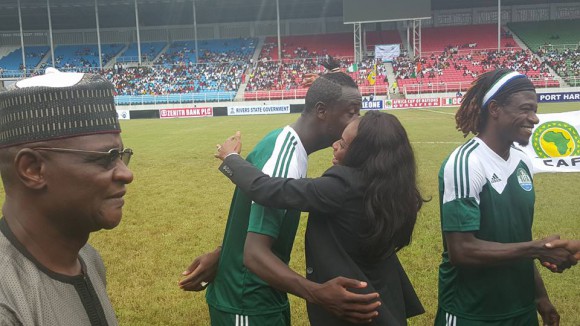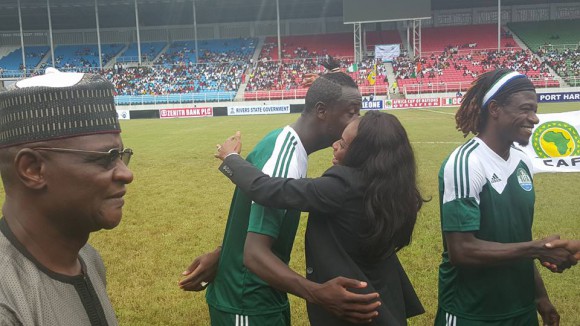 (Photo: SLFA boss Isha Johansen congratulating the Leone Stars players)
Brilliant result for Leone Stars and their Ghanaian technician Sellas Tetteh, who made his debut on the technical area with Sierra Leone for the first time since signed on loan.
For the first time, since the Ebola outbreak last year Sierra Leone hosts their home fixture in a neutral venue.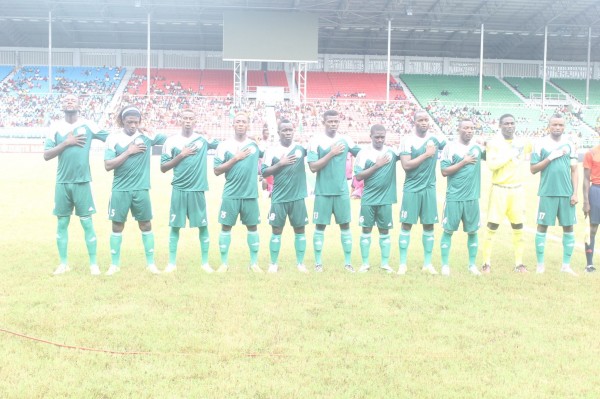 There were plenty of high-profile names missing for the reigning African Champions, the likes of Yaya Toure, Wilfred Bony, and Newcastle Check Tiote.
The Ivorians were unable to shine without some of their big name players despite having plenty of possession.
The hosts had a chance of their own in the early exchange but failed to capitalise.
In their first match, the Elephants drew 0-0 with Gabon, who have nothing at stake in the group having already qualified automatically as hosts. Sierra Leone lost 0-1 to Sudan in Khartoum.
The result sees the Leone Stars at the foot of the group despite tied on one point with Ivory Coast after two games, two points adrift of group leaders Sudan.
Sudan mathematically in second place in the Group with three points despite Gabon thrashing them 4-0 in Libreville to go top with four points.
Gabon result in itself was of no consequence as they will host the Afcon tournament in 2017, which means Sudan on three points are leading the group.
The match was originally scheduled to take place in Lagos but was relocated to Southern Nigeria after the Ivorians requested a change of venue due to artificial pitch in Lagos.
Sierra Leone are next in Afcon action in March 2016 away to Gabon while Ivory Coast will host second place Sudan.
Next matches:
Gabon v Sierra Leone
Ivory Coast v Sudan