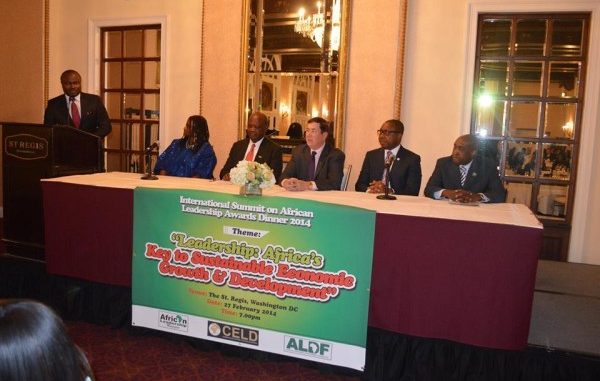 By PASCO  TEMPLE :
Sierra Leone's President Ernest Bai Koroma has been awarded for his Pioneering Leadership, Public Spiritedness, Integrity, Love and support for the common man and Woman of Sierra Leone, by authorities of a United States based "The African Leadership Magazine" during a very colorful and graceful International Summit with a theme "Leadership: Africa's key to Sustainable Economic Growth & Development.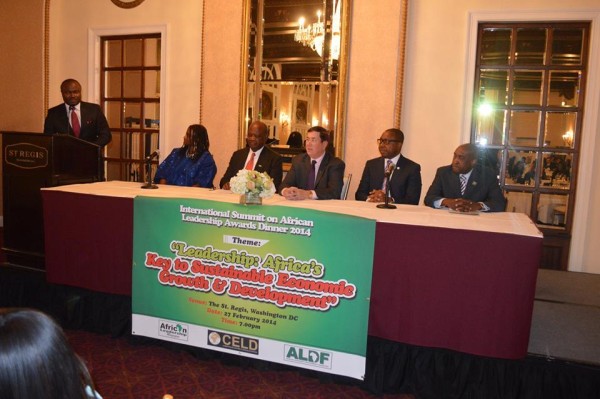 The Chief Executive of African Leadership Magazine Dr. Ken Giami Presented the prestigious Award to Ambassador Bockari Kortu Stevens, who stood in for President Ernest Bai Koroma at the Esteemed St Regis Hotel on 16th & K Street NW, Washington DC on Thursday February 27th 2014.
The activity was characterized by pump and pageantry: a night of admiration, fun, festivities and education.
The Banquet gallery was full of Attendees (Diplomats, leading African decision makers, business leaders, Captains of Industries and Friends of Africa) all dressed in color.
Several speakers including the Chief Executive Officer African Leadership Magazine Dr Ken Giami, State Representative Dee Dawkins Haigler Chair, Georgia Atlanta's Legislative Black Caucus, Amr. (Dr) Robin Renee Sanders and others poured positive words in good spirit about Africa in general and Sierra Leone in particular.
The Banquet also saw a panel of four discussants including Sierra Leone's Deputy Chief of Mission to the United States of America Amr. Ibrahim. S. Conteh deliberating issues on the Theme: "Leadership: Africa's key to Sustainable Economic Growth and Development": coupled with a fashion show entertainment by Matthew Cashe Designs.
Earlier in his opening remarks, the Chief executive of African Leadership Magazine Dr. Ken Giami welcomed guests and said the "careful" decision to Award President Ernest Bai Koroma and five others this year, was reached by the Executive Board of Trustees and panel of Judges after a series of deliberations without any contrary view.
He described President Ernest Bai Koroma as "a unique character, who brought transformative leadership qualities, commitments, dignity, and integrity to Sierra Leone.
"With great skills, fortitude and Perseverance, President Ernest Bai Koroma continues to build on the All People's Congress (APC) manifesto and compressed up the aspirations of Sierra Leone into an "Agenda for Change: "An Action Oriented Template for Socio- Economic Transformation. Said the Chief Executive Officer. Adding, "President Ernest Bai Koroma commenced the biggest road construction program in the history of Sierra Leone and transformed the Energy Sector by completing the more than Three decades old Bumbuna Hydro electricity project and improved on electricity output in the Country.
"President Ernest Bai Koroma launched the Small Holder Commercialization program and initiated the Country's "Free Health Care Program for pregnant women, lactating mothers and children under five.
"His reforms attracted Hundreds of Millions of United States Dollars investments in the Country's mining and Agricultural sectors – creating thousands of jobs and the Country has one of the highest and fastest economic growth rates in the world."
Dr. Ken Giami described President Ernest Bai Koroma's Human Rights record as exemplary, standing tall as the only President in Sierra Leone's history that has not carried out a capital punishment during his presidency. He is also on record for encouraging a free press and has never sent any journalist to jail.
He said President Ernest Bai Koroma's government stepped up the fight against corruption, enacting one of the most robust Anti – Corruption Legislation in Africa that has seen the highest annual conviction offenses and the recovery of hundreds of millions of Leones (The Country's Local currency)."
"A firm believer in Equal Rights Dr. Ernest Bai Koroma has appointed women to high ranking positions including the Lady Chief Justice Umu Hawa Tejan Jalloh, the first in the nation's history, The Auditor General, A Woman Brigadier General Etc.
"President Ernest Bai Koroma is an internationally acknowledged Statesman, drawing accolades from President Barack Obama, former British Prime Minister Tony Blair, and many other internationally accredited organizations.
Dr. Ken Giami said previous nominees and Awardees by the "African Leadership Magazine" were met with criticisms and or negative comments, or protests: but the Choice of President Ernest Bai Koroma has not experienced any.
Receiving the Award, Amr. Bockari Kortu Stevens thanked the organizers for making the careful decision to Award the Sierra Leonean President Dr. Ernest Bai Koroma
Amr. Bockari Stevens quoted the authority that qualify him to stand in place of President Ernest Bai Koroma and said "I feel highly honored to represent my President and Country. He also thanked "The African Leadership Magazine for bestowing such honor to his President and the Country.
He said all what was said by the organizers and other distinguished personalities about the development of Sierra Leone are true.
Other recipients include the Managing Director of GWI Consulting Omar Arouna, Igho Charles Sanomi 11Chief Executive Officer TALEVERAS Group, William Ato Essien Founder First Capital Plus Ghana,Engineer A.V. Felix Managing Director and Chief Executive Officer ENERGIA Limited and Amr. (Dr) Robin Renee Sanders.
Other past recipients of African Leadership Magazine Awards include H.E, Atiku Abubakar, Former Vice President of Nigeria; H.E, Xavier Luc Duval, Vice Premier of Mauritius; Mr. Donald Kaberuka, President of the African Development Bank; Malam Sanusi Lamido Sanusi, Governor of the Central Bank of Nigeria; Alhaji Dikko Inde Abdullahi, Comptroller-General of the Nigeria Customs Service; Dr. Mo Ibrahim of Mo Ibrahim Foundation among others.