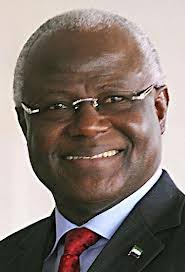 President Ernest Bai Koroma on Friday 10th January called on the Japanese Prime Minister, Shinzo Abe to strengthen the partnership with Africa to support and accelerate the African common position on the reform of the United Nations Security Council.
He made this statement during the ECOWAS meeting at the Sofitel Conference in Abidjan, Cote D'Ivoire.
President Ernest Bai Koroma argued that since Africa has the largest contingent of members in the United Nations, and most issues deliberated upon at the United Nations Security Council are about Africa, it is therefore fair, just and necessary to have a seat  in the Security Council. The President also called on the Japanese Prime Minister to enhance capacity building in Africa particularly to enable the region have its own experts for achieving sustainable socio-economic development.
Japanese Prime Minister Shinzo Abe congratulated the attending Heads of State and Government for the long path they had taken to arrive at this point, adding that West Africa is a very dynamic place for investment. He disclosed that quite a lot of Japanese private investors were in his entourage to meet with the relevant stakeholders in the region.
Prime Minster Abe expressed the need to transact business with Japan noting that at the previous TICAD 5 meeting in Yokohama, Japanese leaders had discussed on different areas of intervention with their West African counterparts in the educational, health, infrastructural and other sectors.
On peace and stability in the World, the Japanese Premier said they face lots of instability and conflicts. He encouraged leaders to use dialogue in conflict resolution to avoid further loss of lives and properties, and added that he will use the meeting as an opportunity to hear their vision on the way forward.
Ivorian President Alassan Quattara, in his welcome address, expressed profound gratitude to the Japanese Government for the continued support to West Africa, and cited the Japanese grant of thirty two million dollars to the Africa official development assistance for the next five years in accordance with the Yokohama Declaration of TICAD 5.
President Quattara reassured Japan of West Africa's commitment and readiness to work with Japan and promote deeper cooperation for the mutual benefit of both regions. He added that ECOWAS Heads of State and Government are further counting on strong Public Private Partnership to deepen integration, and described the new partnership with Japan as a win – win situation for both Japan and Africa.