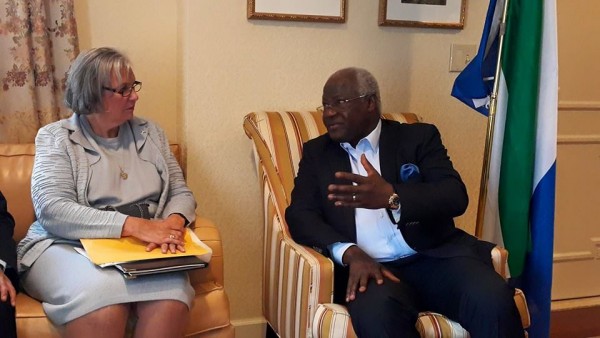 By State House Communications Unit
A delegation from New Haven led by the Chairperson of the New Haven and Freetown Sister Cities Madam Althea Norcott has donated $140,000 worth in vehicles (4 in total), water, medical supplies and a few school supplies as a gesture of their empathy towards the people of Sierra Leone in the fight against the Ebola virus disease (EVD). The donation will arrive in Freetown on 21st April, 2015 and will be presented to President Ernest Bai Koroma by Ambassador Bockarie Stevens and Mr. Mohamed Barrie. "I hope you will be able to attend this presentation," the Mayor said in a letter addressed to President Koroma, and noted that New Haven is a small city of 130,000 people, "but it is a city with a big heart and I hope this gift will help you as you strengthen your infrastructure as the Ebola crisis ends.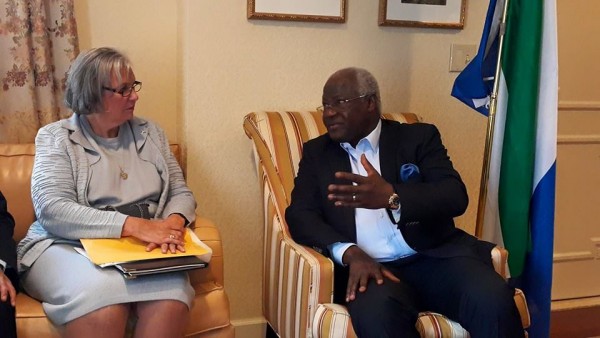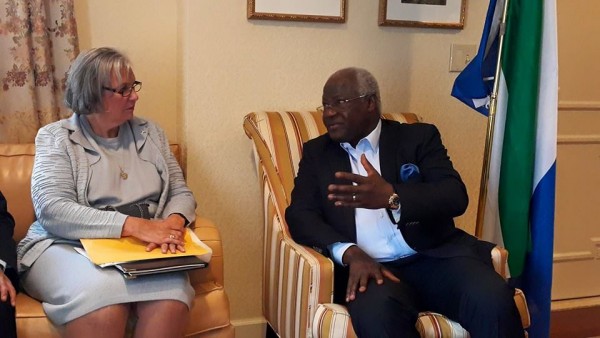 Thanking the delegation from New Haven, President Koroma said that although Sierra Leone is not yet out of the woods with respect to the epidemic, the disease is now under control and "we can now effectively monitor the virus in terms of surveillance," saying that the donation is timely, especially at a time when the government is working tirelessly to kickstart post Ebola recovery programmes.
"I want to assure you and the people of America that the gift that you have provided will get to the targeted group, and as a government we believe that even when we are fighting Ebola we must guarantee transparency and accountability," he maintained and furthered that his government came to office on the ticket of fighting corruption and therefore government has strengthened the institutions responsible for tackling the scourge.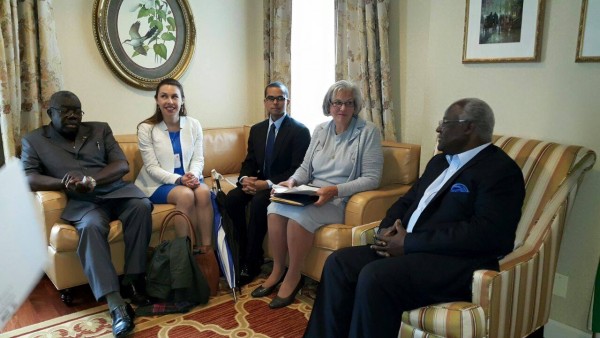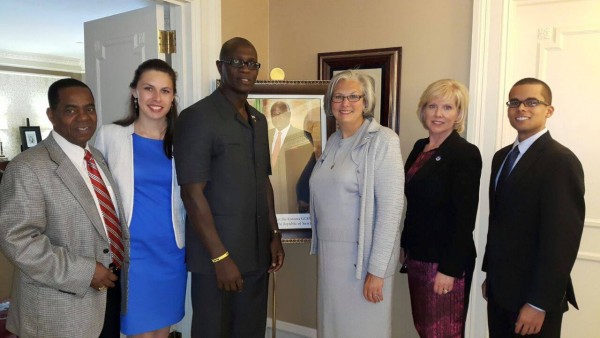 The president noted that the outbreak has taught "us a lot of lessons in terms of having a very robust health system, improved educational system" and social mobilization efforts are all fully engaged moving forward.
President Koroma lamented the fact that before Ebola struck, Sierra Leone was among the fastest growing economies in the world and the country belonged to the league of states that were doing well in terms of infrastructural development, which he said, he was anxious to resume as soon as zero new infections were recorded for the required period of 42 days.
Chief Executive Officer of the National Ebola Response Center (NERC) Major (Rtd.) Alfred Paolo Conteh, who initially received the delegation on behalf of the president, expressed heartfelt appreciation for the gesture, saying that a friend in need is a friend indeed. He said that without the support of good friends like the people of New Haven such feats as the country is now recording in terms of drastic drop in new infections, would have been difficult.
The NERC CEO also noted that Sierra Leone is a resilient nation and God willing Ebola will soon be a thing of the past.
SHCU©2015