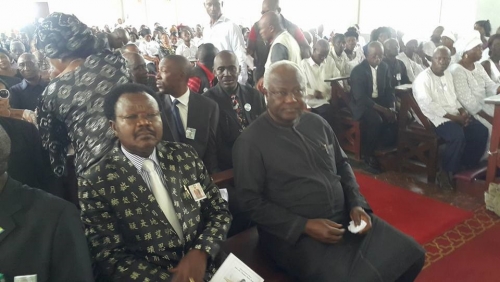 President Ernest Bai Koroma, Vice-President Ambassador Victor Bockarie Foh, cabinet ministers and senior government officials have attended the funeral mass for Hon. Dr Thomas Mark Turay (TMT) at the Our Lady of Fatima Cathedral, Teko Road, Makeni on Saturday, 19th September, 2015 at 11:00 am. Interment at Mayagba Village in Bombali district.
Hon. Dr Thomas Mark Turay was a Member of Parliament representing Constituency 30 in Bombali District. His development priorities in his constituency are education, agriculture and health. He established a scholarship programme for secondary school pupils in his constituency. Eight girls and five boys per school benefited from this programme. TMT is committed to encouraging parents to support girl-child education in his constituency.
Dr Turay was highly educated with a Higher Teachers Certificate in Rural Science from Milton Margai Teachers College (Sierra Leone), a Bachelor of Science in Agricultural Education from Njala University College (University of Sierra Leone), a Post-graduate Diploma in Rural Policy and Planning from the Institute of Social Studies (The Hague) and a Master of Arts and a PhD in Adult Education and Community Development from the Ontario Institute for the Studies in Education of the University of Toronto, Canada.
Prior to his political career, Hon. Dr Turay served as Co-founder and Executive Director of the Center for Development and Peace Education (cdpeace), a rural-based NGO (located at Mayagba, Paki Masabong Chiefdom, Bombali District) specialised in consulting services in education, agriculture and community development and capacity building training of NGOs and CBOs (especially women's and youth farmers' groups). cdpeace provides scholarships to secondary school female and male students and female and male Community Teachers from its targeted communities.
At international level, he served for several years as Full-time Assistant Professor in the Department of Adult Education, St. Francis Xavier University and as Lecturer at the Coady International Institute, Antigonish, Nova Scotia, Canada, Ontario Institute for the Studies in Education of the University of Toronto, Canada; UN mandated University for Peace, Costa Rica and Drexel University, Philadelphia, USA.
Also, prior to his overseas graduate studies and work, he also served as Director of Caritas Makeni. He taught for several years in primary and secondary schools. He was a human rights, peace, gender equality and equity activist and is renowned both locally and internationally as a trainer of trainers among others, community-based conflict transformation and peace building, gender and development, community development and strategic planning.
Hon. TMT as he was fondly known was also an expert trainer in the Gender Action Learning Systems (GALS) methodology. He was a board member of the Sierra Leone Women's Farmers Forum. He championed the fight against Ebola in Constituency 30 and in the country as a whole.
Dr. Turay is blessed with a cooperative and supportive spouse Mary Hawa Turay and three daughters (Theresa, Clara and Christiana Turay, currently in Canada and a seven year old granddaughter Malaika Turay-Bah.
"The late man was a sincere and selfless gender activist. He was the only male award winner in 2015 among 12 females for the empowerment and development of women and girls in Sierra Leone. He developed projects for the betterment of the womenfolk. May his soul rest in perfect peace," said Hon. Marie Jalloh, Deputy Minister of Agriculture, Forestry and Food Security.
Source: State House Communications Unit.