President Ernest Bai Koroma and the Minister of Information, Hon. Alpha Kanu, are seen here working to ensure that Ebola treatment centers in Port Loko are up and fully operational.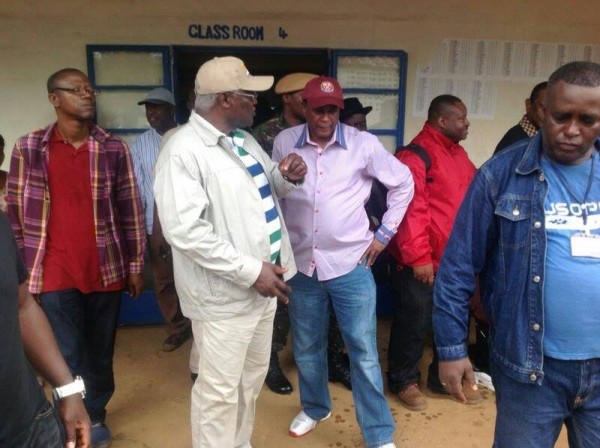 President Dr Ernest Bai Koroma has paid glowing tribute to the Ministry of Health and Sanitation for the great work they have done, in spite of the huge deaths suffered by its staff to help contain the Ebola outbreak. He also commended the tireless efforts of the Sierra Leone Police and the Republic of Sierra Leone Armed Forces to get the treatment center, which is the largest countrywide, up and running.

As new cases of the Ebola disease continue to increase in Port Loko and Other Districts,Hon. Alhaji Alpha Kanu's new assignment by his boss His Excellency Ernest Bai Koroma,is to provide leadership to help prevent the spread of the Ebola virus in PortLoko. Hon. Alpha Kanu is really contributing immeasurably in saving the lives and stopping the Ebola outbreak in PortLoko. A whole Ebola treatment centre was presently on construction at portloko district for Ebola affected people in the district, this was done by the singular effort of the Hon. Minister,to complement the effort of his Boss His Ernest Bai Koroma in the fight against the dreadful Ebola virus in the country as a whole.
The President described the activities of the treatment center as a turning point in the fight against the Ebola virus disease.
President Koroma thanked God Almighty for sparing the lives of the 49 survivors. He urged them to take the news to thier communities and tell the story that if the symptoms are detected early enough, the chances of survival are high.
He also called on Sierra Leoneans to desist from stigmatizing patients discharged from Ebola as this will pay little or no dividend for the fight against EVD.

The President further appealed for more treatment centers and up to 1,000 beds to intensify this fight. "We know it is our role as a government to do these things but we want those who want to help us to hurry as time is not on our side," he said, and added that the Ebola fight is a fight for government and its development partners.

President Koroma encouraged all to continue the collaboration which had resulted into this ceremony being witnessed today.
Meanwhile, a dynamic group of young Sierra Leoneans from all works of life donated assorted provisions, food stuff, sanitary pads and condoms worth over Le16 million to the 49 survivors, including the children.
BY SEPTIMUS KANU