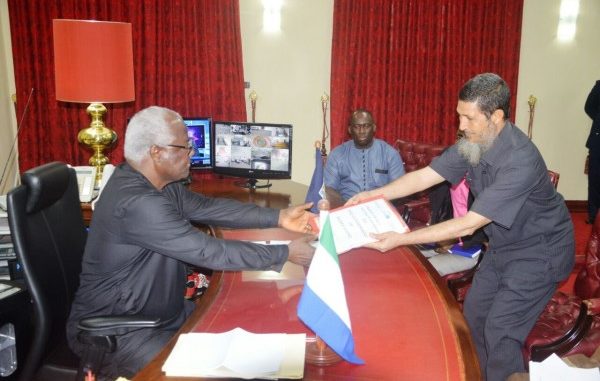 By State House Communication Unit
As this year's pilgrimage to the Holy land of Mecca sets in motion, the Africa Muslim Agency (AMA) and the Manazat Aldawa Al-Islamia Organization on Wednesday August 31 presented eleven tickets and three tickets respectively to pilgrims preparing for this year's pilgrimage to Mecca. The Country Director of AMA, Mr Kemanine Ahmed, presented $59,714 United States Dollars for 11 pilgrims on behalf of the Prince of Kuwait at State House, Freetown.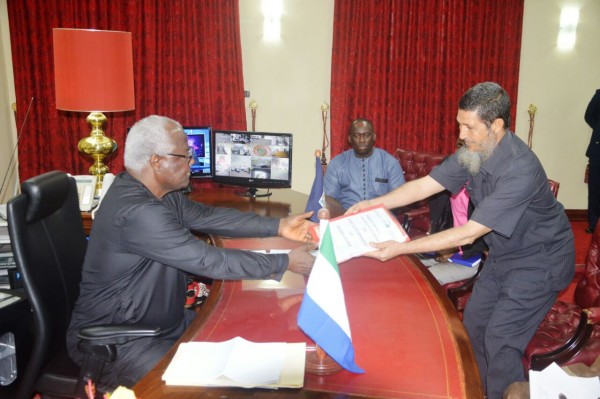 Receiving the donations, President Koroma thanked them for their support particularly to the Muslim Community and assured that the funds will be used for the benefit of the pilgrims. He also thanked the AMA for their contributions to religious education, peace and the promotion of development.
Thanking the Manazat Aldawa Al-Islamia organization, the president said government is also making efforts to appeal to donors to support the process and appreciated the organization for its efforts in community development and engagement.
He handed both donations to the Special Assistant to the President on Political Affairs, Hon. Nuru Deen Yillah Sankoh, to be paid into the Hajj Account.