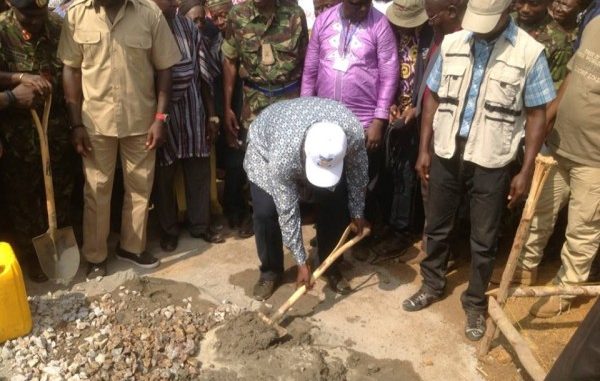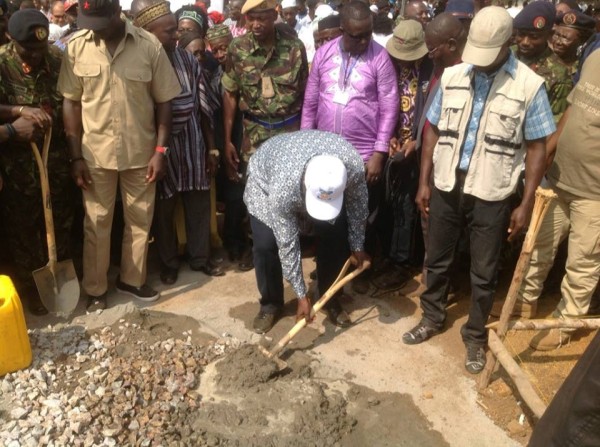 By State House Communications Unit
President Dr Ernest Bai Koroma on Friday 7th February turned the sod for the construction of fifteen accommodation blocks for personnel of the 5th Infantry Brigade headquarters at Gondama, Tikonko Chiefdom, Bo District.
As Commander-in-Chief of the Republic of Sierra Leone Armed Forces (RSLAF), President Koroma revealed that he was appalled by the living conditions of serving personnel during a nationwide needs assessment tour of military assets and facilities he embarked on in 2009.
He assured the soldiers that government will continue to seek their welfare and make the RSLAF one of the most professional armed forces on the African continent, and added that RSLAF is undergoing transformation with successes even in peacekeeping missions in Somalia and Darfur.
The President outlined his plan as C.I.C to construct barracks accommodation for his men in all military deployments in the country. "While we seek peace for ourselves, and aspire to transform the RSLAF into a respected guarantor of peace in not just our Motherland, but on the continental stage, my Government will never turn its back in ensuring that soldiers live a decent and respected life."
Minister of Defence Major Paolo Conteh maintained that accommodation is an integral part of discipline in the military. Without discipline there is no military because discipline is the backbone of the military, he said, and confessed that the provision of accommodation for all personnel in the RSLAF has always been one of his greatest challenges as a member of cabinet.
According to Major Paolo Conteh, although the RSLAF initiated the Operation Pebu during its restructuring exercise in the 2000s to tackle the housing problem, it failed to achieve its goal.
He recalled that all other accommodation for military personnel in Sierra Leone were built by late President Siaka Stevens. He called on personnel to be loyal to government.
The Chief of Defence Staff Major-General Samuel O. Williams said the availability of barracks accommodation is crucial to maintaining morale of troops for them to be effective in combat. He also emphasized that barracks facilities provide the most conducive atmosphere for the maintenance of force cohesion, an ingredient for the attainment of combat power. "It is important that the RSLAF exists as a united body in a barracks environment for promotion of esprit d' corp among troops in peacetime, and strengthen the bond as a single fighting force during war," the Army chief explained.
Residents of Gondama and nearby communities who were in a festive mood throughout the ceremony can expect improved efficiency from the RSLAF upon the completion of the new housing units.
Dankay Conteh of Saint Augustine Primary School in Gondama who delivered the vote of thanks expressed profound gratitude to the C.I.C for removing personnel from a refugee camp with mud and thatch houses to a very decent living condition.
Also in attendance were the Minister of Internal Affairs, Joseph B. Dauda, Minister of Social Welfare, Gender and Children's Affairs, Alhaji Moijueh Kaikai, Minister of Transport and Aviation, Leonard Balogun Koroma, Minister of Information and Communication, Alhaji Alpha Kanu, Paramount Chief Prof. Macavoray III, senior military officers, Presidential Aides, and other senior government officials.