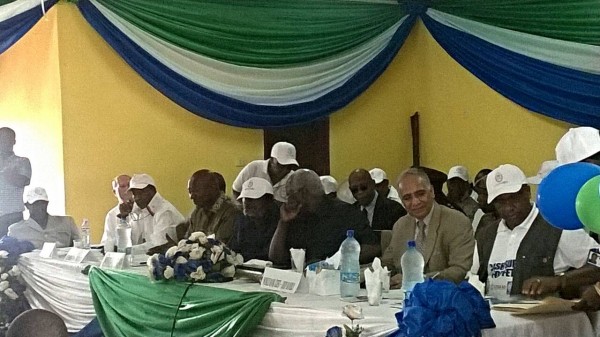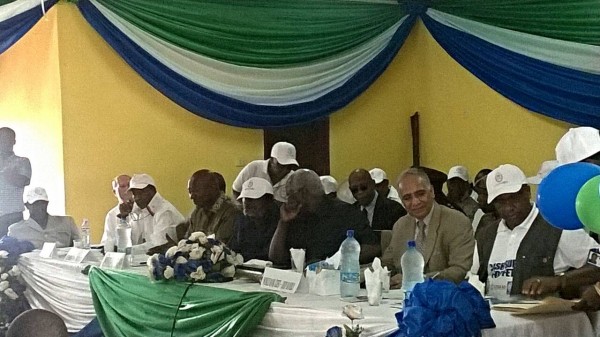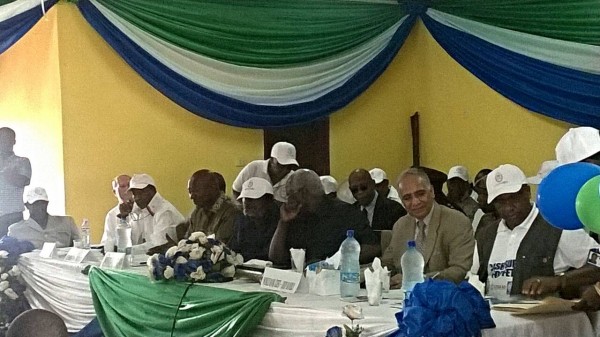 KEYNOTE ADDRESS BY DR ERNEST BAI KOROMA, PRESIDENT OF THE REPUBLIC OF SIERRA LEONE, AT THE LAUNCHING OF THE NATIONAL SOCIAL PROTECTION STRATEGY AND IMPLEMENTATION PLAN AND THE SOCIAL SAFETY NET PROGRAM , HELD ON MONDAY 4TH MAY, 2015 AT THE TONKOLILI DISTRICT COUNCIL, MAGBURAKA.
Mr. Chairman,
Hon Ministers
Hon Members of parliament
Senior Government Officials
Members of the Diplomatic Corps
Paramount Chiefs
Members of the Non-Governmental Organization Community
Distinguished Ladies and Gentlemen,
I am honored to be here to give a keynote address at this important launching of the National Social Safety Net Program and the Social Protection Strategy and implementation plan. In the last few years Sierra Leone has achieved remarkable economic growth and progress in the areas of health, education and food production. Poverty has declined in the last decade, though we still have large numbers of poor people. My government has ensured significant improvement in access to public services, such as primary education and maternal and child health, though, significant sections of the society still experience difficulties in using these services. My government is very committed to removing these difficulties by expanding services and putting in place social protection measures for the poorest and marginalized amongst our people.
We demonstrated our commitment to social protection of the common man and woman in our Agenda for Change. My Government also adopted a National Social Protection Policy in March 2011, which was further developed into the Social Protection Pillar in the Agenda for Prosperity. This has informed the development of a Social Protection Strategy and Implementation Plan with strong institutional arrangements, strengthened coordination mechanisms (under the leadership of my Chief of Staff), pragmatic funding plans, robust program management and evaluation systems and appropriate means for addressing capacity constraints.
Mr. Chairman, distinguished guests, ladies and gentlemen, my Government has remained focused on the need to reduce extreme poverty: for example, whilst we have reduced poverty, we remain committed to protect the over 150,000 poorest households from sinking into further economic difficulties, prevent the 413,000 moderately poor households from sliding into extreme poverty and promote the livelihoods of at-risk population.
As a government committed to improving the condition of the common man and woman, we are determined to overcome challenges, build a unified system and ensure that we have more resources to increase the coverage of social safety nets for a large group of poor and vulnerable households. We have started in earnest in the four districts of Bombali in the North, Moyamba in the South and Kono in the East. We intend, with the support of our Partners to scale up to additional districts until we cover the whole country.
Mr. Chairman, distinguished guests, the Ebola Virus Epidemic has caused unprecedented economic, social and humanitarian impacts on households of all income levels but the shock to the common man and woman is particularly severe. This is why Social Protection is important now more than ever before. We must not only cushion the effect of poverty, we must strive to ensure that social protection also becomes building blocks for lifting our people out of poverty. That is why we will work harder to mobilize more resources to reach more extreme poor households and harmonize and coordinate the different social protection interventions across all levels of government.
Accordingly, I have directed my Chief of Staff and the Hon Minister of Finance and Economic Development to ensure, through the Social Protection Inter-Agency Forum, that the Government mobilizes more funds for Social Protection Programs but also ensure harmonized and coordinated implementation approaches. Let me also call upon all those involved in implementation of these programs to ensure that resources meant for the poor actually reach the poor. Resources for social protection are not meant for the office worker or the field worker who implements the program. They are meant for the common man and woman. We will ensure accountability for these resources. In this regard, I have also called upon the Anti-Corruption Commission to work in partnership with the National Commission for Social Action to ensure efficient delivery of these programs.
Let me conclude, Mr Chairman, Distinguished Ladies and Gentlemen, by applauding Chief of Staff, the members of the Social Protection Inter-Agency Forum and the Hon Minister of Finance and Economic Development for championing Social Protection Programs in Sierra Leone. I would also like to commend the Commissioner of NaCSA and his team and the Sector Ministry staff and Civil Society Organizations involved in the implementation of Social Protection Programs.
We also applaud the World Bank Group, UNICEF, USAID and other
development partners for their relentless support to our social protection efforts. As we embark on the Post Ebola Recovery Phase, I am sure that our continued cooperation will allow the Social Protection Systems take a firm root in my country.
It is my honour, ladies and gentlemen, to formally launch the National Social Protection Strategy and implementation Plan and the Sierra Leone Social Safety Net Project.
I thank you all for your attention.