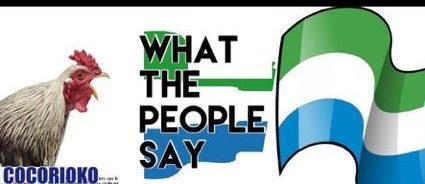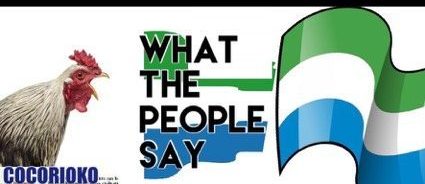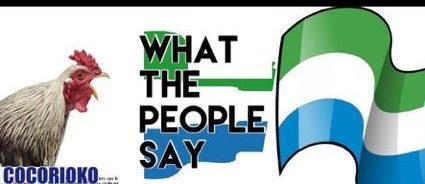 BRAVO TO THE MAKENI PEOPLE FOR THEIR ACTED OF RESPECT FOR THE APC PARTY AND THEIR TOWNSHIP!
By Hafsat Sesay
The Unprofessional and baised AYV Slpp radio Station attitude towards our people is a disgrace to our nation and laws!
Did the APC party invited AYV to do videoing inside or outside of EBK home during a private meeting with CID?
Did AYV staff Theresa S, Augusta T. and the man videoing asked for permission to video the people peaceful gathering outside of Papa EBK residence?
Did the people have the right to forceful take the video away from AYV Staff even though they asked AYV not to video them? AYV staff forceful video the citizens even when they asked them not to.
Journalism should be an unbaised credible profession with integrity and respect for human right and dignity.
Did Theresa Sesay and Augusta Turay exhibited professionalism and respect for the citizens of Makeni? NOOO!
Did AYV staff understand the meaning of mob justice? NOOO!
The AYV staff were saved by the so-called mob by only taking their camera and pushed them away from their gathering.
The ignorance and lack of respect of AYV for others could have created an unfortunate ending for the AYV staffs and the citizens
Next time AYV, show respect for yourself and others and protect lives
If you want to sacrifice your lives to become the hero for AYV then so be it!
Be wise and dont be foolish AYV
Hassan Bureh Bangura
The APC is creating unnecessary tension for themselves they should accept that they are no longer in Power and they should obey law and order of the state for peace to rain
Who says Sierra Leoneans are not peaceful?! Our CID personnel and the the head of police have done it! Congratulations to president Bio and his security boss for putting Sierra Leonean lives first by averting confrontation. This should be the ultiment goal in our security apparatus.
The move taken by the head of the CID, who thought it wisely to defuse tension between the police security forces and supporters of the opposition APC party on the invitation of their party leader, former president Kotoma, to testify on alleged counts of incitement against the Commission of Inquiry at the CID Headquarters in Freetown!
The head of the CID has indeed proven to us and the world that Sierra Leone has got people with peaceful resolve in tackling thorny issues that have the propensity to explosion. Unlike those very few with satanic views, who were calling for tougher measures to be taken to smash the skulls, brake limbs of protesters! Thanks to Allah for saving the ugly situation.
While thanking president Bio for being so calm and calculated in handling such volatile situation, through his Minister of Interior, the head of the CID for a job well done, we call on those Sierra Leoneans who go with the idea of resolving issues with violence and brutality to seize and to realize that peaceful settlement on contentious issues should be our national goal.
Police VS APC Chairman & Leader!
I am so happy about the outcome of the questioning between Ex President Ernest Bai  Koroma and the Sierra Leone Police Civil Investigation Department (CID).
But what pains me most is when I saw those RATS calling themselves sympathisers of the APC or Ex President Koroma ranting the city of Makeni creating panic that affected schools, works and businesses. Are they beneficiary of the APC, Ex President or they were just the guys sitting around saying "Pappay u borbor dae". I hate to see such actions that derailed progress. Questioning doesn't mean arrest or detained. Why the huge crowd in Makeni that led to the closing down of the APC party office in Freetown? If we even check, some Government and Private sector staff even failed to go for work just to witness Ex President Ernest B. Koroma questioning. Can that petty thing cost you to loose your job? Some business people even leave their businesses because of the questioning of EBK. Where are we taking Sierra Leone? Why are we pretending as if we love Mama Salone? We only have two (2) political parties that are echoing in our ears, they are the APC & the SLPP plus their side chicks NGC & C4C 😃. Whether the APC – All Peoples Congress sympathisers want it or not EBK will never emerged as President of Sierra Leone. It's only HE Bio who have fortunate to rule Sierra Leone twice. Please APC – All Peoples Congress give peace a chance and allow development. You guys are driving away investors. You guys are RUSHING Bio's government too much "Nor to so dem bin do una". You guys should allow the SLPP to develop Sierra Leone and build on the Country reserved that your APC stalwart have damaged.
I can never forgot this incident with former Minister of Social Welfare Gender and Children's Affairs (Mrs. Shirley Yema Gbujameh). In 2007 when APC won the elections with Ex President Ernest B. Koroma emerged the President by then. The APC introduced Commission of Inquiry called "Kangaroo Court". They seized service and diplomatic passports from all ex Ministers serving late Ex President Kabbah government. Mummy Shirley by then want to travel to the USA for medical attention but she was refused going out of the Country by the APC regime. Was there any ranting caused by SLPP sympathisers? No, they were peaceful, calm and went through the process. Why worries my APC brothers and Sisters? APC will never change their games.
Pa Bockarie Foh has already replaced Salone Trump 😃😃😃. Good to have one comedian amongst serious people, its keeps work going 🤪.
AL SESAY