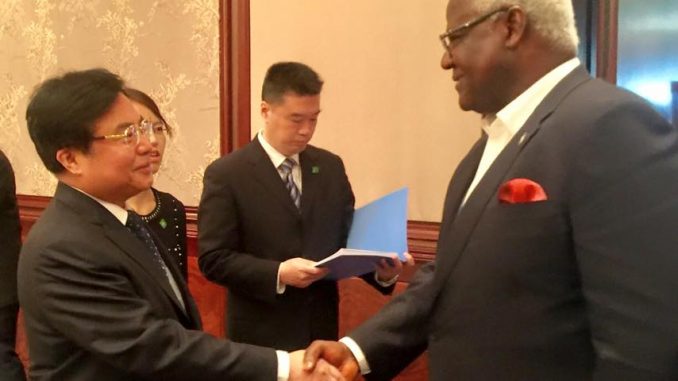 President Ernest Bai Koroma has said, as a country, Sierra Leone's story is no longer about ebola but one that is ready for business, huge investment opportunities and a nation working on strengthening the ties of cooperation ties with China.
He spoke on Monday, 5th November, 2016, in Qingdao, Shandong Province, whilst meeting with the city's Zhang Xinqi. President Koroma and delegation had arrived in the city for a tour and subsequent briefing on the Qingdao Port, Qingdao Liuting International Airport, and the Qingdao Jiaodong International Airport, under construction.
According to President Koroma, Sierra Leone has huge potentials in a range of sectors, not least, tourism, assuring, when once the appropriate infrastructure is ensured, the country is sure of becoming a great destination for tourists.
His visit, he said, was aimed at seeking potential investors to explore the opportunities available in Sierra Leone, calling on those who have never visited to visit and be part of the country's transformation process and help foster the ties of cooperation so as to ensure "win-win cooperation."
After ebola, the President said, the country was looking forward to continuing with her development path, especially in line with her transformation processes.
His visit to the Qingdao Port, he disclosed, was to get shared experience and informed view, since Sierra Leone was also working on expanding her port.
He was also visiting the Qingdao Liuting International Airport and the new Qingdao Jiaodong International Airport, the President said, to learn more in determining the future development path of the new Mamamah Airport, which is expected to help in unlocking the country's potentials.
Earlier welcoming the President, the Mayor of Qingdao City, Zhang Xinqi gave a brief introduction of the city, referring to it as a major port city with the Qingdao Port ranking 4th and 2nd in China and for international trade respectively.
The city, the Mayor said, also serves as a popular tourist destination, with over 70 million yearly visitors, also contributing greatly to China's growth process.
As both Sierra Leone and China mark forty-five years of diplomatic ties, Zhang Xinqi commended the progress made during this period, also looking forward to strengthening ties of cooperation with Sierra Leone, assuring of further encouraging investors to explore the opportunities that Sierra Leone has to offer.
President Koroma, during the visit to the city, toured the Qingdao Port, a modern gateway for the Maritime Silk Road. The Port has a history of 120 years, ranking now as the world's 7th largest in both total throughput and container volume.
It is located in Shandong Peninsula Blue Economic zone, Bahai Economic Rim, and the Northeast Asia port cluster. It is China's largest port for inbound crude oil and one of China's ports for liquid and dry bulk.
In 2012, it received the first shipment of 170,000 tons of Ore from Sierra Leone and has to date received 12.28 million tons of Ore from the country to China.
John Baimba Sesay
Information/Press Attaché
Sierra Leone Embassy
People's Republic of China