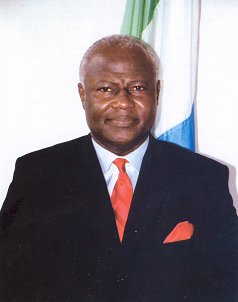 Published on August 2, 2010 by Cocorioko News   ·   2 Comments
Many stalwarts of the opposition Sierra Leone People's Party ( SLPP ) in the Southern Province crossed over to  the ruling All People's Congress ( APC ) last Saturday during the official visit of President Ernest Bai Koroma to the Southern regional  capital city of Bo .The SLPP Big whigs , many of whom had served their former party in Sierra Leone's Parliament during the Ahmad Tejan Kabbah era , said that they had taken the decision in the supreme interest of the nation.
According to our roving reporter, Joseph Kamanda, the former SLPP  leaders commended President Ernest Bai Koroma for his outstanding performance in power which has resulted in Sierra Leone accelerating the pace of her socio-economic and political developments within the short time the APC Government has been in power.  They thanked the President for restoring  electricity  in the country , thereby bringing to an end a regrettable era of darkness and stagnation in the lives of the people. They also commended the President for his brilliant efforts in seeking to attain food security in Sierra Leone by accelerating agricultural activities in the country. The SLPP defectees  also praised the President for all the road and infrastructural developments going on in the country. Some of the SLPP members told a massive gathering in Bo last weekend that they had decided to abandon the SLPP for the APC  because the APC stands for development and progress in the nation.
Receiving the new members into the APC, President Koroma thanked them for their preference for progress and national development and called on them to help him restore Sierra Leone's old glory. The President said that Sierra Leone belongs to all of us and it was incumbent of all to help him bring developments to the country.The President assured the people that under his rule, all parts of Sierra Leone will be developed, citing the Bo-Kenema and the Kenema-Kailahun and Koindu highways.
Some Sierra Leoneans interviewed by this newspaper told COCORIOKO  yesterday that the news signals a good sign for the future development of the nation. They cited the example of the United States where at the end of often acrimonious elections, the Democrats and the Republicans join hands to develop America. They predicted that the cross-carpeting of SLPP members to the ruling APC  will unite the country and bring much-needed focus to the national interest and national development.
SLPP  members have been declaring for the APC  all over the country. It happened in Kenema, Pujehun and Makeni and there are reports that more members of the opposition plan to desert their party and pitch tent with the APC as the 2012 elections draws closer.
Bo Town went wild with jubilation and merriment last weekend as supporters of the APC and the former SLPP members celebrated the upturn in the political careers of the politicians.