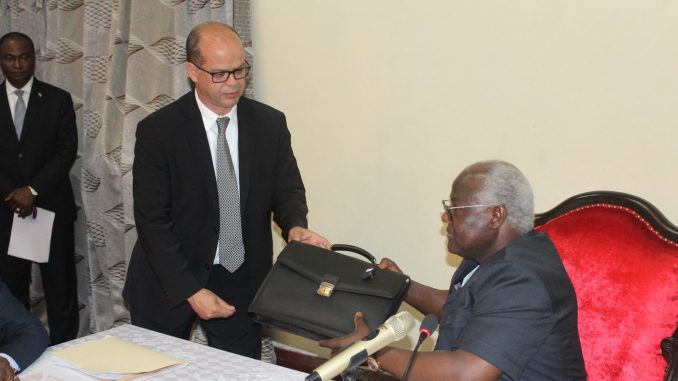 Morocco donates relief supplies to Sierra Leone flood victims
By State House Communication Unit
The Government of the Kingdom of Morocco has provided medical relief items to the Government of Sierra Leone following the flooding and mudslides of 14 August 2017.
Making the presentation on behalf of the King and people of Morocco, the Moroccan Ambassador to Sierra Leone Driss Isbayene disclosed that three cargo flights landed at Lungi International Airport yesterday with relief supplies including 2000 blankets, 400 bed nets and 32 tons of medical relief items to support government's emergency response efforts in the wake of the flooding and deadly mudslides.
President Koroma thanked Ambassador Driss Isbayene for the presentation and King Mohammed the VI for his support to victims of the flooding and mudslides. He reminisced the unique support of flight services provided by Morocco during the unprecedented Ebola epidemic in Sierra Leone, emphasizing that such support facilitated the transportation of medical items to contain the disease.
Meanwhile, the Moroccan ambassador on behalf of King Mohammed the VI presented the sum of USD$150,000 as contribution for the 2017 Hajj programme. President Koroma passed on the USD$150,000 to the Honourable Vice President, Victor Bockarie Foh.