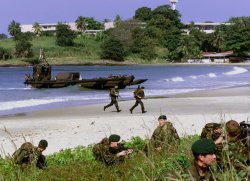 ROYAL MARINES COME ASHORE IN FREETOWN

An amphibious force from 42 Commando Group Royal Marines came ashore in Freetown today in an impressive beach landing exercise launched from helicopter carrier HMS Ocean.

Seaking helicopters thundered overhead as the troops poured from amphibious landing craft and secured the beachhead on Aberdeen peninsula, three kilometres west of the capital. Chinook battlefield support helicopters delivered underslung 105mm light artillery guns and Commando all-terrain vehicles while Lynx attack helicopters provided air cover.



This exercise followed the arrival of the Amphibious Ready Group (ARG) the previous day, which had been diverted to Sierra Leone following the completion of an exercise in the Mediterranean. 

The ARG comprises elements of the Joint Rapid Reaction Force. (JRRF) and is just one capability that we could have chosen to deploy. It is headed by HMS Ocean supported by four Royal Fleet Auxiliaries and support helicopters.





In our announcement on 10 October about further assistance to Sierra Leone, the Government made it clear that, under our memorandum with the United Nations, we were ready to deploy a rapid reaction force in support of UN peacekeeping operations, including that in Sierra Leone. Today's exercise was a highly visible demonstration of the seriousness of that commitment.

This powerful display of military capability has enabled the Group to practice procedures and conduct a detailed reconnaissance both of which will significantly reduce the time needed to deploy should the JRRF be required in future. It was planned prior to yesterday's welcome announcement of a cease-fire between the GoSL and the RUF, but we hope it will remind the leadership of the RUF of the need to honour that agreement to ensure that it marks the first step towards a peaceful and prosperous future for Sierra Leone.

The British military mission in Sierra Leone remains unchanged in its efforts to assist in the building of a long term peace and security for the country through creating an effective, democratically accountable, self-supporting indigenous military force that is capable of extending the Government's control over its territory.


A Press Release by the UK Joint Task Force Headquarters (JTFHQ)
Contact: Flt Lt Julie Phillips, Media Ops