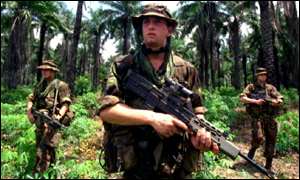 Posted November 13, 2000 – 18:53 by newsdesk
Related Source: The Observer
UK infantry units may have to be deployed
By Jason Burke and Brian Johnson-Thomas
Sunday November 12, 2000
British artillery and helicopter gunships will be thrown into combat against the Sierra Leone rebel forces within weeks under plans being drawn up by Whitehall and defence chiefs.
The plan, which senior diplomatic sources confirmed yesterday, would see a massive escalation in British involvement in the war-torn West African state and possibly result in the fiercest combat involving UK forces since the Gulf War nearly 10 years ago.
The British plan involves deploying helicopter gunships and artillery. The helicopters – Sea Kings from the Royal Navy warships currently off the Sierra Leone shore – would attack rebels of the Revolutionary United Front in support of a government offensive to secure the crucial diamond fields in the south-west of the country which provide the finance for the rebels' war effort.
On the ground, the commandos' light artillery batteries – equipped with 105mm guns – would also be used. Such a weapon has only a limited range and gun crews would be vulnerable. It is likely that infantry units would also have to be deployed to protect them.
A key component of the offensive will be the 1,000-strong brigade of government soldiers that has been trained by British advisers at a base near Freetown, the capital. At least 400 British soldiers are already in positions in and around the city.
Informed sources in Sierra Leone told The Observer last week that forces from the RUF – the main rebel group – had started taking up positions closer to Freetown in recent days. It was the imminent capture of the capital – and the apparent collapse of the UN force protecting the city – that precipitated the British intervention in May which successfully stopped the rebel advance.
British troops have already taken casualties in Sierra Leone. One was killed and 17 injured while freeing a group of soldiers held hostage by a renegade militia three months ago. British troops were involved in some fierce firefights with rebel forces when they first landed in the country.
There were reports yesterday that a ceasefire negotiated on Friday between the Sierra Leonean government and the RUF was still holding, though analysts were pessimistic about its long-term chances.
Peter Hain, the Foreign Minister, told The Observer yesterday that the truce vindicated the Government's policy.
'[The truce] could be a very significant breakthrough. Any ceasefire agreed with the RUF has to be treated with considerable caution, but does reflect the success of the strategy that Britain has helped to drive forward since May,' he said.
© Guardian Newspapers Limited 2000