Posted by Cocorioko Newspaper on September 11, 20130 :
New Jersey's Shooting Stars Football Club last Sunday  presented  the 2013  All-Sierra Leone Inter-State soccer championship trophy to Minister Plenipotentiary, Rev. Leeroy Wilfred Kabs-Kanu at the Caribbean Palace Hall in Somerset . The inimitable Shooting Stars  won the trophy  during a thrilling 16-state football tournament held  in Maryland recently.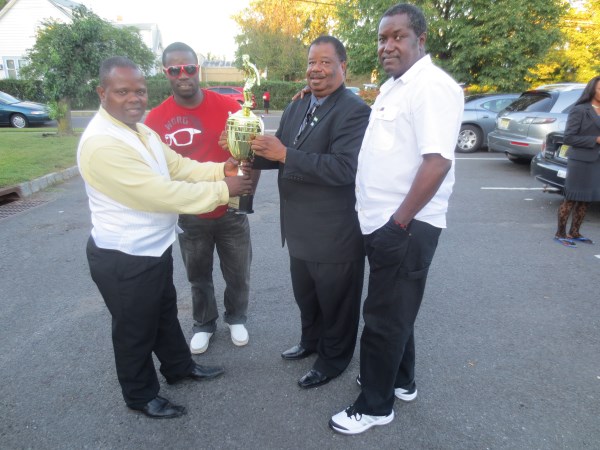 TEAM MANAGER MR. JOSEPH SALITO KAMARA PRESENTING THE TROPHY TO MINISTER KABS-KANU ; FAR RIGHT IS COACH TUNIS
Shooting Stars performed magnificently in the elimination series and qualified for the final with Virginia, whom they defeated 1-0 in a memorable grand finale.
 THE TEAM MANAGER SHAKES HANDS WITH THE MINISTER BEFORE THE PRESENTATION
The cup was presented to the Minister by the Team Manager , Mr. Joseph Salito Kamara and the Coach, Mr. Mohamed Tunis, who were also accompanied by some other officials and players. Coach Tunis said that since the Minister is the highest Sierra Leonean government official  in New Jersey, they decided to bring the trophy to him to show how they were  busy promoting  sports  and Sierra Leone in the U.S.  The SHOOTING STARS, he said ,   were very proud of their achievement and the victory was a big boost to New Jersey . He proudly stated  that the team was developing fast and  it is aspiring to win other major competitions.
ONE OF THE PLAYERS HOLDING THE TROPHY
One of the players of the team, Alfred Demby , a future professional star in the U.S, who is also determined to play for the Sierra Leone National Team, Leone Stars, said his aim is to help bring glory to Sierra Leone in the soccer arena.
THE TEAM MANAGER WITH THE TROPHY
Receiving the trophy, Rev. Kabs-Kanu praised the team highly for bringing the golden fleece to New Jersey. He said that the achievement was a manifestation of the commitment and hard work of the players, coach, team manager and other officials. He thanked them all and lauded the role that sports plays in uniting  people and communities and promoting fine fellowship , healthy competitions and other desirable values. He wished the team all the best of luck in future competitions.
The minister also commended the organizers of the competition , noting that members of the  Sierra Leone soccer association in America were worthy ambassadors of their country, who were busy projecting the image of their country in the Continental U.S . He praised  the organizers for  playing a valuable role in nurturing  Sierra Leonean youth in the U.S.
 SOCCER STAR DEMBY WITH THE TROPHY