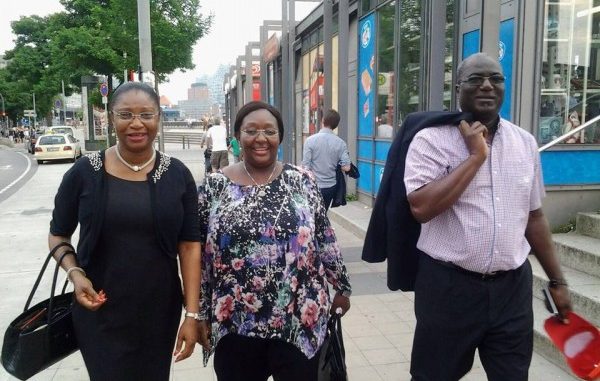 If you are a Sierra Leonean, one thing you have grown accustomed to now are lies told with a straight face by  the opposition and dissident elements.  Not a day passes without one lie or the other being peddled as truth in the Sierra Leone opposition media.  When they are not lying about our Head of State , President Ernest Bai Koroma , they are telling cock-and-bull stories about  government officials.
Was it not the Sierra Leone rumour mill and some of their newspapers who reported this week that First Lady , Mrs. Sia Nyama Koroma, had tested positive for Ebola and was languishing between life and death in a hospital in Belgium ? The story was so ludicrous that it must have made a cat laugh in amusement.
Later, the Sierra Leone Embassy in Brussels made a press release setting the story right. The truth of the matter was that on the morning of  Tuesday  11th August, 2015, Mrs. Koroma was discharged from the Saint LUC hospital in Brussels after experiencing a sudden attack aboard Brussels Airlines from Freetown to Brussels in the early hours of Monday, 10th August, 2015. The press release went on to state that : "She was eventually discharged in the early hours of Tuesday, 11th August, 2015 after doctors issued her a health clearance certificate and was given the green-light to proceed her journey to Germany where she is scheduled to address an Investors conference….The doctor's medical certificate cleared her of any dangerous disease".
Though Mrs .Koroma had taken ill in her plane flight, which is normal, it was no reason for our opposition media to have associated her with a dangerous disease like Ebola. Before writing their story, the media should have checked their sources and cross-checked their story. But because of the free-for-all atmosphere that reigns supreme in the country 's media landscape where pressmen and women are free to write anything they want, Sierra Leone journalists have forgotten that cardinal principle of journalism —-Cross-check your story .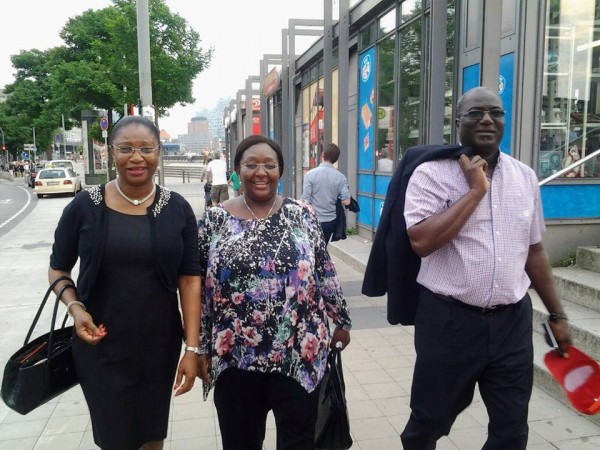 SHE LOOKS SO GOOD : FIRST LADY MRS SIA NYAMA KOROMA ( MIDDLE ) WITH AMBASSADOR JONGOPIE STEVENS AND MRS. GEORGIANA STEVENS
Last year, the Sierra Leone opposition media made a meal of another grossly false story that President Koroma had taken seriously ill with cancer while attending a conference in South Africa and had been flown to Germany for treatment. It turned out that President Koroma had returned home and then left for Germany to honor a pre-arranged routine annual medical checkup in Germany.
The predicament of the opposition media turning lies into news is a very serious problem, which if not addressed will one day fracture the peace of the country and undermine all the gains the nation has made in socio-economic and political developments. It is desirable to have Freedom of the Press in any thriving democracy but what we have in Sierra Leone is not press freedom. IT IS LAWLESSNESS AND LICENTIOUSNESS. AND IT IS A SHAME.
For those who were wishing evil for the First Lady, progressive and patriotic Sierra Leoneans had a message for them today : a Happy-go-lucky photograph of Madam Sia Nyama Koroma , out with Ambassador Jongopie Stevens and Mrs. Georgiana Stevens in Hamburg , Germany , sightseeing and enjoying the beautiful Summer sunshine. In the photo, the First Lady looks ever so good , healthy and bouncing.  The photo has gone viral on the social media.
Many Sierra Leoneans told COCORIOKO  that they love and appreciate the photo so much because they love their First Lady.  Madam Sia Nyama Koroma is a loving and lovable mother figure to Sierra Leoneans and has supported her husband, President Koroma , on his health and some other socio-economic  initiatives designed to make our nation a better place. She is the most visible, hands-on and hardworking First Lady Sierra Leone has ever had.
Therefore, instead of wishing her evil, Sierra Leone's opposition elements are enjoined to pray for good health and long life for the First Lady because she has a lot more to offer our country under the efficient  guidance of her husband, the development-oriented President Ernest Bai Koroma .