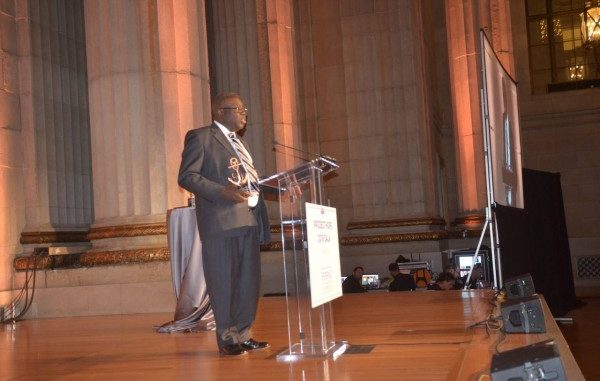 By Pasco Temple :
One of the leading United States non- profit Organizations "Project HOPE" an international health care organization founded in the United States in 1958 and delivers essential medicines and supplies, health expertise and medical training to respond to disaster, prevent disease, promote wellness and save lives around the globe has not only acclaimed the leadership role played by President Ernest Bai Koroma for his resolve to combat the "Ebola virus Disease", but has also awarded Ambassador Bockari Kortu Stevens for his leadership in inspiring "Project HOPE" to respond to the outbreak in a timely manner.
At a well-attended Project HOPE's ninth annual gala ceremony at the Andrew W. Mellon Auditorium in Washington D.C. Thursday, individuals and organizations which have made exceptional contributions toward improving health care worldwide were recognized.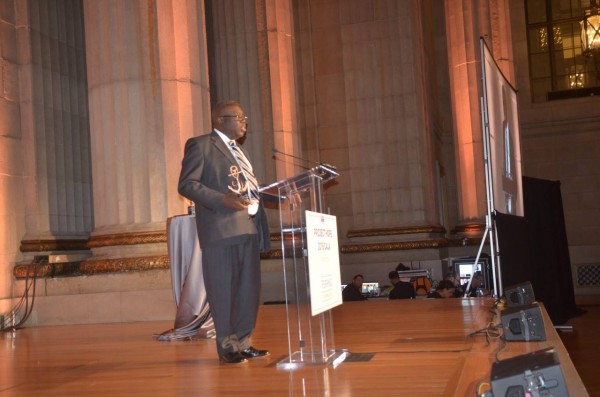 The annual Project HOPE Global Health Awards, inaugurated in 2012, are presented to individuals whose achievements and daily contributions support the core mission of Project HOPE – to make long-term, sustainable health care available in communities around the world, especially those most in need.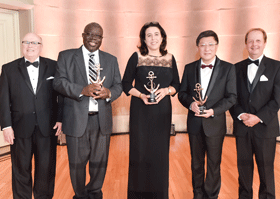 The Three Awardees Flanked by Project Hope' s Heads
Therefore, this year's honorees are: Project HOPE Global Health Leadership Award – Pascal Soriot, Executive Director and CEO, AstraZeneca, Project HOPE Global Health Partner Award – Jiang Zhongyi, President and CEO, Shanghai Children's Medical Center and Project HOPE Global Health Impact Award – the government of Sierra Leone, accepted by Ambassador Bockari Kortu Stevens
The Project HOPE Global Health Impact Award, which Honors an organization that has achieved significant global health advances, was awarded to the government of Sierra Leone in recognition of its role in controlling the Ebola outbreak in West Africa.
"Ambassador Bockari Kortu Stevens of Sierra Leone accepted the award on the government's behalf. "In the summer of 2014 during the Ebola outbreak in West Africa, Project HOPE received a request for assistance from Ambassador Stevens along with a list of medical supplies needed to combat the outbreak. Working closely with the embassy and Sierra Leone's Ministry of Health and Sanitation, Project HOPE secured, shipped and distributed more than $2.2 million of critically needed items. Thanks to the leadership, coordination and commitment of the government of Sierra Leone, the desired impact was achieved and Ebola was brought under control.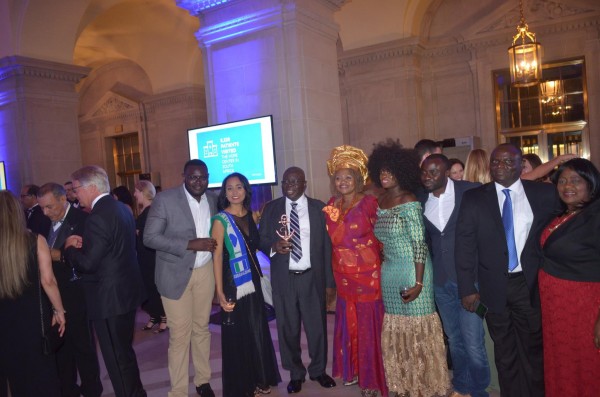 Responding, "During my diplomatic career, I have been fortunate to receive many awards recognizing my work with communities, organizations and institutions alike," said Ambassador Bockari Kortu Stevens. "But getting an award from Project HOPE, I can safely say is the highest point of my career because of what this organization stands for. They are always there to confront global health challenges and provide lifesaving support for the most vulnerable anywhere in the world. I accept this award with immense pride and unbridled humility, On behalf of President Ernest Bai Koroma,the Government and People of Sierra Leone." He concluded.
Pasco Gerald Temple
Information Attache
Embassy of Sierra Leone to the United States
1701 19th St. NW
Washington, DC
20009