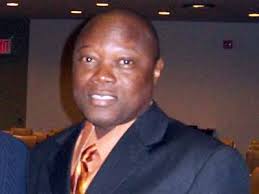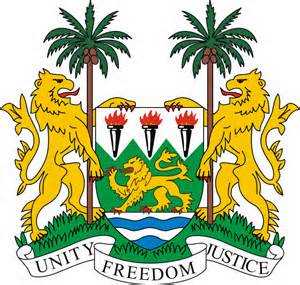 GOVERNMENT OF SIERRA LEONE Chambers of the Attorney-General Guma Building, Lamina Sankoh Street, Freetown
PRESS RELEASE ON THE ARREST AND DETENTION OF DR. DAVID TAM BARYOH
ON JULY 31ST THIS YEAR, HIS EXCELLENCY THE PRESIDENT DR. ERNEST BAI KOROMA MADE A BROADCAST TO THE NATION ON THE WAKE OF THE EBOLA OUTBREAK AND PROCLAIMED A PUBLIC STATE OF EMERGENCY PURSUANT TO SECTION 29, SUBSECTION 1 OF THE CONSTITUTION OF SIERRA LEONE 1991 (ACT NO. 6 OF 1991) THAT WAS SUBSEQUENTLY RATIFIED BY PARLIAMENT AND GAZETTED ON AUGUST 18, 2014.
THE PROCLAMATION OF THE PUBLIC STATE OF EMERGENCY RESULTING FROM THE NEED TO CONTAIN AND ERADICATE THE EBOLA VIRUS DISEASE THROUGH THE IMPLEMENTATION OF MORE ROBUST MEASURES AND REGULATIONS.
THE PUBLIC WOULD RECALL THAT ON SATURDAY, NOVEMBER 1ST, 2014, DR. DAVID TAM BARYOH DURING HIS WEEKLY RADIO "MONOLOGUE" PROGRAMME MADE DISPARAGING AND INFLAMMATORY STATEMENTS THAT IN NO WAY WOULD AID THE COLLECTIVE EFFORTS WE ARE MAKING AS A NATION IN THE FIGHT AGAINST THE EBOLA VIRUS DISEASE.
RATHER, HIS STATEMENTS TO ALL INTENTS AND PURPOSES HAVE THE LIKELIHOOD TO INCITE PUBLIC HATRED, DISAFFECTION AND INSTABILITY BY INFERRING AND MAKING INNUENDOES OF THE GOVERNMENT USING THE ONGOING CONSTITUTIONAL REVIEW PROCESS TO PERPETUATE ITSELF IN GOVERNANCE RATHER THAN FIGHTING THE EBOLA VIRUS DISEASE.
FURTHERMORE, IN THE SAME MONOLOGUE PROGRAMME, DR. TAM BARYOH ALSO INFERRED THAT THE DEPLOYMENT OF THE SECURTITY FORCES, INCLUDING THE MILITARY, IN ISOLATED AND QUARANTINED AREAS WAS DONE DISCRIMINATORILY. THIS HAS THE POTENTIAL TO INCITE PUBLIC UNREST THEREBY LEADING TO A BREAKDOWN OF PUBLIC ORDER AND GOOD GOVERNANCE OF THE NATION.
HIS INSINUATION OF RECENT EVENTS IN BURKINA FASO TO BE REPLICATED IN SIERRA LEONE, A COUNTRY STILL REELING FROM A VERY DEVASTATING CONFLICT AND PRESENTLY DEALING WITH AN EBOLA EPIDEMIC OF UNPARALELLED MAGNITUDE IS NOT ONLY DISTASTEFUL BUT AN ATTEMPT TO PROVOKE UNREST.
THEREFORE, THE ARREST AND DETENTION OF DR. DAVID TAM BARYOH WAS AUTHORISED BY HIS EXCELLENCY AS PROVIDED FOR IN THE PUBLIC STATE OF EMERGENCY 2014.
WHILST THE GOVERNMENT REMAINS COMMITTED TO UPHOLDING THE FUNDAMENTAL HUMAN RIGHTS OF ALL CITIZENS, AND RECOGNISES THE TREMENDOUS ROLE THAT THE FOURTH ESTATE IS PLAYING AND CONTINUES TO PLAY IN OUR NASCENT DEMOCRACY AND IN THE FIGHT AGAINST THE EBOLA VIRUS DISEASE, THE GOVERNMENT TAKES EXCEPTION TO ANY ONE PREACHING TRIBALISM, HATREDNESS AND PROMOTING DIVISIONS IN THE NATION.
HIS EXCELLENCY THE PRESIDENT REMAINS PROFOUNDLY COMMITTED TO THE PEOPLE OF SIERRA LEONE AND ENSURING THE SAFETY AND PROTECTION OF ALL PERSONS IN THE COUNTRY, AS WELL AS SAFEGUARDING THE LIBERTY AND FREEDOM OF ITS CITIZENS UNDER THE LAW.
THE GOVERNMENT REMINDS THE PUBLIC OF THE EXISTENCE OF CURRENT STATE OF EMERGENCY AND URGES THE AVOIDANCE OF CONDUCT AND STATEMENTS THAT WILL UNDERMINE AND THREATEN THE AIMS, IDEALS AND COHESIVENESS OF THE NATION.
Signed…………..…. FRANKLYN B. KARGBO ATTORNEY-GENERAL & MINISTER OF JUSTICE. NOVEMBER 7, 2014
END