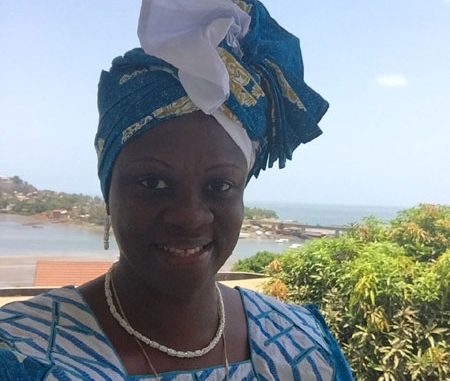 Posted By: Publisher and Chief Executive Officer KABS KANU May 23, 2016
By Anthony Bangura :
Honourable Dr. Sylvia Olayinka Blyden, Minister of Social Welfare, Gender & Children's Affairs, Honourable Ms. Neneh Rugiatu Turay, Deputy Minister, the Gender Directorate and the entire staff of the Ministry is pleased to inform that in collaboration with UN WOMEN (the United Nations Entity for Gender Equality and the Empowerment of Women), they will be convening a 3-days International 'African Women In Leadership' Conference at the Bintumani Hotel, Freetown from 23rd to 25th May 2016.
BLYDEN
His Excellency the President of the Republic of Sierra Leone, Dr. Ernest Bai Koroma, has graciously consented to formally open the Conference on Monday 23rd May 2016.
The theme of the conference, 'Women Engineering Change, Accelerating the pace in achieving results – Touching and changing lives and contributing to Sustainable Development in their countries' is itself an acknowledgement of women's contribution to sustainable development.
During the Beijing hosted UN Fourth Women Conference of Women in September 1995, the current Honourable Minister Dr. Sylvia Blyden, at the then tender age of only 23 years, was given the global podium by the United Nations to address the plenary on behalf of female youths of Africa. Indeed, from the days of that global stage event from which she spoke, 21 years ago, the World has come a long way in empowerment of Women and Gender Equality.
Our respective countries have made pivotal strides and gains in pursuing the rights of women. This is particularly evident in the legal and policy frameworks that have been established to eliminate discrimination against women and promote gender equality and equity in the political, cultural and socio- economic spheres.
This Government of Sierra Leone & UN Women Conference seeks to celebrate those successes but more importantly, whilst it is no gainsay that our respective governments have made remarkable inroads in promoting women's advancement in many spheres however the pace of progress can be accelerated. There is still so much to be done.
Women still do not form a critical mass in public decision-making neither do girls form a critical mass in persons who are accessing opportunities for education/school completion or accessing quality health services in their countries in Africa. These and other issues continue to pose obstacles to our development efforts as a country and a region.
The holding of this MSWGCA & UN WOMEN conference presents a unique opportunity to reflect on how far we have come as a country and continent; to promote sustainable development through increased participation and representation of women in leadership positions.
Additionally, this Conference offers a timely and most opportune moment and platform for celebrating women's leadership and its concrete contribution to development in various parts of Africa as a way to motivate women in Leadership posts. This conference will also offer participants and delegates the opportunity to share best practices and learn from the experiences of one another.
From the Case Studies and Best Practices shared at the Conference, more enhanced strategies will be developed as one of the outputs of the Conference. These Strategies will be compiled into a Compendium or Toolkit for strengthening women in Leadership Roles in Africa.
The Conference will also look strategically to positioning African women in Leadership for the SDGs-Agenda 2030 and Beyond.
Women from some 10 African countries holding high offices and/or respectable positions as Cabinet Ministers, Paramount Chiefs, Traditional Rulers, City Mayors, Local Government Chairs, Civil Society Activists and more, will all assemble at the Bintumani Hotel for 3 days of deliberations. Already, female delegates from Guinea, Gambia, Liberia, Mali, Malawi, Nigeria, South Sudan, Uganda and Zimbabwe have flown with excitement into Sierra Leone where they will join their Sierra Leonean counterparts.
Indeed, Sierra Leone is ideal to host such an international conference for many reasons including the current regime of President Ernest Koroma is recognized as one of the most gender-sensitive in the subregion. President Koroma has empowered and appointed a huge number of capable women into high offices.
Also expected to be amongst those formidable African women who will be making Statements is the Vice President of the Pan-African Parliament, Hon. Dr. Bernadette Lahai.
The entire Opening Ceremony of this international conference will be covered LIVE on AYV TV Channel 33 and AYV Radio 101.6FM as well as beamed LIVE around the entire world through the Internet on
www.Ayvnews.Com
feel free to share.
© SEA MEDIA GROUP.
–