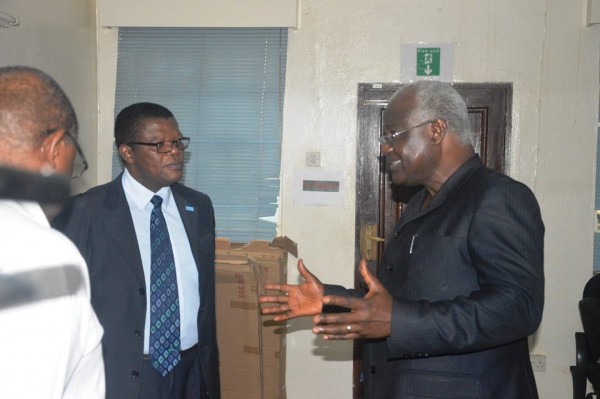 Cape Town (dpa) – Sierra Leone President Ernest Bai Koroma Thursday criticized the World Health Organisation (WHO) for not doing enough to halt the Ebola virus, a day after declaring a state of emergency in the country. 
Koroma visited the WHO's local office in the capital, Freetown, early Thursday only to find that it was closed "with no sign that there is an emergency in the country," the government said in a statement.

Considering the extent of the crisis, the WHO's operations centre should be "in full swing on a 24-hour basis," said Koroma.
The news comes after Sierra Leone's president declared a state of emergency in the country, where 233 people have died of Ebola and 533 others have been infected.

"The disease is beyond the scope of any one country, or community, to defeat," Koroma said.
Koroma ordered all of those infected with the virus to be quarantined. He also restricted public meetings and gatherings and cancelled all foreign trips by government officials.
WHO officials say the current Ebola outbreak in three countries in West Africa – Guinea, Sierra Leone and Liberia – is the deadliest on record.

As of July 31, 1,323 cases have been confirmed, are probable or suspected, and 729 among them have died, the WHO said Thursday.

\Two doctors treating infected patients have died of the disease.
Sierra Leone Ebola specialist Sheik Umar Khan died Tuesday in a clinic run by medical charity Medecins Sans Frontieres (Doctors Without Borders), in the country's north.

]On Saturday, a senior doctor in Liberia died in a treatment centre on the outskirts of the capital, Monrovia.
Health officials are concerned about the disease spreading to Nigeria, Africa's most populous nation, after a Liberian man died after being hospitalized with Ebola in Lagos.
Ebola causes massive haemorrhages and has a fatality rate of 90 per cent. It is transmitted through blood and other body fluids.
Source: dpa Deutsche Presse-Agentur GmbH Date: July 31, 2014