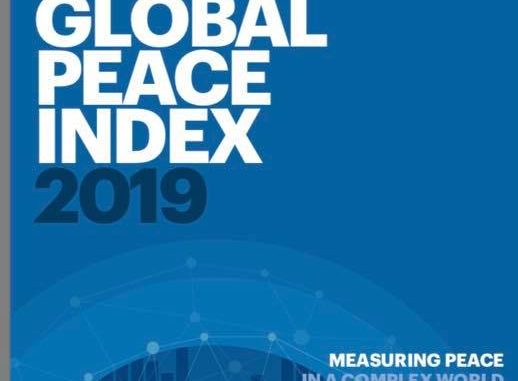 Sierra Leone  dramatically dropped 18 places down the Global Peace Index from 34th in the world to 52 nd in just one year, according to the just released 2019 Index, which also saw the nation trottle  from 2nd place in Africa to 6th.
The Global Peace Index (GPI) measures the relative position of nations' and regions' peacefulness.The GPI ranks 163 independent states and territories (99.7 per cent of the world's population) according to their levels of peacefulness. In the past decade, the GPI has presented trends of increased global violence and less peacefulness.
These 23 indicators were used to establish each country's peacefulness score
1 Number and duration of internal conflicts
2 Number of deaths from external organized conflict UCDP Armed Conflict Dataset Total number
3 Number of deaths from internal organised conflict
4 Number, duration, and role in external conflicts
5 Intensity of organised internal conflict
6 Relations with neighbouring countries
7 Level of perceived criminality in society
8 Number of refugees and displaced persons as percentage of population
9 Political instability
10 Impact of terrorism
11 Political terror
12 Number of homicides per 100,000 people
13 Level of violent crime
14 Likelihood of violent demonstrations
15 Number of jailed persons per 100,000 people
16 Number of internal security officers and police per 100,000 people
17 Military expenditure as a percentage of GDP
18 Number of armed-services personnel per 100,000
19 Volume of transfers of major conventional weapons as recipient (imports) per 100,000 people
20 Volume of transfers of major conventional weapons as supplier (exports) per 100,000 people
21 Financial contribution to UN peacekeeping missions
22 Nuclear and heavy weapons capability
23 Ease of access to small arms and light weapons
https://en.wikipedia.org/wiki/Global_Peace_Index
https://reliefweb.int/…/reliefweb.int/files/resources/GPI-2…
©️Perspective Scope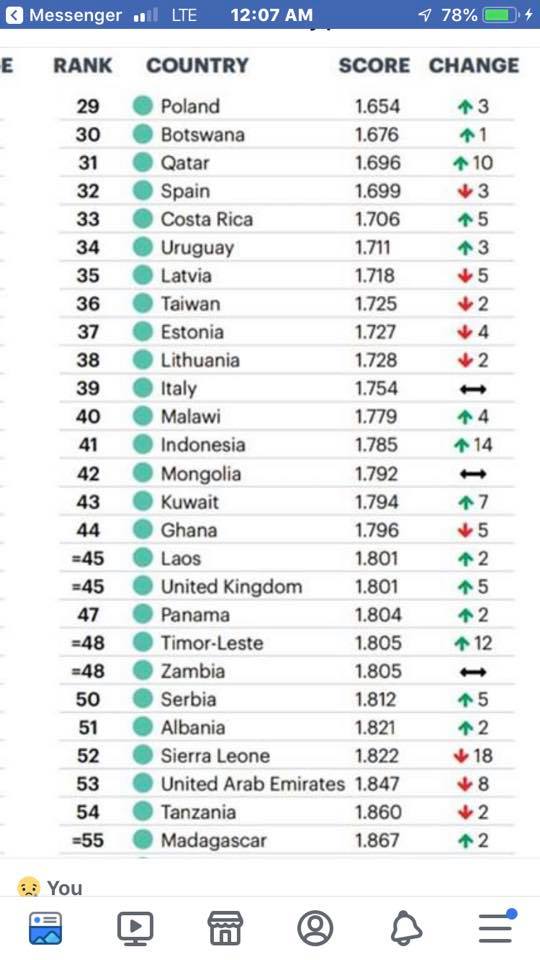 Posseh Kamara 

APC is going to be blamed for this, I am sure.A true leader knows what it takes to maintain peace and stability. A true leader also knows that without peace, you cannot have sustainable development. EBK understood this.

Pateh Bah 

Na bad heart politics dae cause this. Sylvia, we get for unite for take this country from this mentality.

Lahai Marah Dr. Blyden
I am not surprise, considering the show of responsibility by our President, the hate tribal messages by the Chief Minister and the President and the recent BBC interview. Our Peace status is bound to drop downwards like a shooting Arrow missing his target up the sky.

Mohamedsm Kamara 

This is very pathetic Indeed but no surprise about it Bio and his cabal are the brain behind all this nonsense

Overs Kamara 

DE RANKA WAN DEM COUNTINUE FOR INTIMIDATE OTHER PEOPLE DEM BECAUSE OF BAD HEART POLITICS. IF EBK FAME NA TIN WAY FOR MORNAR DEM ? ??

Adrian Fisher 

Its not all doom and gloom. We rank far above even the mighty USA. It stands to reason that after an election where there were tensions we would drop. About time we avoid the rhetoric and focus on development. Maybe we would start climbing again

\

Tot Kamara 

Very sad and people might want to find silly excuses as if nothing is going wrong in our Country.

S.O. Blyden 

Adrian, a drop of EIGHTEEN(18) places which is then specifically referenced inside the Report as one of the WORST ever drops recorded, is absolutely indefensible. Leh we learn for day talk true for save we country. This is not post-elections tensions. This is our PEACE and STABILITY being shattered in a frightening manner.