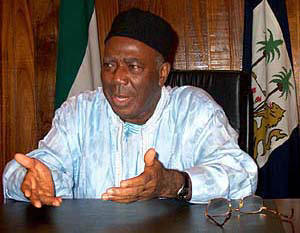 Saturday September 4, 2004
The ruling Sierra Leone People's Party ( SLPP ) is in the eye of a developing storm as eyebrows are being raised at home and abroad over the explosive revelations of the resigning Electoral Commissioner, Mr.Eugene Davies, that the party tampered with the results of the recent Local Council Elections.
Sierra Leone's Elections Chief resigned from his job this week in protest against what he termed as the government interference with the operations of the Elections Commission and that his conditions of service were abysmal for a government official.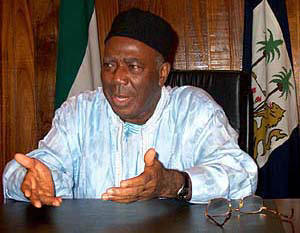 PRESIDENT KABBAH : HIS GOVERNMENT HAS A LOT TO EXPLAIN 
Mr.Davies' claims have provoked a firestorm of suggestions from Sierra Leoneans at home and abroad that the matter be investigated by the international Community, especially Britain, the U.S. and the European Union ( EU) who contributed the bulk of the funds for the conduct of the elections.Sierra Leoneans said the claims would not have been serious if they had not come from so important and vital an official as the very man who conducted the elections.
"It is a disgrace ," claimed Tejan Conteh of Maryland, USA in a letter to this newspaper. "The SLPP had all along been portraying itself as an angel and dirtying the news of the APC .Now that the Elections Commissioner has confessed that the government interfered with the results of the last elections, the matter should not be treated lightly especially by the stakeholders who want the fragile peace in Sierra Leone to hold ", Conteh went on.
Other Sierra Leoneans accused the SLPP of cheating in every elections it had conducted or had been conducted on its behalf, since it returned from the doldrums in 1995. They stated that now the accusations of veteran politician, Dr.John Karefa-Smart that the SLPP cheated in 1996 and by present Opposition Leader Ernest Koroma that the SLPP stole the 2001 Elections have been confirmed.
But supporters of the SLPP have denounced the Electoral Commissioner's claims, describing them as self-serving and motivated by dirty politics. They accused Mr.Davies of unnecessarily trying to undermine the integrity of the democratic process that was set in motion in 1995 .They wondered why the Commissioner waited until he realised that his conditions of service were poor before coming out with the allegation that the government tampered with the last elections.
COCORIOKO has its ears to the ground and will continue to follow this developing story capable of exacerbating donor fatigue in Sierra Leone.