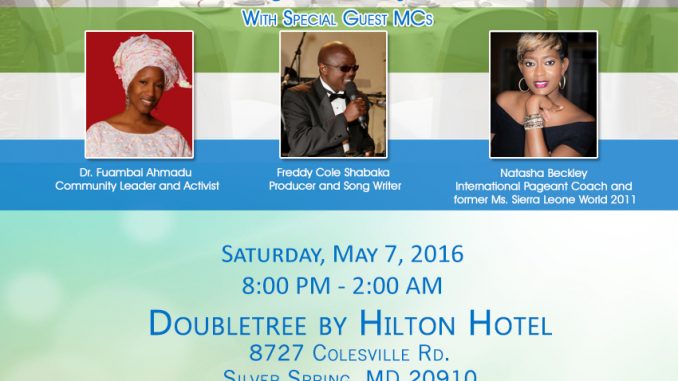 Dubbed Sierra Leone's Academy Awards, the National Organization of Sierra Leoneans in North America (NOSLINA) Annual Awards and Independence Day Celebration will be held on Saturday, May 7, 2016, in Silver Spring, MD.  This is the ONE event of the year that should not be missed! Join us as we honor the elite-of-the-elite who will be awarded one of NOSLINA's coveted awards!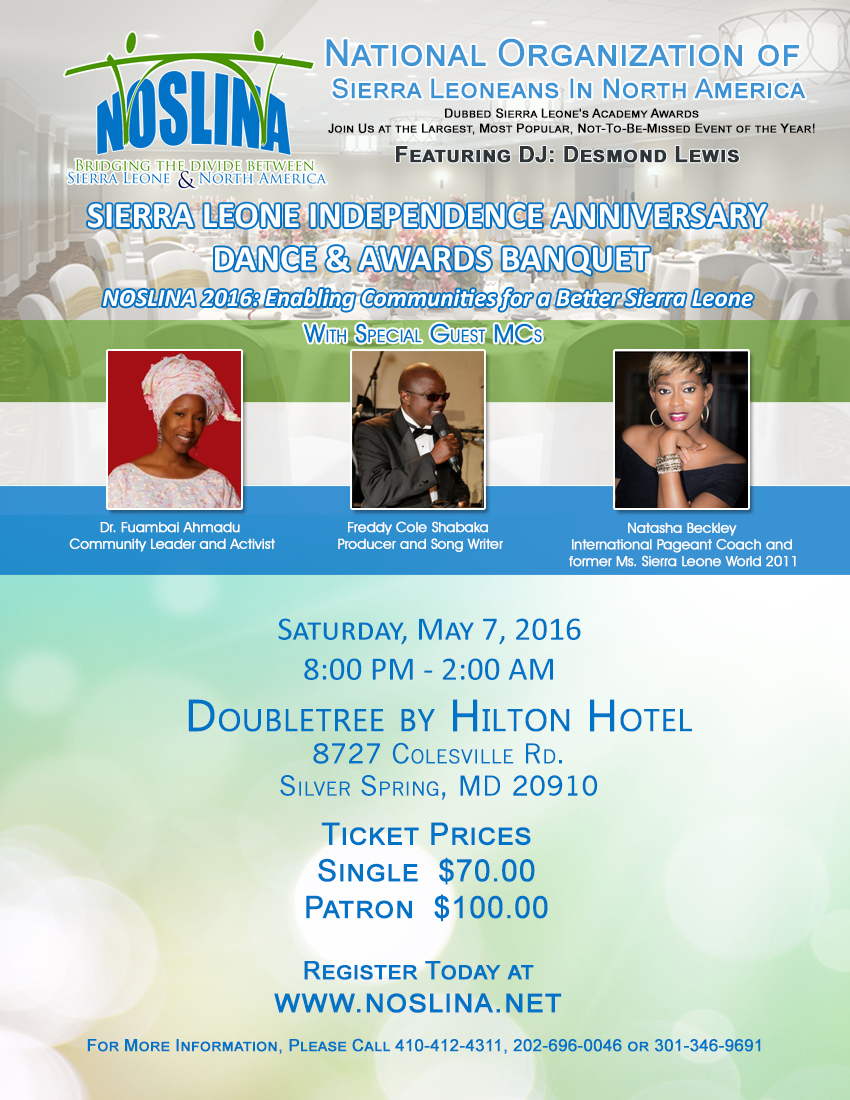 To purchase tickets for the Gala, please visit www.noslina.net or contact NOSLINA Executive Director Suna Nallo at either nallosgn@gmail.com or at 410-412-4311. If, in the unfortunate instance you are unable to grace our occasion with your presence, please consider making a donation to NOSLINA in support of our many worthwhile community projects and initiatives.  All monetary donations are gratefully accepted. NOSLINA is a 501 (c) 3 not-for-profit organization and your donation is tax deductible
We look forward to seeing you at the DoubleTree by Hilton on the evening of May 7th!!!
————————————————–
AWARD RECIPIENTS
SPECIAL DISTINGUISHED SERVICE AWARD: Airlink
DIAMOND AWARD FOR DISTINGUISHED SERVICE – the Organization's Highest Award:  Mr. Daniel Koroma
ENTREPRENEURIAL LEADERSHIP AWARD: Mr. David Buakei Vandy
ENTREPRENEURIAL LEADERSHIP AWARD: Mr. Gibril Koroma
ENTREPRENEURIAL LEADERSHIP AWARD: Mr. Patrick Goba
COMMUNITY LEADERSHIP AWARD:  Helping Children Worldwide
COMMUNITY LEADERSHIP AWARD: FSSGians Alumni Association-Washington Metropolitan Branch
COMMUNITY LEADERSHIP AWARD:  St. Joseph's Secondary School Alumni Association US Mid-Atlantic Region
HUMANITARIAN LEADERSHIP AWARD:  Mr. Foday Mansaray
HUMANITARIAN LEADERSHIP AWARD: Mr. Michael Fayia Kallon
HUMANITARIAN LEADERSHIP AWARD:  The Reverend Eugene Wellington
———————————————–
ADVERTISE IN THE NOSLINA 2016 COMMEMORATIVE PROGRAM BOOKLET
$100.00 – full page   $80.00 – half-page   $60.00 – quarter-page.  Ad and personals must be received by Suna Nallo electronically at nallosgn@gmail.com   NO LATER THAN APRIL 25, 2016
* NOSLINA reserves the right to refuse to print items that may be misleading, unethical, malicious, or character damaging
​
__._,_.___
Attachment(s) from suna nallo | View attachments on the web
2 of 2 File(s)