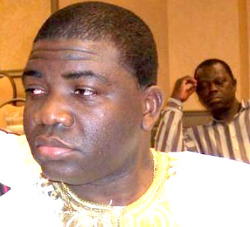 Sad day for Liberian journalism : Gabriel Gworlekaju is no more
Published on January 10, 2011 by Cocorioko News   ·   No Comments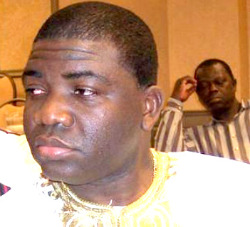 Today is  one of the saddest days in my life. I learnt that  my former student at the Monrovia Central High School  in Liberia who went on to become one of the most promising journalists of his country has passed away. He was the Publisher of the Liberian international website, RUNNING AFRICA . I was stunned beyond belief when I went to his site today and met this sad information : "The cruel, cold, and unmerciful hands of death took Gabriel Gwelakaju, Journalist, and prominent member of the Liberian media, away on Sunday, January 2, 2011. Gabriel died after several months in coma as a result of a tragic motor accident that occurred on June 19, 2010 ".
I had been following up his pitiful situation since word came out that he had been  involved in a ghastly road accident in June last year which left him in a long coma  at the Gwinnett Medical Hospital/Center Lawrenceville, Georgia. I was encouraged by the report from his brother , William , with whom I spoke , and his colleague journalists Messrs Emmanuel Abalo and Omari Jackson , who visited him in the hospital and wrote moving articles in which they however  expressed hope that Gabriel will come out of his coma and be with us again. Jackson had ended his article on a very hopeful note :  " As the four-door sedan moved away towards 85 North, I stared back at the window, and in my heart, saying, 'Everything must be done for His glory,'  hoping that my next visit could find us singing and glorifying God together." But God knew best . Gabriel Gworlekaju, the pleasant and gifted young man I admired at MCHS,  is no more.
Gabriel was my student in the heydays of the Monrovia Central High  School , under the  leadership of the then Principal , Robert Kemokai . He was a very respectful young man , who was not only keen to learn but had an exciting and powerful pen. As his English Language and Literature teacher, I was so fascinated by his writing skills , which oozed out of his essays and  articles in the school newspaper I helped the students publish , that I told him( along with  another brilliant classmate, Mr. Amos Andrews , who went on to become a news commentator  with the Liberia Broadcasting System -ELBC )   that he was such a marvellous writer that he should not allow his talent to waste .I always admonished him  to seriously consider becoming a journalist because the world needed such skilful and perceptive writers . His descriptive and analytical styles  showcased a budding journalist waiting to burst into the then fertile Liberian media scene . I was not the least surprised when after his graduation , I started hearing him on the airwaves , broadcasting for the  Press and Public Affairs Department of the Liberian National Police. Gabriel also started writing incisive, interesting and educative articles in Liberian newspapers. Before long , he had become one  of the country's poignant political commentators. No wonder that after the failed November 12, 1986 invasion of Liberia by the late Brig. Gen. Thomas Quiwonkpa , Gabriel was one of the journalists arrested by forces loyal to the then  military leader-turned- President , Dr. Samuel K. Doe . Gabriel went on to also work for the ELBC  in the early 1990s.
We met in America after he set up his website. RUNNING AFRICA was set up slightly ahead of COCORIOKO in 2002 . Through his website, I contacted him and he was so delighted to hear from me . In those days, people who had lived in Liberia before were delighted to hear from each other  since the contact indicated that they had not died after all in the war that tore the nation apart starting from Christmas Eve in 1989  . He called me and we had a nice, long  chat during which he told me that he was always grateful to me because I fired his interest and passion for journalism. "I used to admire your articles in the DAILY OBSERVER and international press ", he frankly told me. I also praised him that , like many of his colleagues, he was one of the former students I was very proud of, because he had turned out to be the accomplished journalist I had predicted. If Gabriel had lived longer and returned to Liberia, he would have left  more indelible footprints in the sands of time in his country as he did in America  while publishing RUNNING AFRICA.
What a big loss it is to Liberia, Africa and the world as a whole , since Gabriel made a difference internationally with his website.
MAY GOD GRANT HIM ETERNAL BLISS.
I extend my heartfelt sympathy to his family, wife, children and all his classmates with whom I had a rewarding time at the Monrovia Central High School.
LEEROY WILFRED KABS-KANU
FORMER ENGLISH TEACHER , MONROVIA CENTRAL HIGH SCHOOL;
MINISTER PLENIPOTENTIARY AND COORDINATOR OF C-10
SIERRA LEONE PERMANENT MISSION TO THE UN
NEW YORK.
People who looked at this item also looked at…
Related items
© 2011, Cocorioko Newspaper. All rights reserved. – For the Latest News on Sierra leone