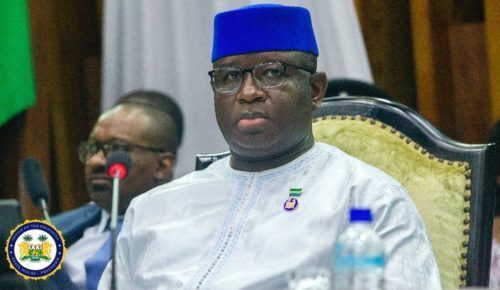 By Umaru Fofana
For Sierra Leone, there has been little national strategic consideration in the appointment of ambassadors, perhaps in almost all our appointment.
After spending probably billions of dollars – never mind the human cost – in prosecuting the war in Sierra Leone, Nigeria moved to recoup some of its money here in a legitimate and strategic manner.
Like any strategic country would do – you wonder what the West is up to in the Middle East – the west African giant embarked on trade and investment. To achieve this, it appointed a retired banker as its High Commissioner to Freetown.
Ambassador Godson Echegile facilitated the establishment of Nigerian banks in Sierra Leone. In a country with a massively unbanked population, they opened up the industry and needless to say it has helped boost the Nigerian economy over the years.
For Sierra Leone, there has been little national strategic consideration in the appointment of ambassadors – perhaps in almost all our appointments – over the years and decades. So much so that a few years ago it took the intervention of political godfathers to allow someone appointed as our ambassador overseas to be accepted by the host government because of his past fraudulent activities in that country. That is how our leaders don't care about our country's image and its strategic interests not least when they conflict with theirs.
I looked at the first major reshuffle by President Julius Maada Bio recently. In what was like an old recipe into a new sauce, much of the shakeup left me befuddled. At a time when the divide opened up under the administration of the former president is becoming a chasm in some ways, one would expect that if at all there was need for a reshuffle at this material time there would be an attempt to bring in more people from the northwest, regardless of their perceived or real political affiliations. We need that!
I maintain that in this country the politicians are in it for their survival. Many APC members are willing and happy to serve in an SLPP government and even behave as if they are ruling party members or even convert. In as much the same way we saw it under the APC government. In a country where jobs are few and far between and even fewer people are conscionable, not many would turn down a political appointment if offered. The late journalist Richie Olu Gordon once said that in Sierra Leone there are only two tribes: the rich political class and the impoverished masses. I agree with him.
For a country that has hardly had any strategic foreign policy, I wonder why Alie Kabba was replaced as foreign minister, other than the fact that the president has the prerogative to do so. When he was first appointed, I had my reservations about him in that ministry not least because of his radical tendencies. I felt a bit disappointed in him because as someone with an apparent Pan-African fervour, I expected that he would have moved fast and hard on south-south cooperation.
Some of Sierra Leone's best brains in government service are found in the ministry of foreign affairs – I can add the finance ministry to that. There are many well educated, motivated, smart, young men and women there. So in one year what could foreign minister Kabbah have failed to do to warrant his removal, one wonders.
The campaign manager for Team Bio during the elections who himself had presidential ambitions, some have suggested that Alie Kabba was still eyeing the presidency hence a point of disagreement with the president leading to his removal. I think that is as ludicrous as it is preposterous. There can be no substance in that. Bio is under NO pressure whatsoever to lead his party in 2023. And it would be headless of anyone who thinks he feels threatened by Kabba.
But information minister, Mohamed Rahman Swaray says the removal of Kabba as foreign minister to become the Permanent Representative at the United Nations is a move by the president to "go big" at the world body. He is the lead of the Committee of Ten to reform the UN to give Africa a seat on the Security Council. If so, I wonder why that only occurred to the president one year later.
If there are ministries that require a shakeup, I don't think they include foreign affairs. I honestly think it is too early to judge any ministers as having failed. But if I were asked to identify those that have done the least of all, they wouldn't include the ministers of works, foreign affairs, local government and mineral resources – the four who have been sent out of the cabinet. In short, if there was any need for a cabinet reshuffle, it was not in the areas shaken up.
The water situation, especially in Freetown, keeps getting more and more serious. We don't seem to know what is happening in the trade ministry. There has been so much emphasis on agriculture but we need to see the dividend.
Usually, the first cabinet list after an election victory is characterised – marred if you prefer – by excitement, uncertainty, appeasement or compensation, and position-jockeying. In the process, many square pegs naturally find their ways into round holes. A few months later there will be a reality check.
I am not sure what President Bio did in his reshuffle amounted to much of a reality check, or whether it was real politic or a warning shot to the lazy or inert people in his administration. Whatever it was I was not impressed that there was hardly anyone in the cabinet to be referred to as a new appointee. They were either moved from one ministry to another, elevated from deputy minister to full cabinet minister or brought in from our mission abroad. Surely that is not the kind of synergy needed if that was what the president wanted to bring in.
The appointment as minister of the High Commissioner London, Tamba Lamina, who only presented his credentials to the Queen two or three months ago doesn't make us look serious in the eyes of the British diplomatic community. That should have held on for a while not least because we appeared to be being held at high esteem by the Queen as was manifested during the last Commonwealth summit.
It is good to reshuffle the government, but not for the sake of it. Especially in a country where public officials hardly resign unless they're forced to do so. As mentioned, the president has the prerogative to hire and fire. But does it not make sense if some attempts were made to give us insight as to why some people are fired or moved elsewhere?
This way, if they were involved in some shenanigans that promoted their dismissal we will know. That way we will avoid bringing back someone who exhibited incompetence or fraud in the past. That way we will not have expired wine put in a new bottled and recycled.