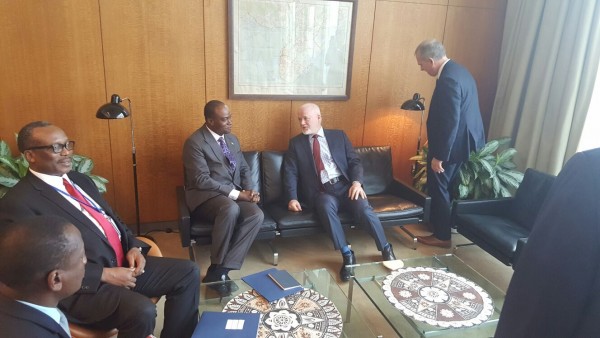 BY KABS KANU :
Sierra Leone's  Minister of Foreign Affairs and International Cooperation, Dr. Samura Kamara,  on Monday January 23, 2017  met with the President of the United Nations General Assembly , Mr. Peter Thomson and the Co-Chairs  of the Intergovernmental Negotiations on the UN Security Council Reform process , Ambassadors Mohamed Khaled Khiari of Tunisia and  Ion Jinga of Romania in New York.
The two meetings were related to  Sierra Leone's increasing commitment  to remain at the forefront of the United Nations Security Council Reform negotiations as Chair of the African Union Committee of 10 ( C-10) , set up to canvass Africa's position on the reform process. It was also to continue to strengthen ties with the major players in the reform process.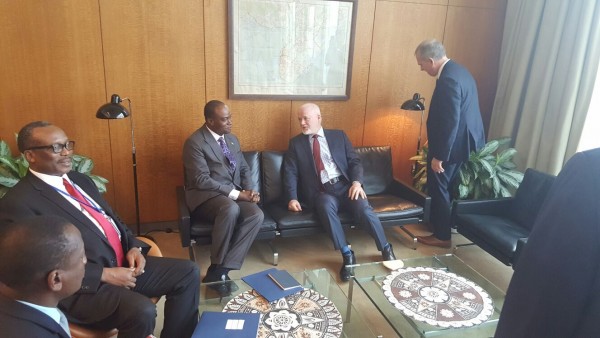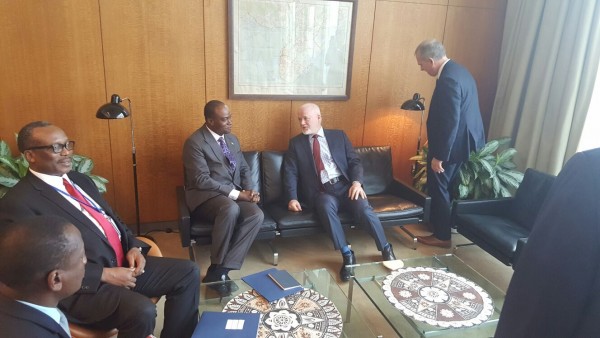 DR. KAMARA MEETING WITH THE PRESIDENT OF THE UN GENERAL ASSEMBLY ,  H.E. PETER THOMSON.  Second from left is Ambassador Sumah and far left is Mr. Saidu Nallo.
The Foreign Minister  was in New York to address  African Ambassadors on the close meeting by African Heads of State and representatives of governments on the United Nations Security Council Reform held at Kigali, Rwanda, last year .
Foreign Minister Samura Kamara also met with C-10 ambassadors and held an interactive meeting with them, during which he was also  briefed on the current state of play , the opportunities existing for moving forward the reform process and the challenges still besetting the process.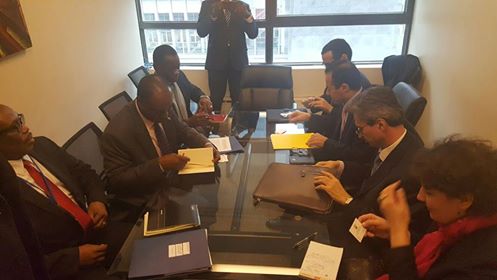 MINISTER KAMARA AND HIS TEAM IN MEETING WITH THE IGN CO-CHAIRS
Dr. Kamara's meeting with the new IGN Co-Chairs demonstrated the commitment of C-10 to work with them in the concerted efforts presently going on to reform the UN Security Council and make it more relevant to present international realities and challenges .
Dr. Kamara was accompanied to the two meetings by the Permanent Representative of Sierra Leone to the United Nations, Ambassador Adikalie Foday Sumah , Counselor Allan George of the Permanent Mission to the UN  and  the Director of International Affairs at the Foreign Ministry , Mr. Saidu Nallo.