By KABS KANU  AND PASCO TEMPLE :
President Ernest Bai Koroma , a people's man who has captivated the hearts of one and all at home and abroad , the Uncle you would like to have over for Thanksgiving Dinner or Xmas and the outstanding diplomat, statesman and Head of State whose brilliance, charisma and clout are sought by international stakeholders and the international community in general, missed this year's United Nations General Assembly because of a sprained ankle sustained playing the game that helps to  keep his mind and body fit–Squash.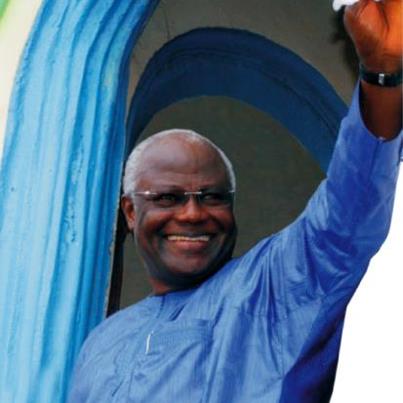 The President was direly missed and as one of the 5 diplomats President Koroma specially selected to represent him in all the events that had been lined up for him  in the U.S, I want to report that wherever we went–Washington DC, Maryland, Connecticut , New Jersey, New York –to  attend his programs  , the sentiments were the same-'-WE MISSED PRESIDENT KOROMA'.
Sierra Leoneans as well  sorely missed their always smiling, magnetic, charismatic , progressive and sagacious leader whom they had planned to meet in massive numbers during his stay in the U.S. It was reported that thousands of Sierra Leoneans all over the U.S. had planned to converge in Washington DC , New Jersey and New York to interface with their leader. Many had to disappointingly call their airlines to cancel their travel  plans at the last moment when Sierra Leone's  Ambassador to the U.S. H.E. Bockarie Stevens, announced that the President has sustained an ankle sprain that had hampered his plans to be in the U.S.
God, the Father Almighty alone, knows why certain things happen. The President himself very much  looked forward to this trip and was very excited about it , but God destined otherwise  . We who believe in God and serve him have learnt to accept the Will of God in all circumstances.
Though he was not present , President Koroma was however well represented in the U.S.
When it became obvious to him that he would not be able to travel, President Koroma then went to work and appointed a 5-man team that was mandated to specifically represent him : According to a letter from State House, the President appointed  the Information and Communications Minister Hon. Alpha Kanu (Leader ) , Foreign Minister Hon. Samura Kamara, Ambassador to the United States , H.E. Bockarie Stevens , the Special Executive Assistant to the President , Dr. Sylvia Blyden and Minister Plenipotentiary to the UN, Rev. Leeroy Wilfred Kabs-Kanu to  represent  him and to attend all the events and programs the President was invited to in Washington DC, Maryland, Connecticut , New Jersey and New York, including the UN General Assembly. This mandate was  separate from the other representation by other ministers and diplomats to the UN General Assembly and the Millennium Challenge Corporation Meetings (By Chief of Staff, Dr. Richard Konteh and team ).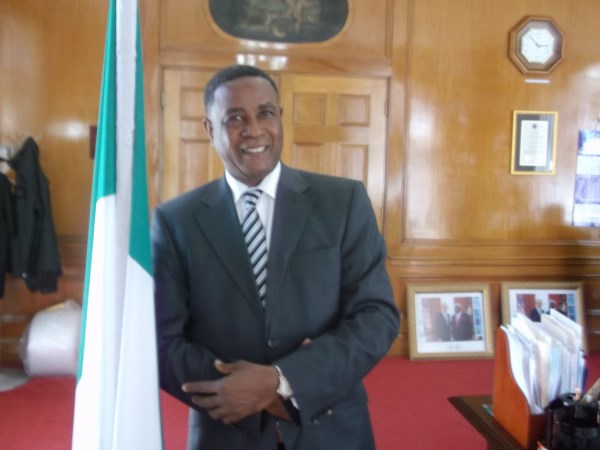 HON. ALPHA SAHID KANU
The Special Presidential Delegation was joined later by Deputy Minister of Finance, Madam Mabinti Daramy ,  the Member of Parliament from Port Loko , Ms. Isata Kabia, the Head of Chancery at the Sierra Leone Embassy to the U.S, Mrs. Isha Sillah and the Information Attache, Mr. Pasco Temple . Of course, the advanced team sent by President Koroma consisting of  Messrs .Foday Mansaray and Ajibu Jalloh also joined the delegation in keeping with their mandate. The delegation was also accompanied by Dr. Horace Dove-Edwin and Madam Madina Rahman.
The team travelled here and there through the East Coast to represent the President wherever he was supposed to have been .
Previously , Pasco Temple and I had said the following about the trip :
"We have already reported on the Ronald H. Brown African Affairs Annual Conference organized by Constituency For Africa  (CFA ) , which President Koroma addressed by video link from Freetown on Tuesday Sepember 17. The President's statement is still being acclaimed by participants at the meeting and the international community as it hit at the core of measures needed to be taken to harness the human and material resources in the diaspora for national development in Africa."
"We have also reported on the successful MCC Town Meeting on Wednesday September 18 , also in Washington DC ,  in which the delegation participated as well as help to organize. President Koroma was represented at this meeting too by the Hon. Alpha Kanu , backed by his delegation."
"On Thursday September 19, 2013 the delegation took part in a meeting at the National Democratic Institute For International Affairs  ( NDI ) in Washington DC. According to its mission statement :  "NDI provides practical assistance to civic and political leaders advancing democratic values, practices and institutions. NDI works with democrats in every region of the world to build political and civic organizations, safeguard elections, and to promote citizen participation, openness and accountability in government".
"President Koroma was invited at this session to be the keynote speaker and that role was played by the Information Minister, Hon. Alpha Kanu ,who read an instructive statement on behalf of the President. In the statement, President Koroma spoke about his government's plans to utilize the creativity and knowledge of youth in his desire to have youths play a leading role in national development. The President said that the priorities of his government are gainful employment for youth and building entrepenure  skills which is emphasized in President Koroma's Agenda For Prosperity. The minister spoke aout the appointment of many youths in government and other sectors and the formation of the All Political Parties Youth Association ( AYPA ) , through which youth come together to discuss national issues."
We also attended the AMISTAD  celebrations in Connecticut , the MCC meeting in New Jersey and the important Sierra Leone-New Jersey Economic Summit at Essex County College. We also visited NASDAQ in New York and of course attended the UN General Assembly.
FOREIGN MINISTER SAMURA KAMARA
As the events wind down, COCORIOKO  will be analyzing every event we attended  and stating how well the President was represented in each event  and what we achieved from each event.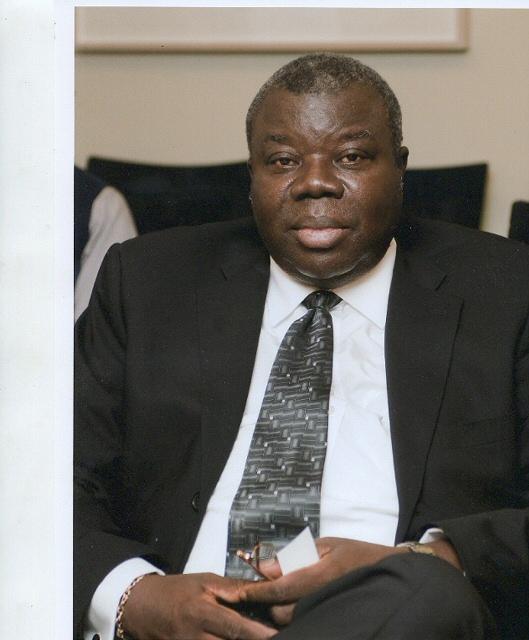 AMBASSADOR BOCKARIE STEVENS
DR.SYLVIA BLYDEN
 MINISTER PLENIPOTENTIARY KABS KANU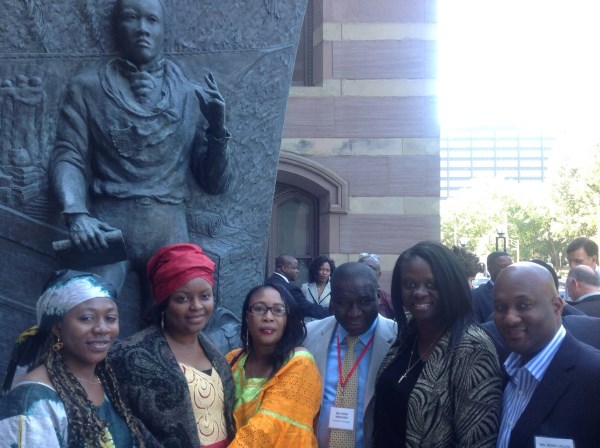 SOME MEMBERS OF THE PRESIDENTIAL DELEGATION DURING THE AMISTAD CELEBRATION IN CONNECTICUT .FROM RIGHT : MR. AJIBU JALLOH, DR. SYLVIA BLYDEN , FODAY MANSARAY AND SECOND FROM RIGHT M.P. ISATA KABIA  : COURTESY AJIBU JALLOH
Personally , I want to thank President Koroma for the confidence reposed in me to be appointed as part of the delegation to represent him in the U.S . I want to assure him that , by the grace of God, I will always represent and serve his best interests wherever I find myself. It is always an indescribable privilege to serve one of the best Presidents in the world and a man so honored at home and in the international community that the mere mention of his name brings feelings of pride .
My service to the President transcends all barriers and even my job at the UN. I am not serving him because I have a job with government.  Even with the job at the Mission, I will always propagate and promote the works of President Koroma because he is a great leader and deserves it.  Long after the President would have finished serving his  second and final term of office , I will still be there with him to help promote and preserve his remarkable legacy. Therefore , my engagement  with the WORLD'S BEST IS A LIFETIME COMMITMENT because if God provides life, some of us will never allow this President's legacy to put under the bushel after he leaves office. We want to leave something for children yet unborn –That when it mattered most, Sierra Leone had a President who turned the country around for the better.
Your confidence in me will not be wasted, Mr. President.