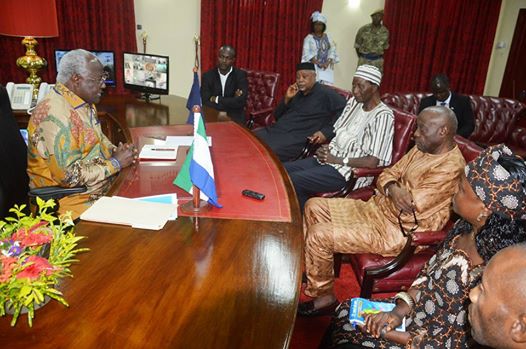 By State House Communications Unit
President Ernest Bai Koroma on Friday 18th September 2015 craved the indulgence of the Constitutional Review Committee to strengthen the Office of the President and guarantee its effectiveness to function. He made this call whilst receiving updates from members of the Sub-Committee during a courtesy call on him at State House, Freetown. The Constitutional Review Committee is charged with the mandate to review the 1991 Constitution of Sierra Leone to make it more effective and responsive.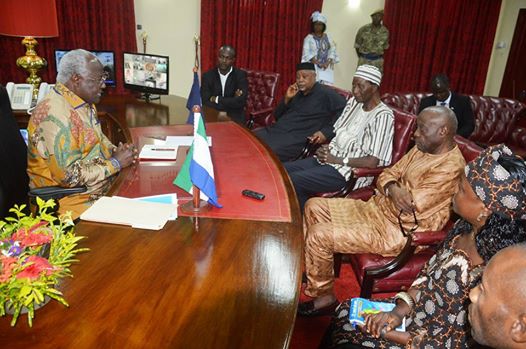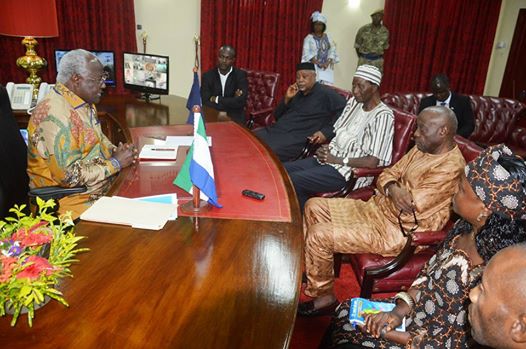 Having being a president for eight years with exposure to lots of issues, President Koroma said the committee has to be clear on the type of presidency that is required for the country, as there can't be a ceremonial Executive President which does not exist anywhere in the world.
"If we are not happy about having an Executive President then let us go in for the parliamentary system which is plain and simple," he said adding, "I think we have to be very clear in our minds the kind of presidency that is required in the country. And we also have to be clear in terms of the kind of authority and the powers given to the president."
President Koroma maintained that the president should be given the authority to function, while reiterating that he is not going to be president for the rest of his life and, emphasized that whoever becomes president should be seen functioning.
He however observed that lots of arguments are ongoing out there about too much influence and powers given to the president, noting that the 1991 Constitution of Sierra Leone made it clear that whoever becomes president should be an Executive President and that person must seek the mandate of the people and the country as a whole. The president said if the mandate is given, whoever is the president should be seen carrying out such mandate.
On the issue of appointments being made by the executive, President Koroma cited America and other western nations wherein judges and other higher positions are being appointed by the president. "I am not sure appointing somebody makes the person obligatory to you," he opined.
President Koroma commended the Sub-Committee for being consultative, inclusive and representative of views from all shades of opinion in the constitutional review process.
Chairman of the Sub-Committee Dr Mohamed Habib Sesay told President Koroma that their task has been accomplished, although they are yet to present to the review committee. He explained that they have received position papers from institutions and organizations reflecting their different views. Dr Sesay also said the committee has met with the Chief of Staff and the Secretary to the President on their views of their various positions, while informing President Koroma about the Sub-Committee's nationwide consultations with people from across the board.