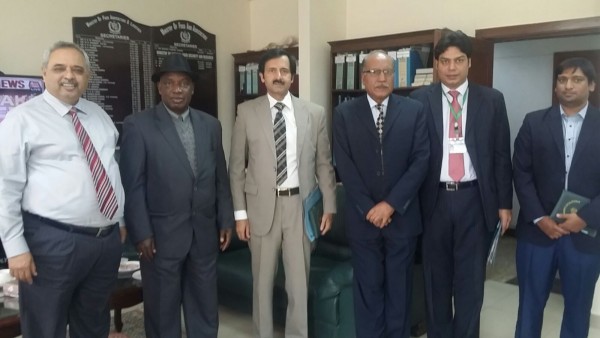 By M.B. Jalloh, Press Attaché, Saudi Arabia, Gulf States and Central Asia
Since post-Ebola Socio-Economic Recovery Plan has been prioritized by His Excellency President Dr. Ernest Bai Koroma; his faithful servants on diplomatic missions abroad have been getting sleepless nights in making sure that resources are raised to make the plan successful.
One of the President's able lieutenants that is going all out to solicit assistance from friends of Sierra Leone is the country's Ambassador to the Islamic Republic of Iran, H.E. Dr. Muhammad B. Fofana, who is also accredited to the Islamic Republic of Pakistan – an Asian nation that has had bilateral relationship with Sierra Leone for many decades.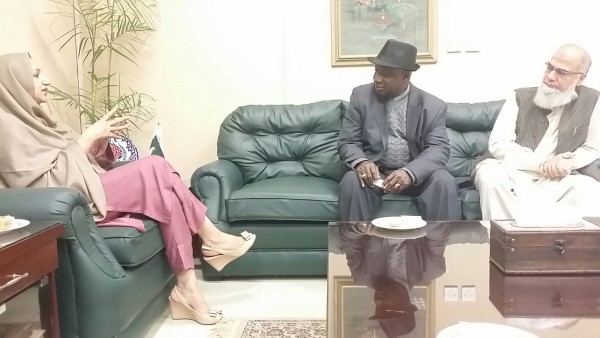 In a bid to solicit assistance for the post-Ebola Recovery Programme that will commence after the forty-two days countdown when Sierra Leone will finally be declared Ebola-free, the Sierra Leone Ambassador to Iran spent the whole of last week in Pakistan where he paid an official visit to Prime Minister Nawaz Sharif's National Security Advisor (NSA) as well as key adviser on Foreign Affairs and had fruitful discussions with him and other top government officials. Receiving the Ambassador, the Advisor, H.E Sartaj Aziz said Pakistan's relationship with Sierra Leone has been very good and cordial and he says Pakistan is ready to strengthen cooperation with Sierra Leone to a new height.
During his discussion with the Prime Minister's Advisor, Ambassador Fofana conveyed fraternal greetings and felicitations from His Excellency President Dr. Ernest Bai Koroma, the Government and People of Sierra Leone to Prime Minister Nawaz Sharif, the Government and People of Pakistan. The Ambassador buttressed the Advisor's earlier statement on the long-standing bilateral relations between the two sister countries and how Sierra Leone has benefited immensely from Pakistan in terms of educational and technical assistance.
Appreciating the role of Pakistan army's contingent in the UN's peace keeping force (UNAMSIL) in his country during the height of the rebel war, the Ambassador paid special tribute to the Pakistani Government for its invaluable efforts in helping restore peace in Sierra Leone. He says Sierra Leoneans will continue to be grateful to Pakistanis for that and recalled the Mosques and schools built in many parts of the country by the Pakistani peace keepers out of their salaries. The envoy made special reference to Pakistani teachers that taught in many schools across his country shortly after independence and how they helped in educating a good number of Sierra Leoneans, including himself and other prominent people in the country.  He informed the Prime Minister's Advisor about the Ebola outbreak in his country and its devastating effect on the economy and thousands of people who lost their lives to the epidemic.
Dr. Fofana also explained about the progress made by the Government of Sierra Leone and its development partners in ending Ebola. He told the Advisor that Sierra Leone has gone for over thirty – five days without a new case since the last Ebola patient was discharged from Ebola Treatment Centre and stressed the need for assistance from the Pakistani Government in the post-Ebola Socio-Economic Recovery Programme. He explained that Sierra Leone has rolled out the Post Ebola recovery programme in the areas of health, education, social protection and private sector development.
He furthered that Sierra Leoneans will appreciate if the Pakistani Government will hold a post-Ebola conference in Islamabad to attract the attention of Pakistani financial institutions, humanitarian organizations and philanthropists to the post-Ebola Recovery Programme which involves immediate funding for the speedy recovery of Sierra Leone's national economy.
He expressed faith and firm belief in the bilateral relationship between the two countries, saying that Pakistan will never abandon Sierra Leone at this time when the country is in dire need of assistance from the international community, development partners and friends to fund the post-Ebola Recovery Programme.  A range of issues of mutual interest was also discussed with the Pakistan Prime Minister's Adviser.
In his response, the Advisor warmly welcomed the Ambassador and assured the Envoy that the Government of Pakistan was always committed to helping Sierra Leone whenever the country is in dire need. He also recalled the contribution his country made to the UN Peacekeeping Mission after the signing of the Lome Peace Accord, and other contributions in the past such as educational and technical assistance which spanned from the post-Independence era.
The Advisor who is also a renowned Pakistani statesman, economist and strategist assured that Sierra Leone's post-Ebola Recovery programme would be a priority for the Government and people of Pakistan who are in sympathy with Sierra Leone for the thousands of lives lost during the outbreak of Ebola. He hailed the Government of Sierra Leone for putting forward a great plan for socio-economic recovery of the country. He also lauded government's efforts and the International Community for being very successful in the fight against the deadly Ebola disease.
The Ambassador used the opportunity to attract the attention of not only the Prime Minister's Advisor but also other senior government officials to the post-Ebola Recovery Programme at home. He held fruitful meetings with the Minister of National Health Services, Regulation and Coordination, top officials of the Ministry of National Food Security and Research and other Institutional Heads before he left Pakistan.
In his meeting with the Health Minister, Saira Afzal Tarar, the Ambassador says Pakistan has renowned medical institutions and appealed for Pakistan to provide scholarships to Sierra Leonean students to pursue post graduate studies in the medical field. The Ambassador revealed that Sierra Leone has a few doctors and that the country lost some prominent medical doctors to the fight against Ebola. He therefore emphasized the need for more doctors to be trained in order to meet the medical demands of its population.
In her response, the Minister says her Ministry has no objection in assisting Sierra Leone in the medical field and added that they are also ready to train trainers from Sierra Leone in order to help capacitate the health workers in the country. In his response, the Ambassador expressed his deep appreciation vis-à-vis the Pakistani Health Ministry's willingness to help upgrade the standard of the Sierra Leone health workers at this point in time. He further stressed that the health and agricultural sectors are two areas that require Pakistan's strongest vital support.
In his meeting with officials of the Ministry of National Food Security and Research, they discussed about how Sierra Leone could offer long-term lease to Pakistani growers for cultivation of cash crops like sugarcane and rice to meet its domestic requirements and to export. Both sides also identified rice, textiles, pharmaceuticals and agricultural implements as sectors in which Sierra Leone can increase its imports from Pakistan. Besides, palm oil plantations, pharmaceuticals and textiles were recognized as the areas for possible economic cooperation in the not –too- distant future.
It was agreed that Sierra Leone would provide further information for the consideration of Pakistani manufacturers for joint ventures in Sierra Leone and it was also agreed that Sierra Leone's Minister of Agriculture and Food Security, Dr. Sam Sesay will visit Pakistan to sign a joint bilateral agreement on Agriculture between the two countries.
Sierra Leone – Pakistan Relations
Sierra Leone has had a bilateral relationship with Pakistan for more than four decades and Sierra Leone has benefited immensely from this bilateral relationship in terms of educational and technical support. For example; Pakistani teachers have contributed greatly to education in Sierra Leone by teaching in different schools across the country in the post-Independent era – they taught in the capital Freetown and in the provincial districts of Bo, Makeni, Kenema, Kono and Kailahun.
They contributed meaningfully to education and a good number of prominent Sierra Leoneans we see today went through schools that had Pakistani teachers, including the current Minister of Political and Public Affairs, Alhaji Ibrahim Kemoh Sesay, top civil servants, diplomats, journalists, and many others who are contributing to the development of the country.
Over the years, a good number of Sierra Leoneans taught in schools managed by Pakistanis and hundreds of them are still engaged with those schools. Even our current Vice President, Ambassador Victor Bockarie Foh, taught at one of the secondary schools managed by Pakistanis at Kissy Dockyard, Freetown, when he graduated from Fourah Bay College (FBC) in 1969.
He was the first Sierra Leonean to have taught in that school at a time when the school staff comprised Pakistanis and other foreigners. Besides, the Pakistani Government has over the years awarded scholarships to Sierra Leoneans to study Islam in Pakistan. Some of those Islamic Scholars have passed away, including Sheik Mujtabah of the Fourah Bay Community in Eastern Freetown.
Sierra Leone is also on record for having the first largest United Nations Peace Keeping Mission after the signing of the Lome Peace Accord in July 1999. One of the countries that contributed to the UN Peace keeping Mission was Pakistan. The peacekeeping efforts of the Pakistani troops are still visible in many parts of the country where they were deployed. Sierra Leoneans will not forget their efforts in haste, especially in towns and villages where they built Mosques and schools that were devastated by the eleven-year civil conflict that caused sheer wanton destruction to thousands of lives and properties.
Sierra Leoneans are still enjoying those facilities that were constructed and funded by the Pakistani troops in the UN Peacekeeping Mission. It was a clear demonstration of the strong bilateral relationship between our country and Pakistan, which continues flourishing day by day.
It is against the background of our strong bilateral relationship with Pakistan that the Sierra Leone Ambassador to Iran, who is also accredited to Pakistan, took the bold step to meet with Pakistani top government officials to appeal to them to contribute to the post- Ebola Recovery Programme that will take Sierra Leone to another level after the outbreak of the deadly Ebola Virus Disease (EVD) which has reversed the gains that were made under President Dr. Ernest Bai Koroma's Agenda for Change – which were to be consolidated under the President's Agenda for Prosperity when the Epidemic struck .
A Sierra Leonean student who recently graduated from the Information Technology University in Punjab has hailed the Ambassador's visit and says, in terms of Information Technology (IT), Pakistan has been internationally reckoned with as one of the most advanced countries in that field internationally. Abubakar Kamara who is now working for an IT company in Manchester, UK, added that, Pakistan is also renowned for its technical know-how.
"Therefore, it is in no mistake by the Ambassador to visit Pakistan in order to further strengthen our bilateral relations with this fast developing nation so as to benefit from it in various fields of interest and concern to our country," says Kamara.
On that note, he suggested, it should be seen as of paramount concern that Government make a close and immediate follow-up to Ambassador Fofana's meaningful and strategist moves to prove to the Pakistani officials that Sierra Leone  meant business when it sent its Envoy there. As the old adage goes, "Strike the iron while it is hot."
It should be recalled that both Pakistan and India are internationally recognized Nuclear States. And, as a country having track record on our soil, there is a great deal that Pakistan can offer to Sierra Leone and Sierra Leoneans, if only the opportunity would be utilized in earnest.