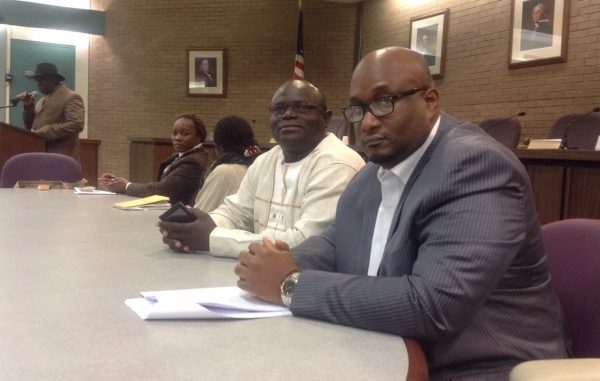 Everything that the U.S. media and Township councilmen and Sierra Leoneans needed to know about the Ebola situation in Sierra Leone and the response and efforts of the Sierra Leone Government to help contain the outbreak, were authoritatively made known during a major Ebola Press Conference staged by the Concerned Citizens of Sierra Leone  of New Jersey at the Franklin Township Municipal complex last Saturday.
The Deputy Government Spokesman, Mr. Agibu Jalloh gave a comprehensive report that the U.S.  councilmen described as the most educative report they had had so far on the Ebola outbreak in Sierra Leone .  The General Manager of the Sierra Leone Ports Authority, Mr. Abu Bangura also gave a presentation on protocols being observed at Sierra Leone's ports of call while Sierra Leone's Minister Plenipotentiary to the UN, Mr. Leeroy Wilfred Kabs-Kanu  made another stirring appeal to the international community for help, and also appealed to the municipal authorities to step in and help stop the stigmatization and molestation of Sierra Leonean kids in New Jersey schools, which prompted an instance promise of action from Councilman, Dr. Philip Kramer.
The press conference was coordinated by Community leader, Mr. Foday Mansaray who did a marvelous job.
We will produce the report in series this coming week. Stay tuned.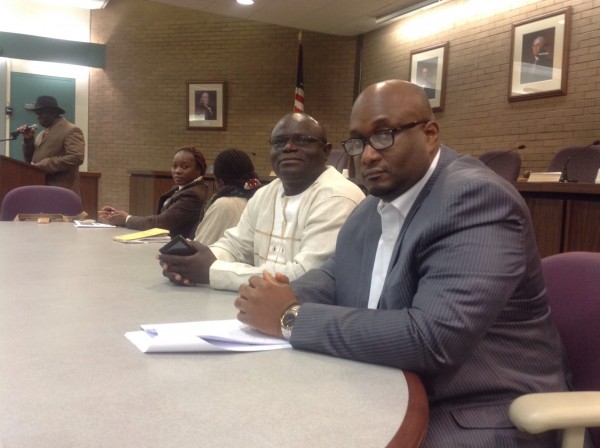 The Deputy Government Spokesman, Agibu Jalloh and the General Manager of the Sierra Leone Ports Authority, Mr. Abu Bangura at today's press conference in New Jersey.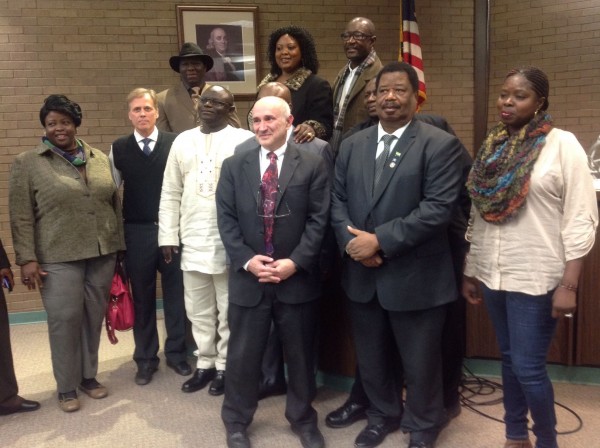 Participants pose for Cocorioko Man Manso Turay after last night's press conference. Watch out for full story from Cocorioko. Most of the misinformation , misconceptions and distortions of facts were demolished to stakeholders and international media. It was streamed live and will be on YouTube , thanks to Hamjat Jolomi Bah.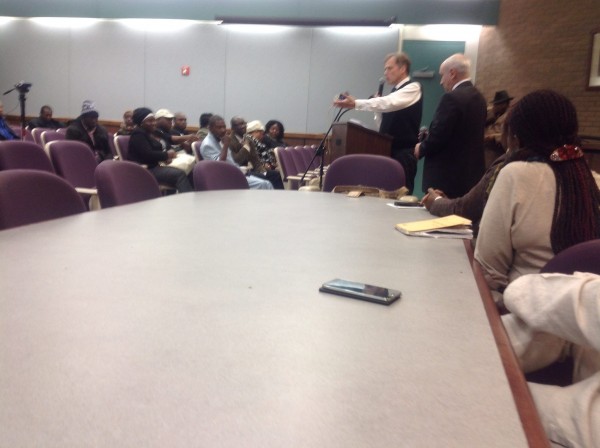 American Municipal officials  taking part  in the press conference