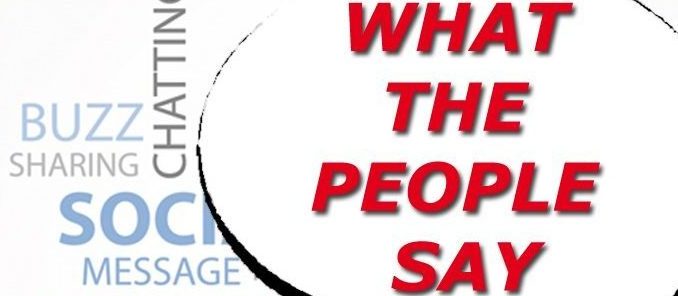 Facebook the future of my country within the next few hours is on my mind. In my household I have two college students ,two secondary school students and four primary school pupils who should be going to school. We are all hung up on the outcome of the election results so we can get on with our lives.
High blood pressure, run belleh en warm body don borku ohh….Aspirin/Panadol en lomotil don don na markit
Wayo ya me laff dae @ me
 Isata Habib Kargbo 

Good message and this is what we shld be preaching going forward. What is it about politics anyway?. At the end these so called politician will not even considered that people r dying and killing themselves for them. We r all one no matter where you come from. Whether it is SLPP or APC that wins, we shld continue with the peace message. Thanks for the message
Bo, Ghana and Liberia just do election, dem citizens dem nor suffer so. Dis whole thing just too suspicious.
*We are disappointed with our executive for deceiving us*
Just coming from a meeting of SLPP executives and the NEC returning officer Mohamed N'fah Alie Conteh; he said! APC submitted so many complaints that they just need to look into and so can not announce today.
He also noted that it was the SLPP that started complaining, so we all have to be patient until he concludes the recounting and other issues.
This development has dampened the spirit of SLPP members and supporters given the fact that we were hoping yesterday Monday 12 March would have been the Inauguration Day. A good number of us were already at the gates of State House only to be told that the swearing in will not hold. "We are stranding now in Freetown and some of us want to return to our different locations. "Anytem den want mek den call de results," a member of the Young Generation said, adding that they were led to believe Maada had won the presidential election. "Den deceive we," he said.
■Augustine Tommy.
Bo udat take N'fah Alie e wan foot shoe ba
We dae wait am oh
If anybody get fo pay u go na e ose rite now u go meet am dae watch tv or dae listen radio. U go get u moni ful.

🏃‍♂️
🏃‍♂️
🏃‍♂️
🏃‍♂️
Election gains me!!! Nor to so bo….. Life cam to a standstill….its terrible!!!
Sierra Leone capital city Freetown was totally empty yesterday due to the ongoing electoral process.everyone is concerns about the out come even the dogs are intended in the process
Me nor go born me pekine ah call am Nfa Alie because na cut e go kill me with
Wan me A P C brother meet me en tell me say : E just dae drink wata
En nor know watin dae do e body .
Seating on my bed with APC and SLPP polo by my side …. waiting for the results…..
Have been looking at the two polo's thinking about which one is going fit on me will be the party to win….Guess what?… They are both fit,but I have good news….
I cannot wear two polo, so I have to drop one ……
So definitely the parties are fit to rule but two captain cannot sail on one ship as they say….
So the best among the two will sail
We do not want someone who will sink the ship…..
This is absolute nonsense. This tribal sentiment will one day not only divide our country, but turn us to everlasting enemies. You should learn to avoid preaching tribalism at this civilised century. In 2012, South-East, that dominates the Mendes, voted massively for the APC. According to NEC results, 25% of the entire results in South-East voted for the APC. And as of now, the SLPP has not even reached that percentage when it comes to them being voted for in the North.
This country belongs to all of us, a Temne man has every right to vote for the SLPP, likewise the Mendes to vote for the APC. These political parties belongs to all of us as a nation. Let us learn from the disastrous tribal war in Rwanda that ended up killing one million people in one hundred days. Sorrowful. But today, they have put tribalism behind; and their nation is one of the rapid developing countries in Africa. I advice you stop preaching this stupid tribal hate. It is for the good of your children's children, and the future of our nation.
Hmmmmmmmmmmm the mathematica dem boku oh ar jus the imagine why people dem the fail math per Wassc hahahahahahahahahaahh this e sweet for laugh ya
On the eve of the election all man bin dae interpret the Constitution. Now all man dae calculate.
So Much of Mind Games, Half Truths, Untruths, Deception and Speculation. You Are left Wondering Who to believe
NEC REPORTING SYSTEM IS COMPROMISED AND LACK TRANSPARENCY
My fellow Sierra Leoneans, I am sorry to tell you that the NEC data reporting system is seriously FLAWED and Compromised. I am not talking because I want to talk. I have checked the website several times now, and what I see is low quality compared to what I know professionally. I do not like to boast about education, but one of my degrees is in Cybersecurity and I am very familiar with data analytics. The site itself is inferior for an entire nation. Even the website of my kid's elementary school can pinpoint data progression. My people why have you closed your eyes to accept such poor service? Is there no educated one in the nation to see this error! You go to the website and all you see is a basic spreadsheet uploaded, and that is it! Data entry on a spreadsheet can be manipulated easily. The entire NEC setup has no management controls or independent data analysis to prevent corrupt practices. This is something I could have volunteered to do for free. Go check the site yourself and tell me how professional is it? You click on a basic spreadsheet and that is it. Reports should be vigorously and seriously challenged. They should not get away. Please share this information!
Why should we be surprised? if the RUF get over 10,000 votes, after what we all know about their crimes. Why would Maada Bio not be an option? After all, he was just a junior member of the "SOBEL" movement. My people are sick. Very sick.
Me nor doubt salone man we quick 4 pull new word. "Nfalization" the ability to cause unnecessary delay 
😂
😂
😁
😁
😁

 salone swee
ABDULAI SESAY
The narrow lead by SLPP is a little surprise, but not a shock to me, considering the anticipated reduction of the APC numbers by a good number of our people in the North, who were attracted by the early songs of "change" by the NGC. I think the deceit shown to KKY by the SLPP is the worst in history! He was convinced to come on board and then denied the party leadership.
When he left them and formed his party, the SLPP strategically sent its fixed hearted supporters from the south to campaign with him and show solidarity in the name of "change", when from the inside they have nothing absolutely to change about the SLPP. All as a means of convincing the Northerners, who are the true meaning of change, to split the vote of the APC and weaken its strength to defeat the SLPP. This deceitful act to KKY has been manifested by the results of the votes for NGC between the South and the North. People from the South danced the most for KKY, but voted less for the NGC, while people from the North danced less for KKY but voted the most for NGC. Wow, the SLPP can do anything to retake government! I hope this will serve a good lesson to all of us.
As the quest for a runoff is inevitable between the SLPP and APC, I wish to remind us all that our APC Northern brothers and sisters, who for some reason decided to jump into the NGC boat did so for one particular reason, that, by all indications, NGC was more popular than APC and SLPP, so it was going to clinch the first position and if there happens to be a runoff, the SLPP would favor the NGC, hence, NGC would have been the new party in government. This was the imaginary route of change these supporters were talking about.
But the reality is, our people now know better than they did few months back that their expectation that NGC will win the elections was only a disturbing dream, and that the support shown for NGC in the South was only a ploy to attract them to this dream of change. Before putting this piece together, I spoke to my cousin in California, an NGC supporter, who expressed great dismay for the all-of-a-sudden support for SLPP shown by his NGC friends from the South.
As it stands, there is big split in the NGC between those from the South and them from the North, and they are all engaged in communicating to their people back home to stay with the party in their regions if it comes to a runoff. He said to me that, yes most of them from the North were very angry at the APC and wanted to see it go, but the worst could be to have SLPP in power and Maada Bio as President. So the narrative of change here has been foolishly misleading. With this said, I am very certain that the APC is still going to win because our people, especially from Port Loko and Kambia, who casted their ballots for the NGC will not do so for SLPP when it comes to a runoff. Let's keep the faith, let's continue to enlighten our people back home with the reality.
Let's tell them that the early jubilation for victory by the SLPP is not a victory for them, rather, another strategy to discourage them from coming of to vote in the runoff. With this I guarantee you victory will be ours. Long live the APC!
 The ongoing recount of stations mostly from APC strongholds, have proven that these forms where interchange by NEC officials who happens to be SLPP sympathizers and contradicting the actual votes casted and thus resulted to an alleged over voting.
The strategy was put in place so that NEC can nullify thousands of votes from APC strongholds to put SLPP way ahead of the required 55%.
The NEC rules clearly states that any polling station that is proven of over voteing must be rendered null and void. That was the rule the SLPP sympathizers working at NEC tried to exploit by using counterfeit copies of RFI forms to trigger nullification of actual votes in APC strongholds!
It's no coincidence, that the SLPP party and their supporters jump to celebration barely hours after the closure of polling stations. One was wondering where did they get this kind of confidence that they won the election by securing 55% of the total votes few hours after the closure of polling stations. Not knowing that they were sure their strategy has been implemented and they were expecting the nullification of thousands of APC valid votes.
It's sad to see public officials appointed to serve with high degree of professionalism behaves in such an unprofessional manner to cause havoc for our beloved nation.
Thanks to the integrity of few members of NEC and some party officials from both the NGC and APC who who detected this fraudulent acts and requested a physical votes recount in the alleged centers. Most of the centers are now cleared and recounting is ongoing.
Mm! Not knowing that those who were screaming that APC was intending or is bend on rigging the elections were the perpetrators of a sophisticated rigging! Soon they will all face jail term!
Bunch of thieves who were willing to risk everything becauae of power and put our nation's into a State of chaos!
SAD!