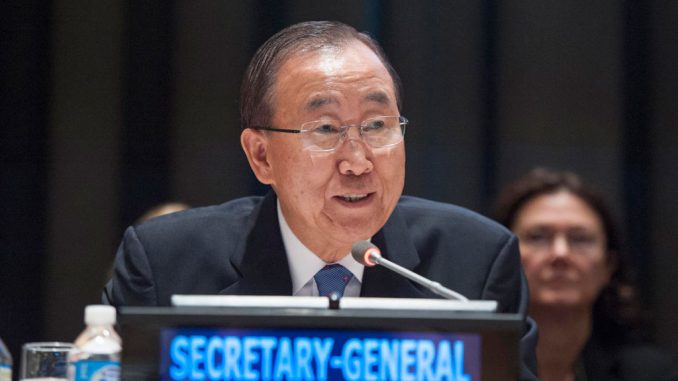 The United Nations (UN) Day is commemorated all over the World. On UN Day the Secretary-General, Mr Ban Ki-moon, stated, "Every day, the United Nations feeds the hungry and shelters those driven from their homes. The United Nations vaccinates children who would otherwise die from preventable diseases. The United Nations defends human rights for all, regardless of race, religion, nationality, gender or sexual orientation." Mr. Ban Ki-moon continues, "Our peacekeepers are on the frontlines of conflict; our mediators bring warriors to the peace table; our relief workers brave treacherous environments to deliver life-saving assistance."
Across the World the UN remains a beacon for all humanity. In Sierra Leone the UN remains a reliable peace and development partner to the people and the Government of Sierra Leone. The contribution of the UN in peacekeeping, providing development expertise and humanitarian assistance in Sierra Leone has been enormous.
Since May 2014, the UN agencies, alongside many other multilateral and bi-lateral partners, have been helping the people and the Government of Sierra Leone in their fight against the Ebola Virus Disease (EVD). As a result, the country has entered the last stage of the EVD fight, and the UN would like to congratulate the people and the Government of Sierra Leone for this remarkable achievement.
Last month, World leaders, including H.E. President Ernest Bai Koroma, adopted the Sustainable Development Goals (SDGs) at the UN General Assembly in New York. As Sierra Leone is poised to launch the SDGs, the UN reaffirms its commitment to work closely with the people and the Government of Sierra Leone for the realization of the SDGs. There are 17 SDGs that are underpinned by 169 targets, for which the global deadline for completion is set to be 2030. The SDG declaration states that "nations are resolved to free the human race from the tyranny of poverty and want and to heal and secure our planet. We are determined to take the bold and transformative steps which are urgently needed to shift the world onto a sustainable and resilient path. As we embark on this collective journey, we pledge that no one will be left behind."
###
If you have any question, please contact: Tikue Girmay, Communications Specialist.
Email: tikuegirmay@one.un.org and Cell. +23278359629
https://www.facebook.com/UNSierraLeone