The United Nations Integrated Peace Building Office in Sierra Leone UNIPSIL has donated assets to the National Commission for Democracy (NCD), one of its key partners working in close collaboration with the UN to enhance its capacity in pursuing its mandate of enlightening the public about the need to embrace peace, development and democracy in the country.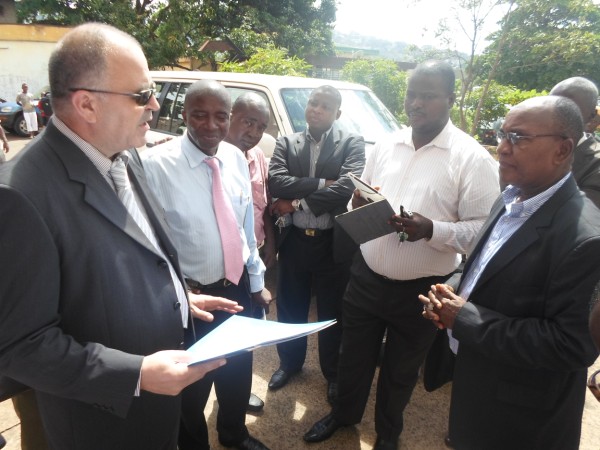 Presenting the assets, UNIPSIL's Liquidation Team Leader/Coordinator, Ivo Pezer, commended the Commission for its worthwhile contribution in the 2012 elections saying that "we want to use this opportunity to express our sincere appreciation for the support of the National Commission for Democracy to the 2012 general elections and the democratic process in the country."
He noted that the Commission has been one of its key partners and has been working diligently to ensure that they achieve their aim of promoting democracy and good governance, hence NCD has been selected as a recipient of UNIPSIL's assets as they prepare to depart since their mission of peace building has been accomplished.
"In recognition of your contribution to the peace and development, UNIPSIL is today presenting you a vehicle, computers and office furniture as part of the UNIPSIL capacity support to strengthen national partners to consolidate our mutual success in Sierra Leone", Ivo Pezer stated.
He further alluded to the message of the UN Secretary-General saying that UNIPSIL leaves knowing that the National Commission for Democracy is stronger than ever before to safeguard their success story.
The NCD Chairman, Dr. Abubakar Hassan Kargbo, expressed the Commission's appreciation for the donation and more so for the praises lavished on the Commission by the UNIPSIL Liquidation Coordinator for its valued contribution to nation building and democratic good governance.
He said the donated assets will further capacitate the commission and will enhance the activities of the commission. He noted that the Commission is more than determined to carry out its duties in spite of the constraints that hinders it activities of reaching out to the public, especially so in remote areas in the provinces.
The Chairman assured the team from UNIPSIL that his Commission will continue to collaborate with the UN and is ready to go on with the good work to ensure that people get the required orientation that will bolster their determination to participate meaningfully in the development of the country.
© 2014, COCORIOKO. All rights reserved. – Discuss this and other related articles on the Salone Forum