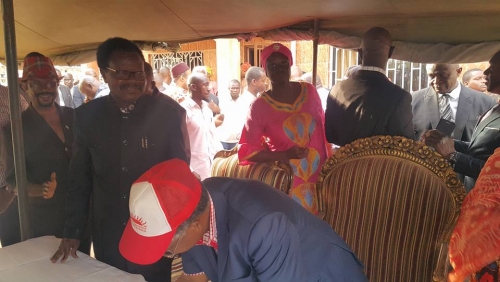 By Julius Bambay Kamara

The Honourable Vice President, Ambassador Dr. Victor Bockarie Foh (photo) on Wednesday 8th February, 2017 led a high- powered delegation made up of Government Ministers and senior party officials to visit the family of the late Ambassador Ibrahim Kamara fondly called Orsoya to sympathise with them on the loss of their husband and father.
Orsoya who met his sudden demise at the Choithram's Memorial Hospital in the early hours of Wednesday 8th February was until his death Sierra Leone's Ambassador to the Islamic Republic of Kuwait.
In consoling the family, VP. Foh reminded them of the deceased's firm belief and dedicated practice of the islamic teachings. This, he said ,should give the family some form of comfort, believing that their husband and father is in a better place.
The death of Orsoya, he stated, is not only a shock to the family, but also to them as comrades, particularly President Koroma with whom the late Ambassador, who was in a buoyant mood, spent the previous evening of Tuesday 7th February, 2017.
Vice President Foh assured the family that as a party they are with them in this time of difficulty and will always be there for them. He added that the contributions of Orsoya in bringing the APC party to where it is today will never be forgotten. He therefore urged his children to move closer and fill the vacuum that has been created in the party by the sudden demise of their father.
In a similar engagement, VP. Foh and the delegation of Government Ministers and Party Executives visited the home of the late Hon. Leslie Patrick Bob Allen, fondly called Bobby Allen.
The late Bob Allen whose sudden demise took place on Sunday 15th January, 2017 at the age of 78 years, was one of the thirteen members present at the inception of the APC Party on 17th October, 1962. Those thirteen members of which the late Bob Allen was the youngest at age 22, formed the thirteen rays of the APC Party symbol (the Red Sun).
The late Hon. Patrick Bob Allen went on to serve the nation at Municipal, Parliamentary and Governmental levels. He was a former Councillor and later became a Member of Parliament. He also served as Deputy Minister in the Ministries of Health and Sanitation; Education, Science and Technology and also at the Ministry of Social Welfare, Gender and Children's Affairs.
Vice President Foh in consoling the Allen family informed them that based on the deceased's immense contributions to society especially in the field of politics, the Government of His Excellency the President, Dr. Ernest Bai Koroma has thought it fit to accord the remains a befitting Civic Laying Out Ceremony which will be held at the Miatta Conference Hall on Friday 10th February, 2017 commencing at 10:30 a.m.