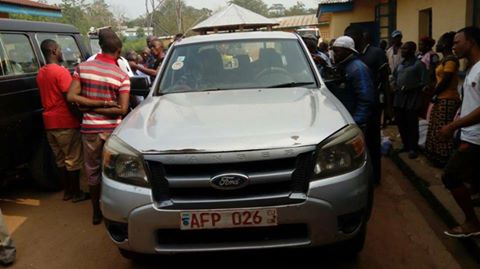 Even Sierra Leoneans who supported the Sierra Leone People's Party ( SLPP )  during its struggles to come to power are now concerned that something drastic needs to be done to halt the vigilante groups going around the nation presently hurting, embarrassing and harassing the people.
 Culled from Claudia Anthony's page
Goderich, 15.04.2018
If I were …
The Government of Sierra Leone demands handing over of all state-owned vehicles from state officials they were assigned to.
I will just do so. I don't need to be told.
More importantly, there's no need to attack persons on their private property, or anywhere, brandishing guns, with threatening comments and without a search warrant, claiming you're searching for state-owned vehicles. Kindly revisit your strategy; adopt a legitimate method of retrieving these vehicles.
Provide a list of names and the vehicles that were assigned to them, publish (broadcast) in print or electronic media, requesting those who haven't returned state-owned vehicles to do so within specified timeline and specify consequences.
Isn't that more cost-effective, civil, easier and peaceful; than using already-strained resources to (armed) assault, insult, intimidate
and molest citizens?
Sorie Ibrahim Kanu
The question is who orders such searches for government property!??? Why don't we try to institute discipline and obedience to the law?? We yearn for better changes in Sierra Leone.
CAN'T BELIEVE. ALICE MANSARAY (NEEKOROMA), DAUGHTER OF FORMER PRESIDENT AND HUSBAND LAWYER IBRAHIM MANSARAY ALLEGEDLY ATTACKED BY A MILITARY OFFICER AND CIVILIANS TO CONDUCT A HOUSE SEARCH. WHEN LAWYER MANSARAY, HUSBAND ASKED FOR INTRUDERS TO PRODUCE SEARCH WARRANT THE UNIDENTIFIED MILITARY OFFICER THREATENED TO SHOOT ALICE KOROMA AND HUSBAND. THEIR VEHICLE WAS ABOUT TO BE CARTER AWAY BY THOSE GUYS PURPORTED TO BE SENT BY STATE HOUSE UNTIL MR. RADO YOKIE INTERVENE. THE INTRUDERS RELEASED THE SAID VEHICLE AND GO AWAY.
Former President Koroma and wife were not happy when they got the news of their daughter and son in law been attacked by 7:30PM by purported Armed guys.
AM SURE THIS SITUATION IS UNDONE.
Same thing happened in KAILAHUN town when some civilian youths attacked the driver of one ALHAJI Kallon aka Alkash of Kenema. The youths alleged that the private vehicle own by ALHAJI Kallon is a state vehicle. The owner of the vehicle is at the Kenema Regional CID taking statement on his lawful ownership of the vehicle.
President Bio needs to take a drastic action against those hooligans whose aim is to smear the character of the NEW DIRECTION.
We are watching to see legal action is taking to stop those thieves.
@KMB Advocacy Unit in Kenema