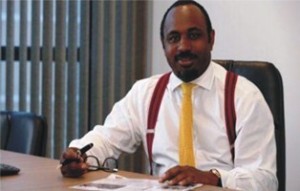 By Babah Kanu
To complement government's efforts to enhance the Ebola recovery plan and alleviate poverty among communities in Sierra Leone, John Bonor Sisay, Chief Executive Officer (CEO) of Sierra Rutile Mining Company on Saturday 13th November 2015 donated 200 bags of rice to market women at the Up-Gun and Portee markets in the East End of Freetown.

Speaking during the donation, David Sesay, President of the Bike Riders Association and Coordinator of the programme said the donation is geared towards reducing poverty in the country as Ebola badly crunched the economy. He pointed out that women are the most vulnerable as their businesses were affected in the cause of the outbreak and the move is to restore hope to the hopeless after Ebola.
Mr. Sesay said the women will be helped as long as they continue to pay returns after selling the rice. He noted that the business initiative would be extended to other parts of the country targeting business women.

He disclosed that John Bonor Sisay is a philanthropist who donated about Le 3 Billion to complement the efforts of government and partners in the fight against Ebola. He also revealed that John Sisay was the highest donor of about 2000 bags of rice to flood victims across the country, stating that if Sisay becomes a political leader, he can improve the lives of people in Sierra Leone. "This venture is to improve the private business sector especially among women," Sesay maintained.

Mariatu B. Kamara, a representative of the Up-Gun Market Women thanked the donors for the initiative and called on her compatriots to corporate by paying the returns for the business to grow.

Matu Y. Kaifala, representing the Portee Market Women, lauded the efforts of John Sisay in alleviating poverty and helping the women to enhance their business and called fellow women to embrace the gesture.