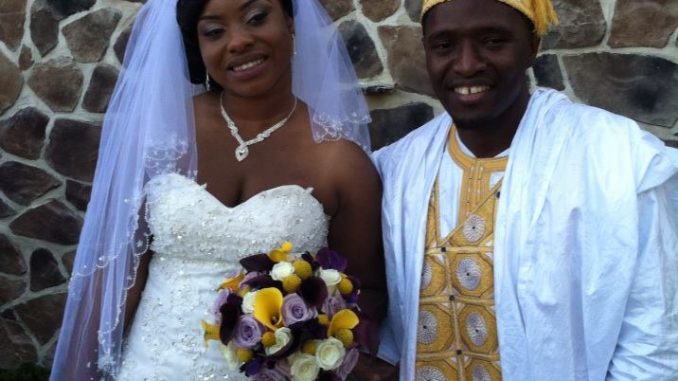 Dona Zainab Conteh, first daughter of Cocorioko Editor, Jacob Sax Conteh, and Bizmark Alimamy Koroma of Columbus, Ohio tied the knot in a simple but profound ceremony at Severn, Maryland in the United States on Saturday, August 24, 2013.  Bizmark, who is popularly known as Showboy, is the son of the late Alex Koroma of Makeni, a onetime minister in the APC government and a relative of President Koroma and former Justice Minister, Mr. Serry Kamal.
Serenaded in purple, blue and turquoise, the bride was adored in a white flowing bridal gown while the groom wore a white African gown specially designed in Senegal.  For Mr. Conteh who wore a warm smile as he gave his daughter away, he had a flowing blue gown from Sierra Leone.  After exchanging vows in a ceremony full of prayer and dedication, the new couple and their entourage boarded two huge limousines to the reception at the Loft in Laurel, Maryland.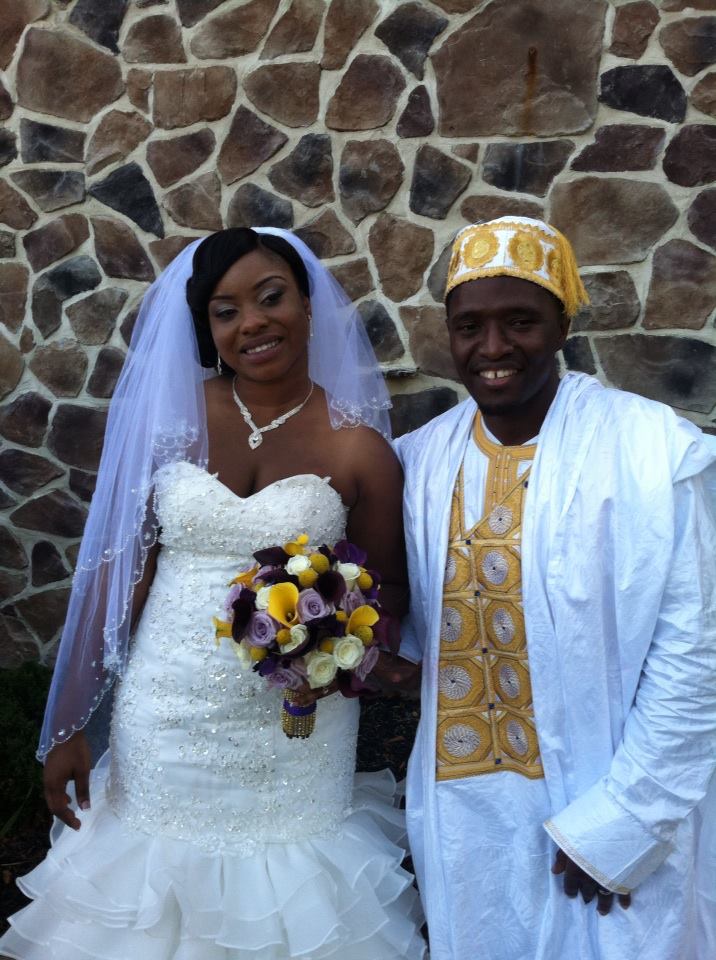 Flanked by family members and well wisher, the bride danced her way to the hall to the tune of the Sierra Leonean gospel classic "God has done it for me" to meet her husband on the other side.  A throng of people later joined the couple on the floor to praise God and dance for joy.  Unlike other Sierra Leonean weddings, there were no formal speeches, but short toasts while the bulk of the night was spent in celebration.
What makes this wedding unique is that although Dona was born in the United States and has never been to Sierra Leone, she found a Sierra Leonean from her father's ethnic group in Sierra Leone to marry.  Moreover, Mr. Koroma followed the Temne tradition by first meeting Mr. Conteh and his wife privately to reveal his intention to marry their daughter early this year.  He later brought his family to the Conteh residence in Montclair, Virginia to formally conduct a traditional wedding with the calabash and other instruments of marriage.
On behalf of the management of Cocorioko and the entire staff, we wish to congratulate Zainab and Bismark on their wedding and pray that God continues to guard and guide them as they start this lifelong journey.