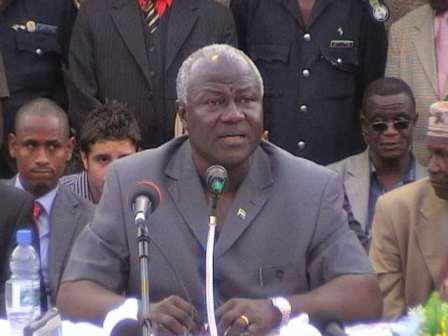 Regardless of what his detractors write about him, there are lots of impressive attributes you cannot take  away from Sierra Leone's President His Excellency Ernest Bai Koroma. You may dislike your opponent, but you can never take from him/her that dashing, magnetic persona and excellent work ethics and progressiveness of that person. Lionel Messi is the best footballer in the world. His detractors can do all in their power to paint him black but one thing they cannot succeed to do is take away his international appeal because he is really magnificent on the ball and scores dramatic goals.
People have mounted all manners of nebulous propaganda against President Koroma in the international media but every tongue that has risen against the President has been proved false and rendered null and void. People have set up fake websites and created fake World's worst politician profiles just to get at Dr. Ernest Koroma .They have set up social media forums bent to destroy the name of the President but none seems to be working. The President's international persona  and appeal continue to spread  like his broad and captivating  smile that shows a confident and fulfilled man, despite the challenges he still has to tackle in his country –Another character nobody can take from him.
President Koroma's lofty international stature will be a feature of  the oncoming United Nations General Assembly as international stakeholders line up programs for the Head of State to address or participate in on the sidelines of the UNGA. The President's invitation to these international programs is a manifestation of the fascinating appeal , goodwill and  respect he enjoys from international stakeholders and organizations all over the world.
On Tuesday September 17, President Koroma will be the invited guest speaker in a program organized by Constituency For Africa in Washington DC where he will address the juicy and interesting topic in plenary and panel discussion : " The Role of the African Diaspora in harnessing investments and developments in Africa ".
One day after that, President Koroma will also be the guest speaker at the John Hopkins University in Baltimore, Maryland ,where he will address the topic : "Challenges of Democracy, Development and Security ". Though the President's itinerary has not yet been confirmed, he has also been invited to Columbia University, New York to engage in a panel discussion with about 5 other heads of state .There is also an engagement with the Millennium Challenge Corporation (MCC) and participation as Guest Of Honor in the 25th Anniversary Celebrations of the Amistad Committee in New Haven, Connecticut , where the Mayor , officials and international stakeholders are eagerly waiting to receive the man widely known in his country as THE WORLD'S BEST.
Of course , since he came to power in 2007, President Koroma has always been one of the toasts of the United Nations General Assembly where he always enjoy tremendous and profuse outpouring of acclaim and goodwill from his peers as well as diplomats . It must be recalled that during the 2011 UNGA, President Koroma was cordially invited by the Leader of the Free World, U.S. President Barak Obama to sit by him as he addressed a side meeting of world leaders where UN Secretary General Ban Ki Moon also delivered a statement.
Sierra Leone has never before had a President who enjoyed such international approval, prestige and goodwill.
What is responsible for President Koroma's broad international appeal ?
The answer is simple : President Koroma is doing exactly what the civilized world and international stakeholders and development partners desire in a modern day productive and progressive leader . He has great respect for the constitution and the Rule of Law; Since he came to power, he has promoted fundamental human rights ; he is also a proponent of multi-party politics with all its attendant attributes of free and fair media and free participation of civil society, womens, youths and children's groups. That is not all. President Koroma's rule has been marked by rapid socio-economic and political developments in Sierra Leone. The country still has challenges but Sierra Leone is in the hands of a capable and competent leader and the international world is fully aware of this, which is why the vicious propaganda against the President is not working.
Because of his respect for the rule of law, human rights and the constitution , as well as his development drives, President Koroma is admired by even citizens of our African states and there are many that are secretly wishing that he was their President.
Instead of wasting precious time engaging the President's detractors , the Presidential media must continue to feed their readers with their usual rich diets of the accomplishments of Dr. Ernest Bai Koroma.